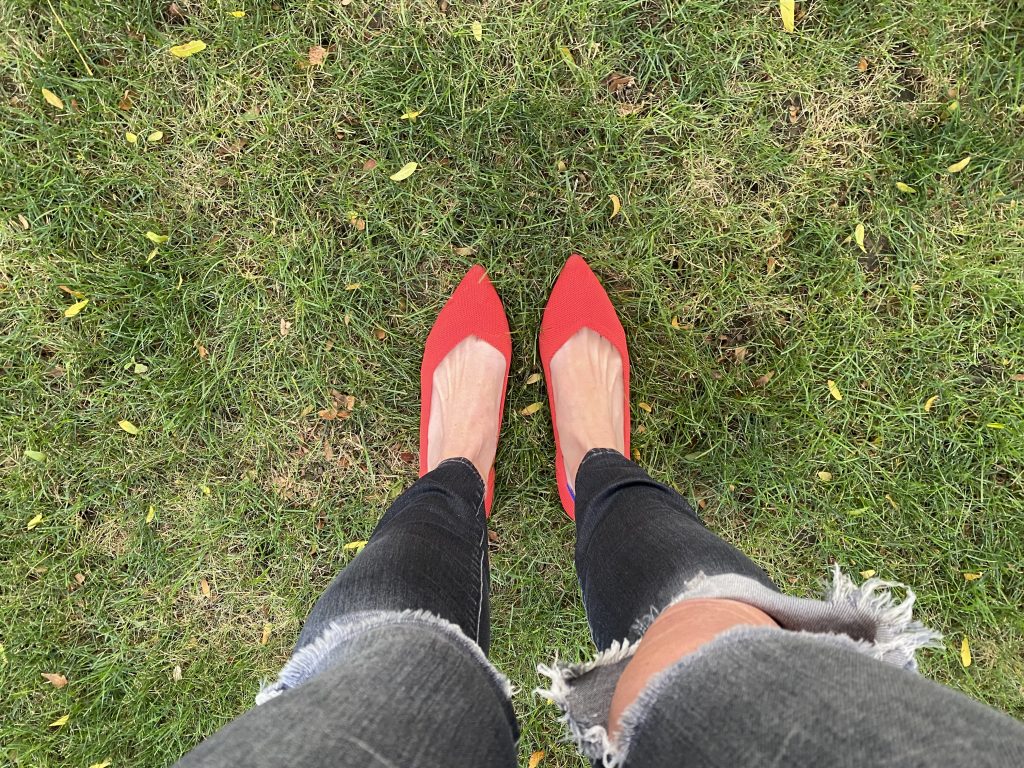 Mom life and work from home life doesn't call for my attire to be very fancy, but I do love to get dressed in non-workout clothes most days of the week. It boosts my productivity and helps me feel more focused when I'm in my home office.
My shoe of choice for most work days? Rothy's! I have a bunch of their shoes in a variety of styles and can't get enough. Since I have been wearing + loving them for a while now, I thought it was high time to update you on my favorite styles.
The Point
My best advice for those ordering the pointed toe flats? Size up a half or full size. They run a tad on the smaller size because of the point, but I love the way these shoes look. I have them in red, animal print and camel color and love them all.
The Sneaker
These win my vote for most comfortable shoe! They are SO easy to slip on with jeans, leggings and even dresses for a more casual look. I didn't know how often I would wear this style, and now I find myself reaching for these most often. I can walk miles in them without my feet being bothered and they run true to size.
The Chelsea
These are my go-to for winter weather since they are more of a bootie-style shoe. Comfortable like The Sneaker style Rothy's, they are easy to slip on with jeans, leggings, etc. I also love how they are the perfect shoe for winter school drop-offs and pick-ups!
The Flip Flop
These were on my feet ALL summer. Truly? I thought I was a little nuts investing this much in a pair of flip flops but once I saw how durable, comfortable and machine washable (?!) they were, I was sold! Mine still look as good at the end of the summer as they did at the beginning. I tried putting on a cheap pair of flip flops the other day and forgot how terribly uncomfortable they are.
Things On My List to Try //
I haven't tried their lace-up sneakers or any of their machine washable (?!) bags, but both of those are at the top of my list for things to try next. I love the idea of a carry-all tote/bag that can be tossed in the washing machine when it gets gross inside – like most mom purses do, right?
PS: You can get $20 off your first Rothy's purchase with THIS LINK. But be forewarned: Once you jump on the Rothy's bandwagon there is no going back!