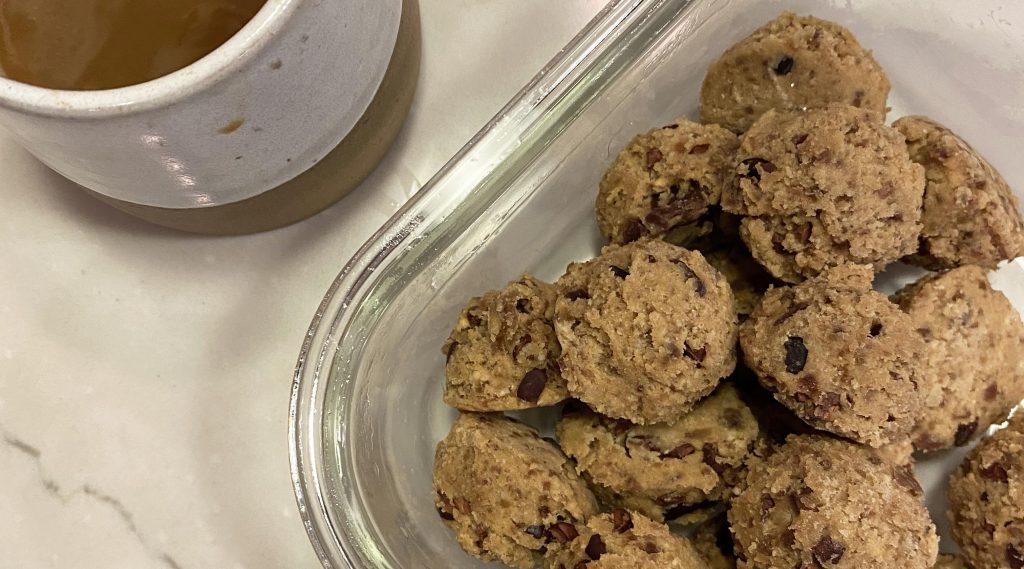 You all know by now how much I love Daily Harvest, right? Well when I started to realize that Truett also loved Daily Harvest snacks + smoothies, it because clear to me that I needed to be able to make all these goodies at home, from scratch, because Daily Harvest is way too expensive to justify feeding to my whole family.
One of our favorite Daily Harvest treats are their "bites" that are stored in the freezer and eaten cold. I figured I could make an at-home version, and after four different batches, I think I found a recipe that tastes VERY similar to the original.

Note that I did add nut-butter to mine, but I believe the original recipe bites have pumpkin. I tried pumpkin, and it works, but I felt the taste was much better with nut butter. Adjust as needed to suit your tastes!
INGREDIENTS
1 can (15 oz.) low sodium garbanzo beans (chickpeas), rinsed and drained, with skins removed
1 package (8 oz.) pitted dates
1/2 cup creamy peanut butter
1/2 cup almond flour
1/2 teaspoon ground cinnamon
1/2 teaspoon vanilla extract
1/4 cup cacao nibs

DIRECTIONS
In the bowl of a food processor, combine the garbanzo beans and dates. Process for 1 minute or until mixture is fairly smooth and no large chunks remain.
Add in the peanut butter, almond flour, cinnamon and vanilla and process another 30 seconds until well combined. Stir in the cacao nibs by hand.
Use a small cookie scoop or your hands to scoop into small balls. Drop onto parchment-lined cookie sheet. Freeze for 30 minutes to 1 hour. Transfer to airtight storage container and keep frozen until ready to eat. These will be soft enough to eat straight from the freezer. If too hard, let sit a couple minutes at room temp before eating.