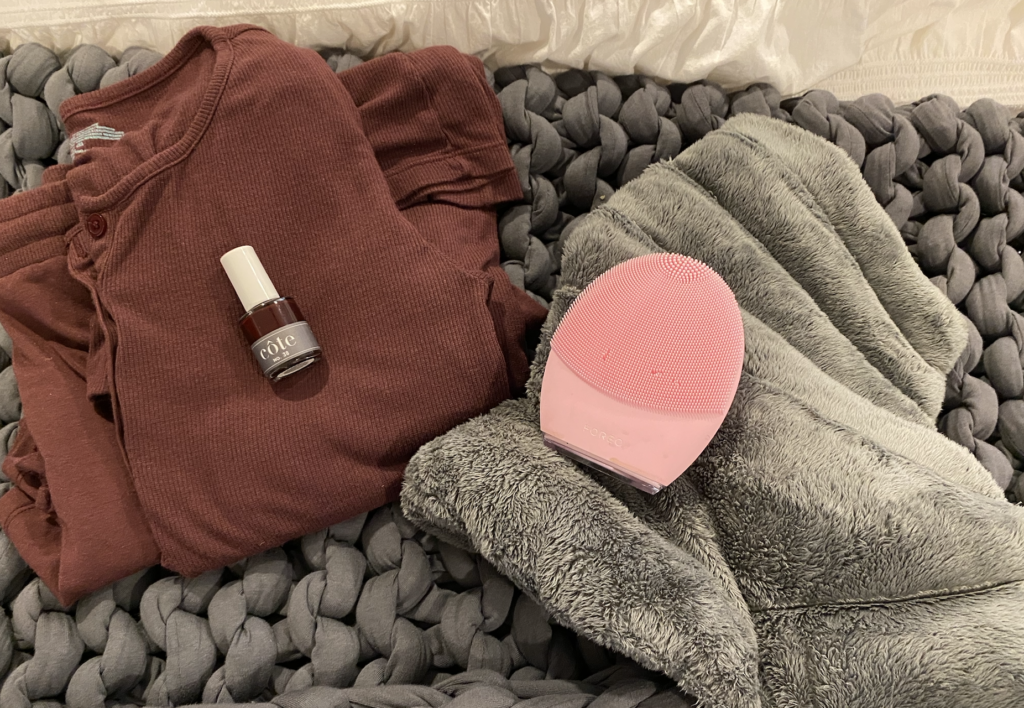 Hi Friends! I know I talk about Beautycounter a LOT because it's genuinely what I use and love for 95% of the products that I put on my body. But! I do have a few products that aren't Beautycounter, so today I am sharing a round-up of my non-Beautycounter self care favorites. Everything from my favorite new weighted blanket (because good sleep is the ultimate self-care!) to a clean bubble bath that I use nearly every night.

I hope this gives you some inspiration to make a little time for yourself this month! Heaven knows we need it!

FOREO Luna 3
A new favorite product of mine, I use this with my existing skincare to get my skin squeaky clean in the evenings. It exfoliates the skin and get's every last bit of dirt + impurities off the skin. I've noticed an improvement in my skin's softness as well as pore size and reduction in blackheads.
Primally Pure Dry Shampoo
I swapped out my regular dry shampoo for a healthier option a couple years ago and have never looked back! It's good for your health and for your scalp, and absorbs excess oils, allowing you to go longer between washes.
Real Techniques Blush Brush
I have used Beautycounter brushes for years, but this blush brush came recommended by a friend and it's the soft, fluffy brush I've been looking for. The extra fluffiness of the brush gives just the right amount of pigment to my cheeks when using my favorite Satin Powder Blush in Nectar.
Bearaby Weighted Blanket
This Cotton Napper was my birthday gift from Joe and is proving to be the gift that keeps on giving. I'm not joking when I say that I've never slept this week since I've had kids. I get SO excited to go to bed every night – the 15 lbs of weight has really helped me get better and deeper sleep.
Everyone 3-in-1 Kids Soap
I love using this for my nightly bath as bubble bath and the kids love it, too, for bath time.
Cote Nail Polish No. 38
The perfect fall/winter color! I usually don't care for color on my nails but I LOVE this color.
Huggaroo Microwavable Heating Pad for Neck and Shoulders
I'm including this in my beauty round-up because I use it on the regular as part of my evening wind-down routine. It's SO soothing. I microwave it for 3 minutes to get it nice and warm. Sometimes I will just use it on my legs/feet and other times I'll put it around my neck. Ainsley loves it, too, for warming up her bed at night so we actually have TWO.
Tommy John Loungewear
I have their Women's Lounge Henley and Lounge Shorts and LOVE them. The softest pajamas ever and totally worth adding to your Christmas list. I have my eye on their Lounge Joggers next. PS: Their underwear are also amazing and will ruin you on all other underwear.