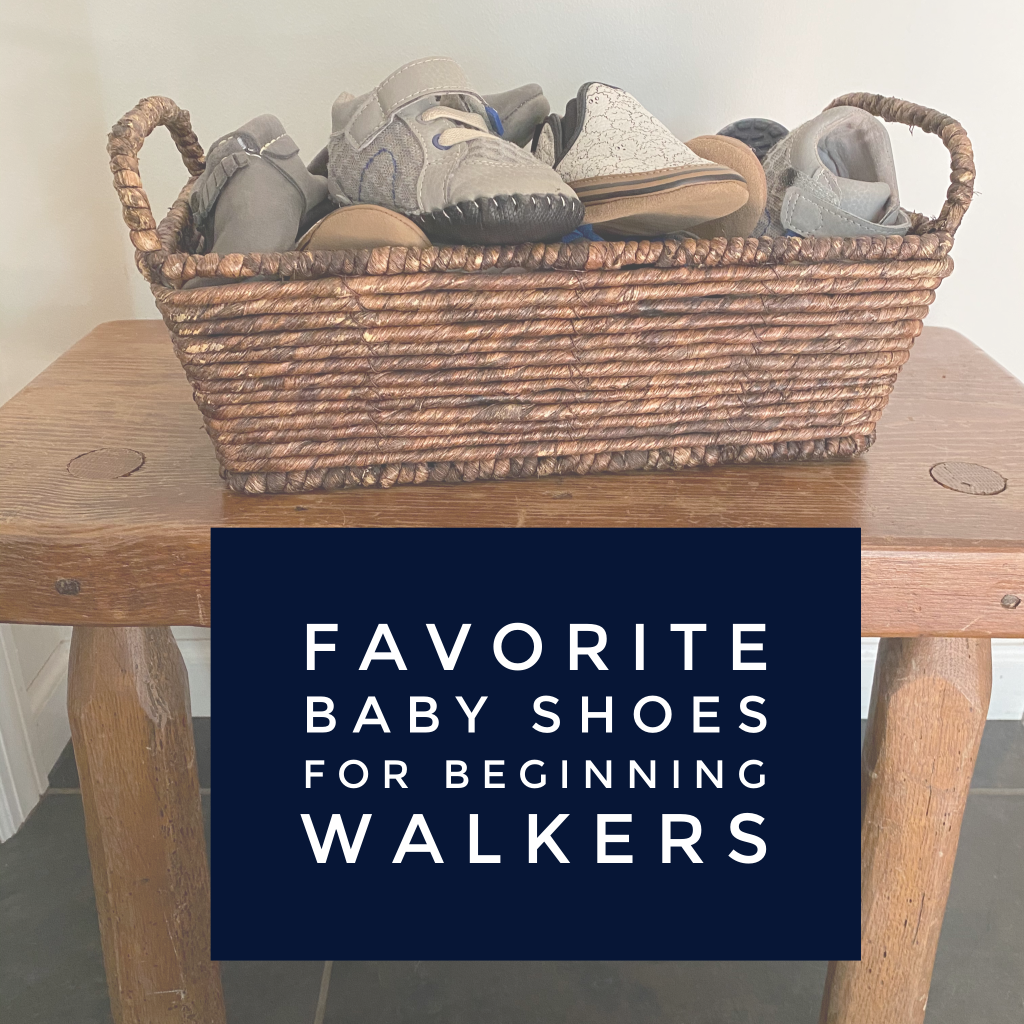 A couple months ago I put out a call on Instagram asking for your favorite baby shoes for beginning walkers. While Truett isn't *quite* walking yet, he is cruising along on all of the things and just starting to stand on his own, too.

I don't know why, but with Ainsley and Collins I never found any baby shoes I truly LOVED for those early and pre-walking stages. So! I set out on a quest this summer to find shoes that were truly awesome for baby feet.

Since we are spending a lot of time outdoors and at the park this summer, I needed baby shoes that would stay on, be good for developing feet, and be friendly for those first steps and beyond. Here's what I found + have been loving…

FAVORITE ALL PURPOSE :: Pediped Originals
Hands down these are my favorite shoes of all that we bought! I had never heard of OR tried Pediped but I'm officially sold. They are made with leather soles that are diamond treated for a little added grip with lots of flexibility for little feet. And their shoes are all certified by the American Podiatric Medical Association for being beneficial for developing feet.

I bought a lot of other baby shoes, but these are the ones that I specifically seek out each day when we head to the park. An added bonus? They are easy to put on and they stay put all day!
FAVORITE FASHIONABLE CHOICE :: Freshly Picked Soft Soles
Really, these are just THE cutest kids shoes around. I never splurged on a pair of Freshly Picked Moccasins for the girls – I got cheap knock-offs – but now that I have a pair of Freshly Picked I can see what all the fuss is about. They are extremely well made, comfortable and ultimately flexible for beginning walkers, and come in a ton of adorable colors, colors and patterns.
FAVORITE BUDGET CHOICE :: Surprize by Stride Rite
The soles of these shoes aren't as flexible as other shoes that I mentioned above, so I don't love them quite as much, but they are well made and easy to put on and a quality shoe for the price.

BEST RUNNER UP ALL PURPOSE :: Robeez
These shoes are also certified by the American Podiatric Medical Association and are a hybrid of moccasin style meets shoe. Like Freshly Picked, they are also super cute and come in a bunch of fun patterns and styles.