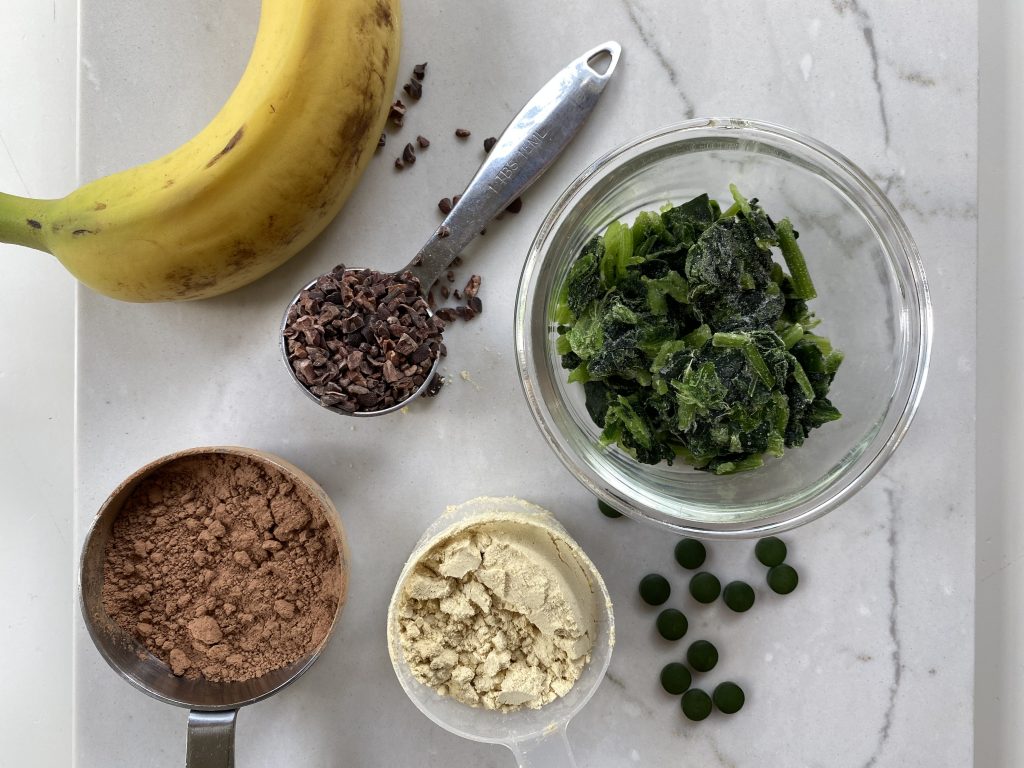 I have had my eye on Daily Harvest and their yummy-looking smoothies + bowls + bites for a while. If you're not familiar with Daily Harvest, you can read all about it here, but the basic premise is that it's a high-quality food delivery service. You fill a box (either monthly or weekly or in a frequency that suits you) and it comes on dry ice with your selections.

The Good:
-The quality of the ingredients used in their products is great and thoughtfully sourced with a wide variety of fruits and vegetables as well as other supplemental ingredients
-There were a lot of tasty options. I didn't like every smoothie or bowl I got, but I can see how once you found your favorites you could stick with those on a regular basis. My favorite smoothies were the Mint Cacao (obviously) and the Cacao and Avocado. I also liked a few of their bowls, especially the Sweet Potato Hash.
-They are convenient. Just add your liquid to the ingredients in the cup. transfer to a blender and blend until smooth. The cup also has a lid and a place for a straw so they were great to have on hand for portable lunches and dinners when time was tight.
-The sweetness level was nice! Nothing overly sweet and nothing artificial sweetening these smoothies.
-The smoothies that I gravitated toward had enough nutrition to be a full meal – between 360-560 calories in each smoothie before adding in the milk. Some varieties were more nutritionally akin to a snack, but the two mentioned above are definitely full meals.
-They come frozen and can stay frozen for quite some time! So you could get a box of 24 smoothies and then pause your membership and work through them over time.
The Bad:
-If you're on a budget, cost is definitely the biggest inhibiting factor. It's pricey – around $170 for 24 smoothies. If you eat out a lot and this replaces a meal out, it's probably not much more expensive or less expensive than eating out, but if you're making smoothies at home it's definitely MORE expensive.
-There were some flavors I flat out didn't care for. But, as I mentioned above, if you figure out what you do and don't like then you can simply avoid the flavors you don't care for.

So, I guess the question comes down to "Would you get another box?"
And my answer is "yes!" but with some modifications. After thinking it over, I really loved the convenience, taste and quality of the smoothies. Some of the flavors are so dang crave-worthy that I've been eagerly waiting for my next shipment. This time, I edited my box to include nearly exclusively Mint Cacao and Cacao + Avocado smoothies. And I'm pretty dang excited about that.

While it IS cheaper to make your own at home (I've done my best version of a Mint + Cacao knock-off below) when you account for the ingredients in each smoothie, it's still an investment to make your own at home with all the necessary ingredients.
Because we don't have a money tree in our backyard (sigh) I decided to make some cuts to other shipments we get regularly in order to make room in the budget for a monthly Daily Harvest Delivery.
So, if you have it in the budget, I give Daily Harvest a BIG thumbs up! You can get $25 off your first shipment using this link. But if it's not in the budget? Well the recipe below us a great place to start.


Ingredients
1 cup unsweetened almond milk (or milk of chooice)
1 scoop Vanilla protein powder (I like the neutral taste and clean ingredients of this pea protein from Thrive Market)
1 medium banana (even better if it's a frozen banana)
1/4 cup frozen spinach
5-6 Chlorella tablets (optional)
1 large handful of ice
1 tablespoon cacao powder or cocoa powder
2 tablespoons cacao nibs
Stevia to taste (I used 1 packet)
Couple drops of peppermint extract to taste

Ingredients
Combine all the ingredients above and blend with a high-powered blender until very smooth. Add additional ice if necessary to make the smoothie very thick.