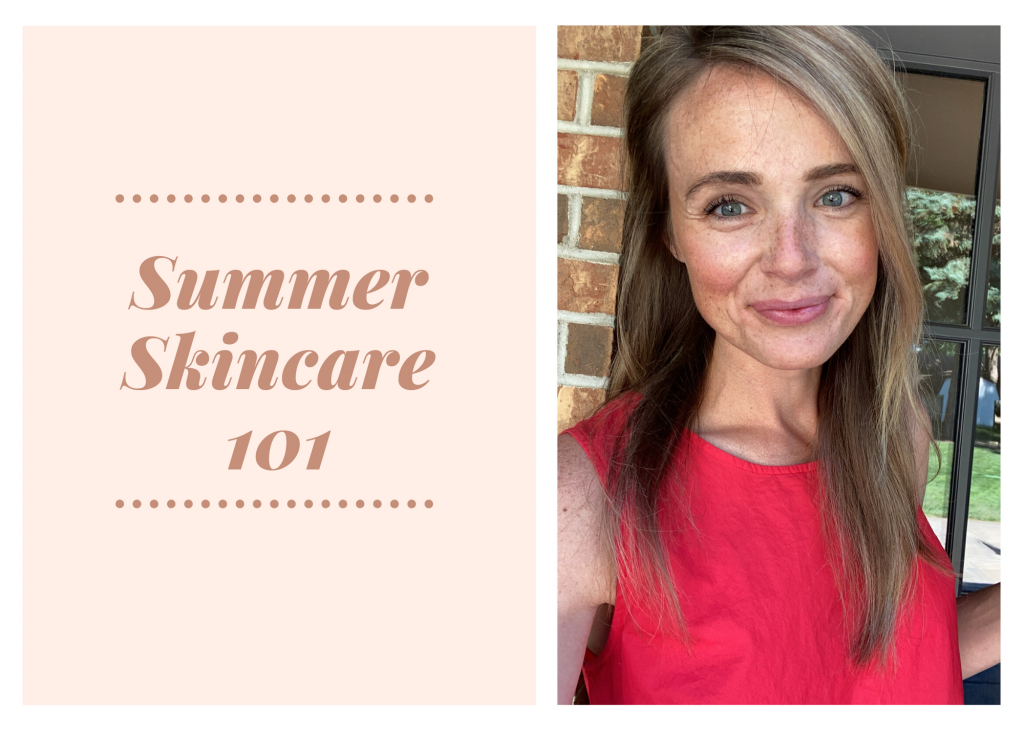 With every season change, I tend to mix up my skin care just a big to account for the change in temps, humidity, and the needs of my skin. Just like you might take inventory of your body – what it's craving, how it's feeling, energy levels, etc. – and tweak what you're eating, the same holds true for your skin, too!

Over the years, as I've gotten a better handle on what works best for my skin and what it needs in different seasons and stages of life, I have more and more confidence in how to give my skin what it needs to feel good + glowing + healthy.

Common Summer Skincare Needs //

1. Sun Protection
Summer skin needs more robust protection against the sun's damaging rays. Since most of us are spending more time outside than in the winter, it's important to use either a facial SPF or a tinted moisturizer with SPF. I recommend either the Sheer Defense SPF 25 for face or Dew Skin Tinted Moisturizer with SPF 20.

Clean Beauty Tip: Make sure that your sun protection comes in the form of zinc oxide, rather than chemical based sunscreens.
2. Antioxidant Protection
Since your skin is likely to be exposed to more environmental stressors in the summer than in the winter, it's wise to work a Vitamin C serum into your skincare routine. Why? Vitamin C is highly regarded for its antioxidant benefits and protective nature against free radicals that damage the skin. It also helps to improve skin's brightness and overall appearance and firmness.

Clean Beauty Tip: My favorite C serum is Beautycounter's Counter+ All-Bright C Serum made with a 10% concentration of Vitamin C from two ultra-stable forms.
3. Lightened Up
Some of the products that you've used in the cooler months may not be suiting your skin during the warmer and more humid days. Take inventory of your skin throughout the day. How does it feel? Look closely at your skin – if your notice any unusual white heads or clogged pores it may be a sign that your products (or the number of layers of product) you're using are a bit too much for summertime.

During the summertime, I swap out my heavier night cream for a more lightweight night cream – which still gives my skin the benefits of a night cream that helps my skin repair itself without weighing my skin down.
Additionally, you may find you need to swap out your cleanser. If your cream or oil-based cleansers feel like they're too heavy for summertime, try a lightweight foaming cleanser instead.

Clean Beauty Tip: It's never a bad idea to do a double cleanse. You can use the same cleanser two times in a row or two different cleansers. Either way, it's a great way to get your skin squeaky clean from the day's dirt + sweat + makeup + etc.

4. Exfoliation For All
If you're layering on the sunscreen, sweating more often, etc. then chances are your skin needs an added boost of exfoliation. I'm always surprised at the number of people who tell me they don't exfoliate at all! You can use a physical exfoliator like a scrub, a chemical exfoliator, or a combination of the two.

During the summer months I'll use a physical exfoliator like this a couple times per week in place of my regular cleanser, as well as a chemical exfoliator.

Clean Beauty Tip: My all-time favorite exfoliator is Beautycounter's ultimate hero product, the Overnight Resurfacing Peel. It works to gently yet effectively exfoliate the skin with a combination of 15 different botanically derived acids. I use it twice a week and always see great results!