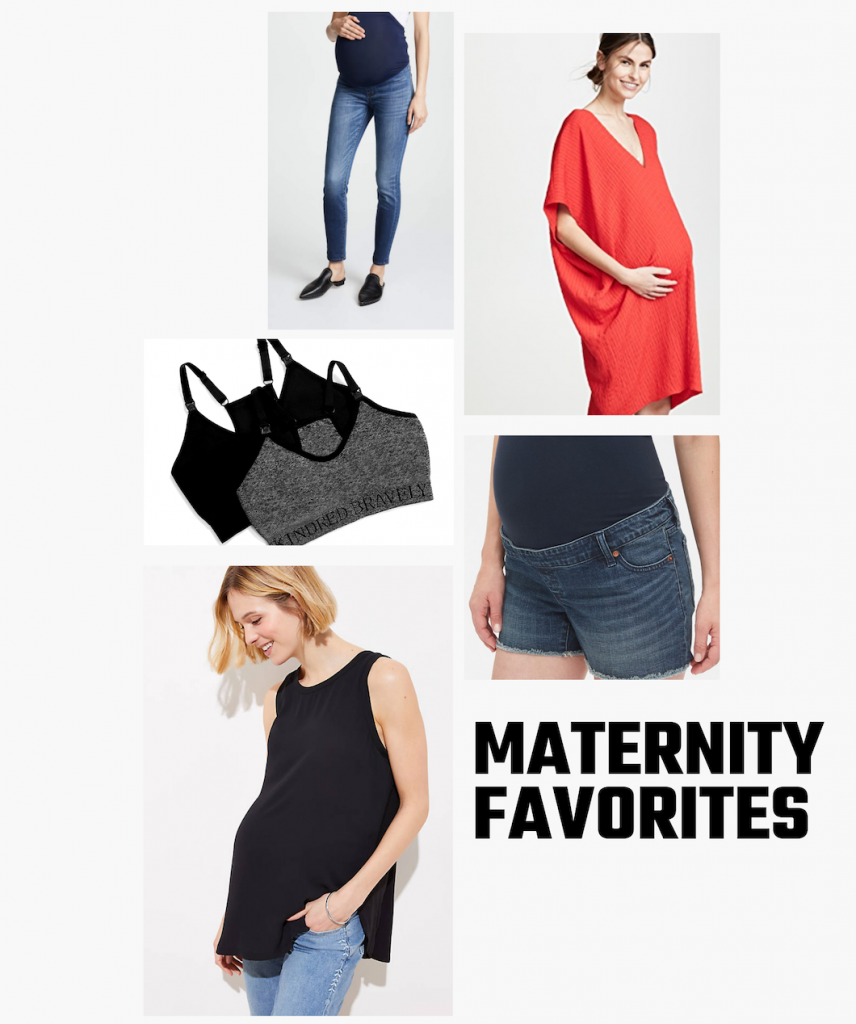 Now that I'm nearing the end of this pregnancy, I thought it was time to do a recap of the items of clothing that I've worn and truly loved throughout the entire pregnancy. Sometimes it takes a full pregnancy to really look back and figure out which items of clothing were the best purchases and investments along the way.
So, with that said, here are the favorite favorites that have stood the test of the last 36 weeks!
1. Kindred Bravely Sublime Support Nursing & Maternity Sports Bra
This has been my hands-down favorite nursing bra I've ever purchased. It's made out of the world's most comfortable material and is a great blend of supportive yet comfortable. I find myself making sure I'm on top of our family's laundry just to have this clean!
2. Madewell Over the Belly Maternity Jeans
It's not secret I'm not a huge fan of maternity jeans but these have been the pair I found myself reaching for time after time over the many other pairs I have. Note: Size down!
3. Isabel Maternity Inset Panel Midi Jean Shorts
I've really loved these jean shorts for much of my pregnancy! Now that I'm nearing the end of my pregnancy and my belly is getting a lot bigger I find I'm reaching for my full panel maternity shorts (below) more often, but for most of my pregnancy these have been a favorite.

4. Gap Maternity Full Panel Denim Shorts with Raw Hem
My favorite full-panel maternity jean shorts! These are so comfy and as I've gotten further along in pregnancy I've appreciated the full panel.
5. Old Navy Dolphin-Hem Run Shorts for Women
These aren't maternity workout shorts, but I've found them to work great for pregnancy when sized up! I've lived in them all of this summer – like I do when I'm not pregnant, too!
6. Hatch Collection The Slouch Dress
Make no mistake, this was a total maternity splurge and in all honesty I haven't worn it a ton but it's been nice for a handful of occasions to have it on hand and know that I have a dressy yet comfy option as the need has present itself.
7. Gap Maternity Ruffle One-Piece Suit
I have LOVED this maternity swimsuit – and trust me that's not something I would have ever imagined myself saying about a maternity swimsuit. I ditched the option thin strap and actually ended up wearing the straps like normal on my shoulders vs. the off the shoulder look and it worked great + was super functional for mom life at the pool!
8. LOFT Maternity Mixed Media Shirttail Tank
I have this tank in two colors and LOVE it. It's worked great throughout many stages of pregnancy and I love that it doesn't look maternity in the least bit, making it something I could see myself wearing in the first few weeks postpartum, too. I've also tossed it in the dryer on accident and it still fits great. Total win!
9. LOFT Maternity Fern Mixed Media Shell
Another LOFT favorite this pregnancy – I've worn it so many times and love how comfortable it is and, yet again, non "maternity" looking.
10. Carly Jean Los Angeles Stella Half Sleeve Dress
I've worn this dress all throughout my pregnancy and LOVE it. I just sized up one size and it still has plenty of room for this growing bump.