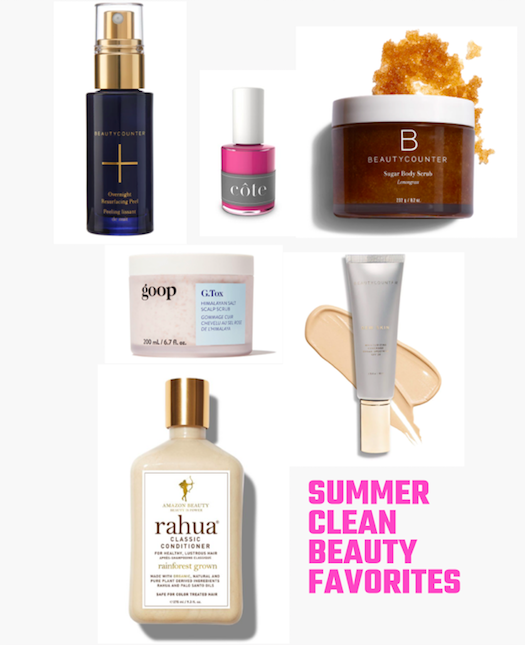 Dew Skin Tinted Moisturizer //
This is a must-have year-round in my book, but especially so in the summer months! I appreciate the SPF 20 protection it provides along with lightweight coverage to make your skin look flawless but feels like you're not wearing any makeup at all.
Cote Nail Polish //
My husband treated me to some new Cote nail polish for Mother's Day! Cote is a clean polish line that is formulated without the major toxins found in most conventional nail polishes. When I first tried Cote a few years ago I wasn't a huge fan, but I think their formulations have gotten SO much better in recent years, making them a new favorite.

Primally Pure Dry Shampoo //
I quit using dry shampoo a couple years ago when I learned how bad it is for scalp health and all the icky ingredients found in most conventional dry shampoos on the market. But my momma self really missed having an option to make it easier to go longer between hair washes. Thankfully Primally Pure makes a great dry shampoo – one for light locks and one for dark – that works well and smells great!
Overnight Resurfacing Peel //
Skin goes through a LOT in the summer – exposure to the sun, layers of sunscreen, sweat, and long days. I tend to notice that my skin needs more exfoliation in the summer months, which means I find I'm reaching for my favorite Overnight Resurfacing Peel twice per week to keep my skin glowing and combat clogged pores and blackheads.
Pearl Sheer Lipstick //
This is a new-to-me shade and it's quickly become a favorite. It's so easy to wear, and ultra moisturizing, which is a huge plus for me since my lips tends to be dry most of the time. It can be worn alone or on top of you favorite brighter lip colors for a more muted look.
Rahua Classic Conditioner //
My hair tends to feel a little more on the dry + dehydrated side in the summer thanks to the trips to the pool, time outside and in the sun, etc. I've been using this Rahua Classic Conditioner for a few months now and really love how soft and smooth it makes my hair feel. Note: I haven't yet found a shampoo of theirs that I like, but the conditioner has worked well for me!
Goop G. Tox Himalayan Salt Scrub Shampoo //
Piggy backing off what I mentioned above, my hair basically needs more TLC in the summer months. I LOVE this salt scrub shampoo from Goop. It's not designed to be use daily, bur rather an occasional use product that I work into my hair care routine about once per week. It helps remove build-up and leaves your hair and scalp feeling SO lightweight and clean. My husband calls it "the good shampoo" and loves it just as much as I do. 😉
Sugar Body Scrub in Lemongrass //
This is my favorite for sloughing off dead skin cells! It leaves skin feeling SO good, smooth and hydrated. I can't say enough times how much I love this stuff.