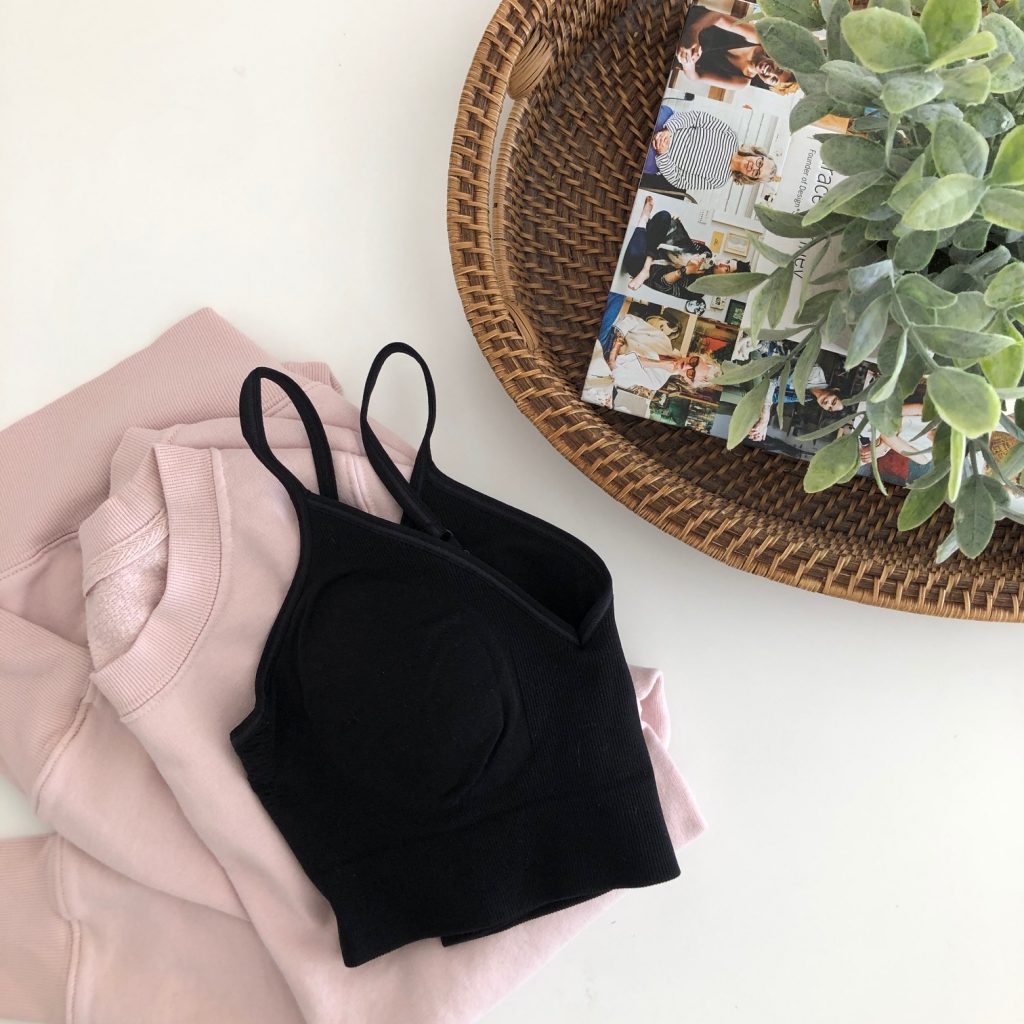 Lounge Wear
GapFit Seamless Low Support Plunge Sports Bra // These are THE best bras. They are comfortable enough to sleep in, wear around the house and for low impact exercise. I can totally see myself using these for nursing bras, too, down the road.

Gap Vintage Soft Maternity Pullover Sweatshirt // So comfortable/cute and doesn't look like maternity. I've been wearing this for weeks now!

Gap Pure Body Modal Joggers // I've owned these for years and LOVE them pregnant and not pregnant. Just bought two more pairs because my older pairs were getting worn out.

The Be Brand Sweatshirts // Love these sweatshirts and long sleeved shirts for super comfy lounge wear that's cute enough to wear out and about.
Work Wear
I've bought a bunch of dresses recently from H&M for Beautycounter functions and been really impressed with their cut and fit! I haven't been getting maternity items, just gravitating toward looser styles. I have this dress in black and a dress in leopard that I can't find on the site anymore and I love them both.
I also think I'll be making more purchases from Carly Jean Los Angeles because their flowy styles are perfect for pregnancy and postpartum recovery. I just got the Stella Half Sleeve Dress in black and will probably buy another dress or two in a similar style for being majorly pregnant in the summer months. I also got the Addison Jumpsuit and a few of their awesome tunic tops.
Swimsuit
I have never owned a proper maternity swimsuit while pregnant because my babies were born in February and May. I never really needed to wear one while pregnant – barring a few trips to the indoor pool – so I just made do with what I had.

Knowing I'm not due until August 10th, I thought it was a good idea to get my hands on a maternity suit for the summer. I found THIS ONE from Gap and I can't tell you how much I love it. I have the black version and it fits well and is super comfy!
Other Suggestions
I have been a Rent the Runway Unlimited member for a handful of months because I had a bunch of Q1 work travel on the calendar and wanted to make sure I had the right outfits. It's an economical and eco friendly way to shop for items that you might only wear once. Rather than buying said items, you can pay a monthly subscription and simply "check out" four items at a time, returning them whenever you want for another four items. It's been especially helpful during this transition time when I don't really want to invest in nicer pieces in sizes that won't fit down the road.
Jeans
For a full round-up of the jeans I have loved this pregnancy, reference THIS POST.