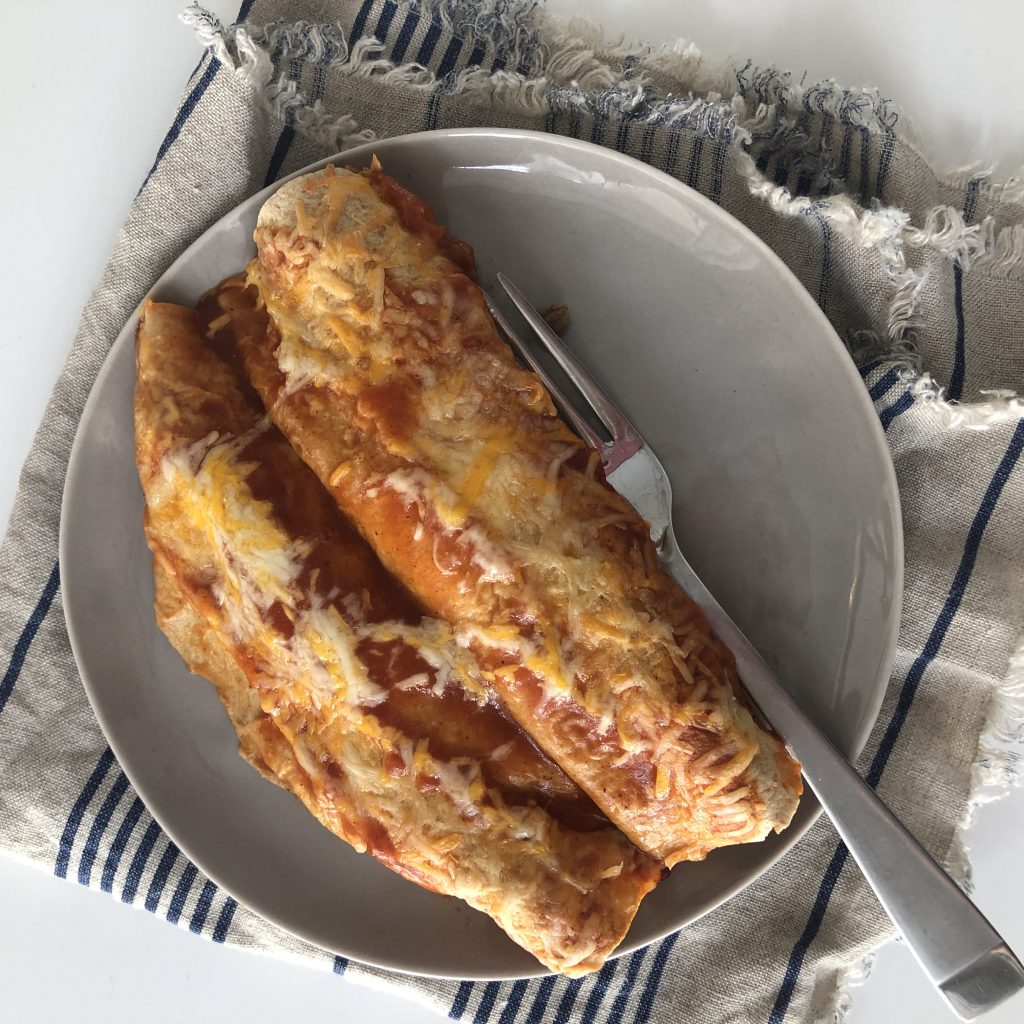 We might as well just call these "pregnancy enchiladas" since this seems to be one of the few foods that regularly sounds good to me. Even 16+ weeks into this pregnancy I'm still feeling pretty sick to my stomach most days and enchiladas are one of the few foods that I can count on to sit well with me.
While I tend to prefer enchiladas from a taste perspective with regular-old white soft taco shells, for the sake of health seeing as that I'm eating SO MANY enchiladas these days, I've been reaching for the whole wheat shells instead. Either will work and both taste delicious!
Easy Beef + Bean Enchiladas
Makes 8 enchiladas
INGREDIENTS
1 can (19 oz) red enchilada sauce
1 lb. lean ground beef
2 cloves garlic, minced (for ease and weeknight cooking, I buy jarred garlic)
1 (15 oz.) can black beans, drained but not rinsed
2 teaspoons chili powder
1 teaspoon cumin
1 teaspoon dried oregano
1 teaspoon salt
1/2 teaspoon onion powder
1/4 cup water
1 cup shredded Mexican cheese blend or sharp cheddar, divided
8 whole wheat or white standard-sized soft taco shells (8-inch)
DIRECTIONS
Heat oven to 375°F. Pour 3/4 cup of the enchilada sauce into the bottom of a 13×9-inch baking dish and spread to evenly coat the bottom of the dish. Set aside.

In a large skillet over medium high heat, brown the ground beef; drain excess grease. Return beef to pan and add the garlic. Cook 2 minutes more or until garlic is fragrant. Remove from heat. Add in the black beans, chili powder, cumin, oregano, salt, onion powder, water and 1/4 cup of the cheese. Stir until combined.
Spoon mixture by 1/2 cupfuls into the center of eat taco shell. Roll up and arrange filled shells in the prepared pan. Top with the remaining enchilada sauce; top with the remaining 3/4 cup of cheese.
Cover pan with aluminum foil and bake 20 minutes. Remove foil and bake 20 to 25 minutes more or until bubbly and edges are just slightly crispy and browned. Cool 10 minutes before serving.