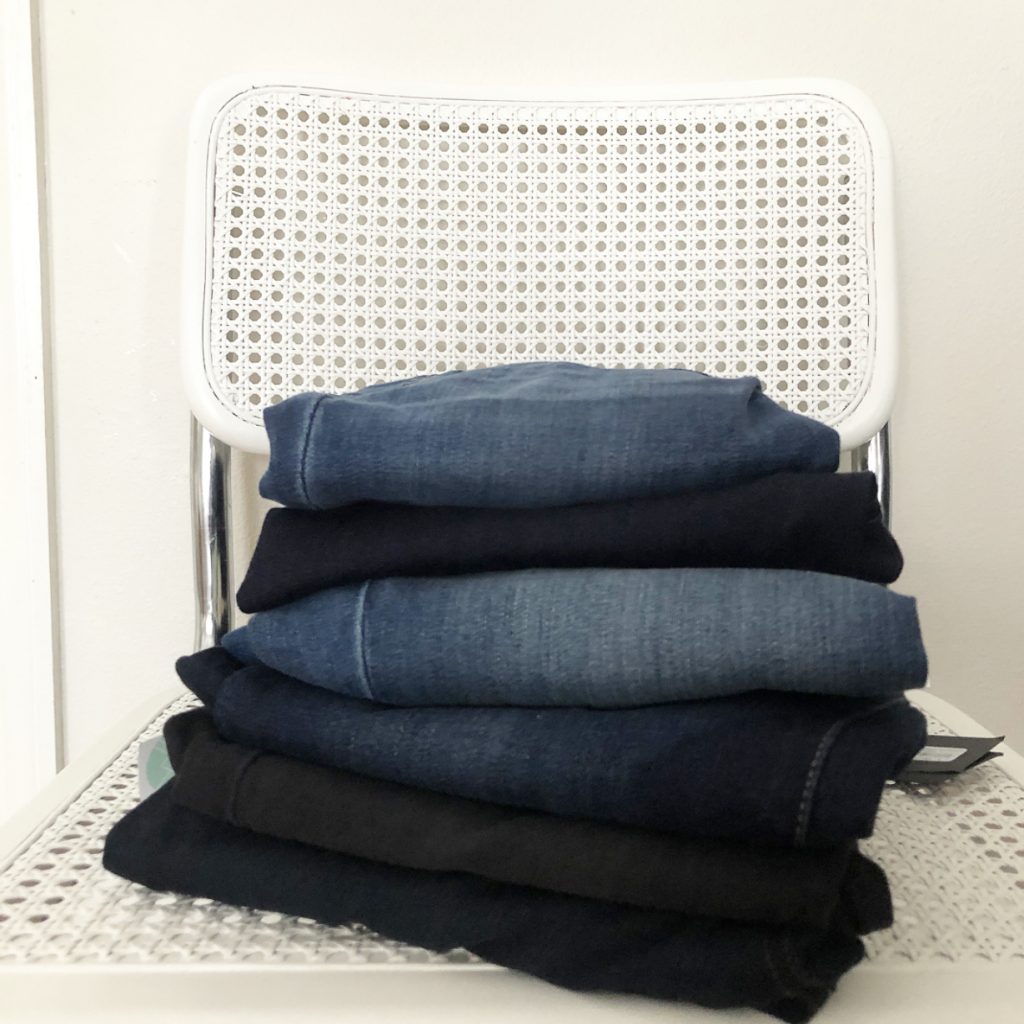 OVERALL WINNER
Seven for All Mankind – High Rise Maternity Jeans $189
BUY THESE JEANS! Oh my gosh, these are the maternity jeans of my dreams. They fit true to size, and are incredibly comfortable. Not in the "feel like leggings" way that some jeans feel, which I actually don't like because those same jeans usually stretch out, but in the sense that they have both stretch and structure. I was skeptical of the side panels but what makes these so great is, in my opinion, that they are high rise so even with a side panel vs. over the belly they still feel like they support and cover me in the right areas. 😉 Plus, I think I underestimated how much I would love having a real zipper and button on maternity jeans. These are pricey but SO so worth it. I've worn them three times now and they aren't stretched out at all.
VERDICT: KEEP

RUNNERS UP
H&M – MAMA Skinny Jeans $49.99
I kept this pair because they were so reasonably priced and seemed to be the type of jeans that would wear well and not stretch out too much with multiple wears. I haven't worn them out and about yet, so I can't personally vouch for their long term wear, but I like the fit and comfort thus far!
VERDICT: KEEP

Madewell – Over the Belly Skinny Jeans in Danny Wash $138
I really LOVE the way these feel and have worn thus far. True to Madewell denim, they have the perfect mix of stretch and structure to the denim and the over the belly panel is very comfortable. I kept this pair, though as a taller gal, I was so disappointed they don't carry talls in their maternity jeans.
VERDICT: KEEP
THE LOSERS
Hatch Collection – Nearly Skinny Maternity Jean $248
Can you believe that price? These were the most expensive jeans in the bunch and honestly, some of my least favorites. They said on the website that these jeans run small and suggest sizing up one or even two sizes. I sized up one size but should have sized up two, I guess, because they still felt small. Other complaints? They were low rise (again) and honestly there wasn't anything special about the jeans for the price.
VERDICT: RETURN

Target – Maternity Crossover Panel Jeans by Ingrid & Isabel $29.99
This was another brand and style that was recommended by many on Instagram, but I honestly couldn't have disliked them more. The fit strange in the crotch, and I could tell that they would be the type of jeans that wore poorly and had to be washed after each wear.
VERDICT: RETURN

Other Brands Recommended
I didn't try EVERY brand that was recommended but here are a few others that were recommended when I asked you all on Instagram what brands you loved:
LOFT Maternity Jeans (they don't make talls, so I didn't try any)
Good American Maternity Jeans
Jessica Simpson Maternity Jeans

STITCH FIX MATERNITY JEAN REVIEW
Overall, I wish I had discovered that Stitch Fix now has so many amazing maternity jeans to choose from. The box I got was awesome! I just requested that I only get maternity jeans in my fix and told my stylist a bit about what I was looking for and price point and she delivered with some great options. I haven't used Stitch Fix in years, but this was so worth it! If you want to get a fix, you can use this referral code!

From Stitch Fix //
Lila Ryan – Liza Maternity Skinny Jean $98
This was a brand I hadn't heard of before and I was really impressed! The jeans are a bit "stiffer" but have just a bit of stretch, and I liked the lighter wash and over the panel fit.

NYDJ – Ami Maternity Skinny Jean $139
These were comfortable when I slipped them on, but they were the type that I could tell would bag out and need to be washed after every wear – which is my biggest complaint with maternity jeans in general and a deal breaker for me.

Paige – Verdugo Maternity Skinny Jean $189
So so many people recommended Paige maternity jeans but I have to say I was NOT a fan of these jeans – especially for the price. The rise was fairly low on these jeans, and in the short time I was wearing them I could tell I would constantly be pulling them up if I kept them. Additionally, I heard from some people that they found Paige jeans didn't hold their shape well.

Mavi – Colette Maternity Skinny Jean $88
I really liked these jeans! They were soft and stretchy yet fit snug enough that I felt they would wear well over time and multiple wears. I also really liked the darker wash for something different and the price point was great!

DL1961 – Florence Maternity Side Panel Skinny Jeans $128
No. Just no. Whoever thought that designing ridiculously low rise side panel maternity jeans was sorely mistaken. It does no favors for the booty or the pregnancy love handles. 😉 These were a hard PASS. They also run really large. Even sized down a size they were crazy baggy.