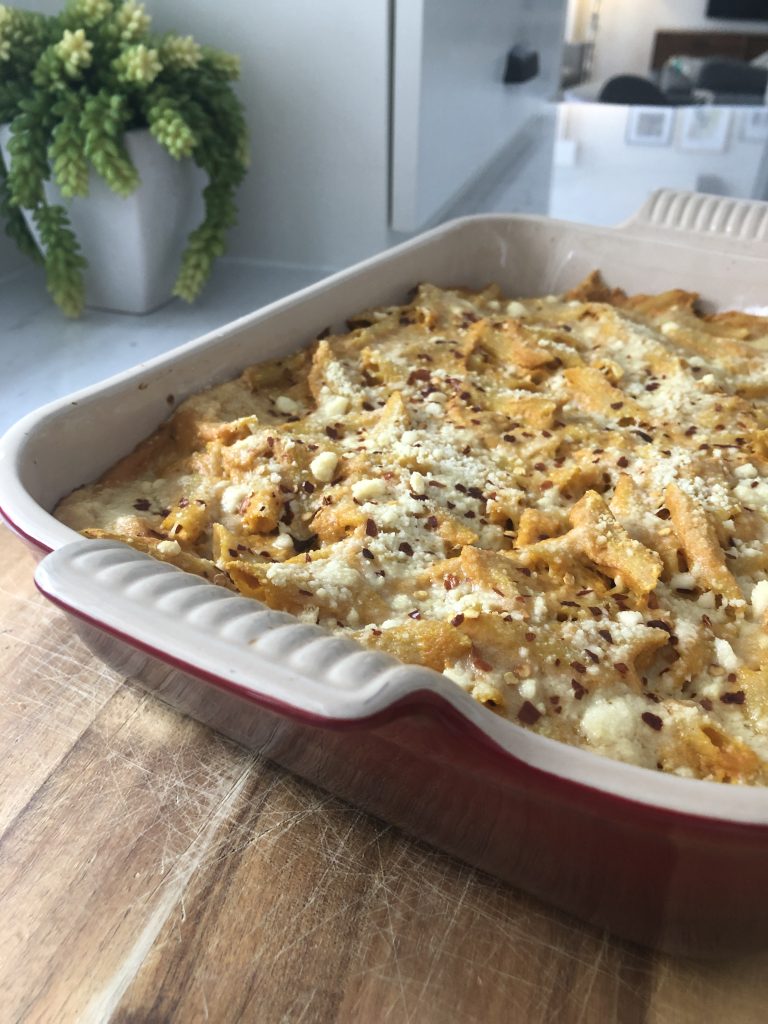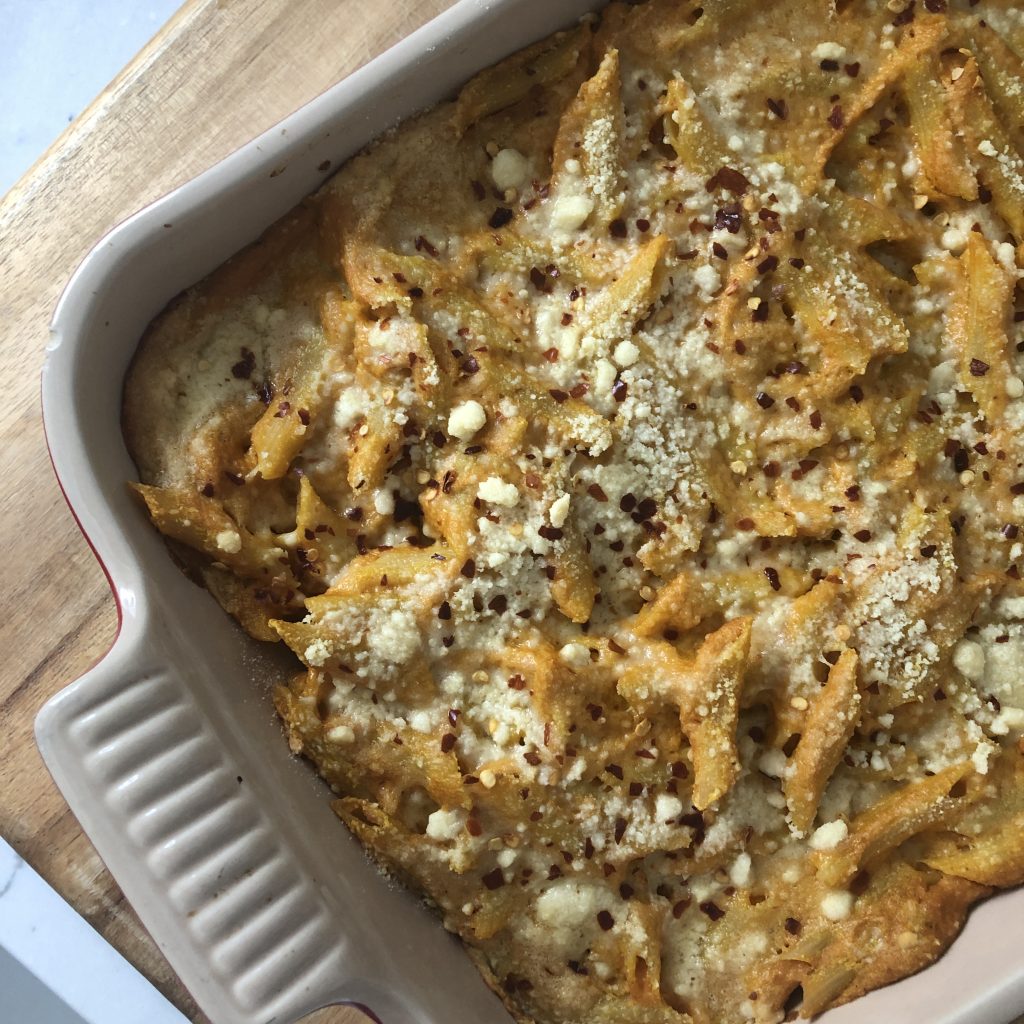 Happy Friday! We are waiting for a snow storm that's supposed to hit our neck of the woods sometime today, long-overdue since we've hardly had any snow and very mild weather all winter thus far, and I'm over here baking pasta dishes and prepping for a weekend spent indoors watching football.
I've been planning/dreaming of making this dish for over a month now – ever since I made a similar dish with butternut squash from Food & Wine for a Christmas party in early December. While I enjoyed the process of peeling and cubing and cooking the butternut squash before actually making the sauce, for a weekday meal it was hardly an approachable method. It seemed obvious that I could swap out the squash for canned pumpkin and get a similar result with less fuss – and while the flavor profile was slightly different I was shoveling hot bites of this in my mouth the second it came out of the oven. So I think it's safe to say it was GOOD.
One thing to note: This dish (similar to the original I made in December) is best served hot. It's fine re-heated, but for maximum creaminess and best texture, making it straight through is best. Additionally, I wouldn't suggest prepping this in advance and baking it later. I did that for the Christmas party I hosted, and I felt that the pasta had absorbed too much liquid while it sat in the fridge, so once again, making it straight through being optimal. It doesn't take long to assemble and with the help of a high-powered blender (Yay Vitamix!) the sauce becomes incredibly creamy. Enjoy!
Healthy Baked Mac and Cheese
Makes one 13×9-inch pan (6 to 8 servings)
Ingredients
1 box (16 oz.) penne pasta (I used Barilla Plus high protein penne)
20 oz. pumpkin puree
3 cups chicken stock (not unsalted)
1 cup cashews, soaked in water for at least 1 hour up to 4 hours, drained
2 cloves garlic, minced
1 teaspoon salt
1 cup grated Parmesan cheese, divided
Crushed red pepper flakes, if desired
Directions
Heat oven to 350°F.

Cook pasta according to package directions, removing from water when the pasta is very al-dente and has some bite to it. The pasta will continue to cook in the sauce and you don't want it to be mushy. Drain; set aside.
While pasta is cooking, in a large high-powered blender combine the pumpkin puree, chicken stock, cashews, garlic, salt and 1/2 cup of the Parmesan cheese. Blend until very smooth and no lumps or texture remains. Note: You may have to work in batches depending on how big your blender is.

Combine the pasta and sauce, stirring until pasta is evenly coated. Transfer pasta mixture into a 13×9-inch greased baking dish. Spread evenly in dish. Top with the remaining 1/2 cup grated Parmesan cheese. Cover dish with aluminum foil.
Bake pasta, covered, 20 minutes. Remove foil and bake 20 to 25 minutes more or until bubbly around the edges and the top is golden. Remove from oven and top with crushed red pepper flakes, if desired. Serve immediately.
Variations:
I think the flavor profile of this dish lends itself to adding in some type of protein, specifically some ground sausage or chopped chicken, which could be added to the dish before baking.
Alternately, you could add a drizzle of basil pesto to the top of the dish before serving or top with some toasted walnuts after baking for a little crunch.