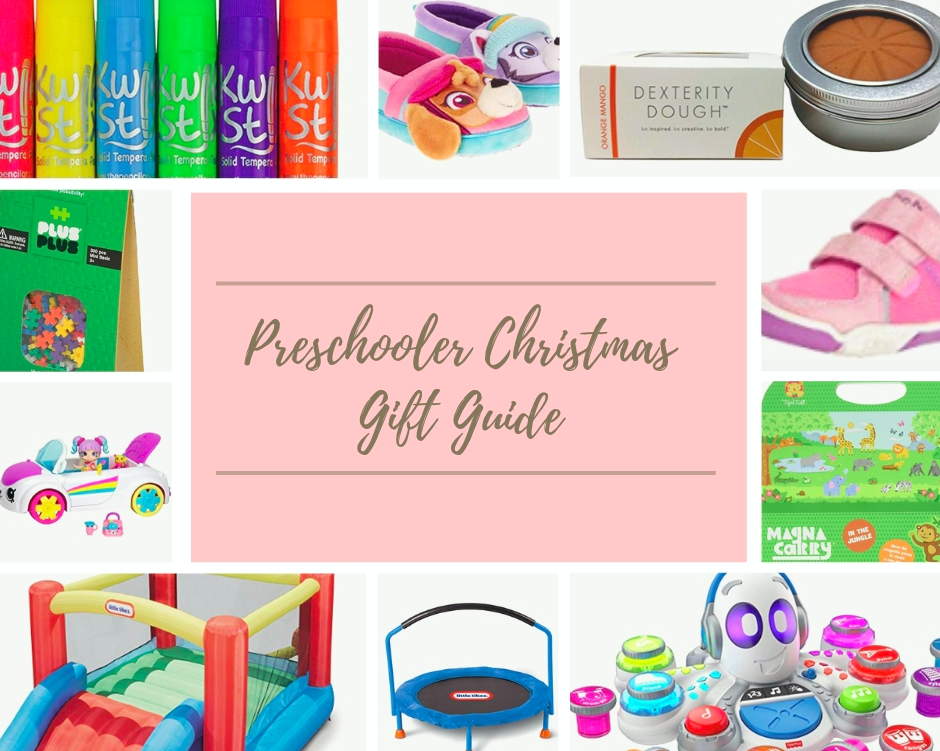 Hi friends! Checking in today with the first of a few holiday gift guides. Today, I'm sharing some of my favorites for the preschooler-aged kiddos in your life. All of these items we have used/purchased/loved and/or have firsthand experience with using so I can vouch that if your kiddos are anything like ours, they will love these gifts! That said, this is geared more toward Ainsley's age rather than Collins's age, though Collins certainly plays with most of these toys, too!
Here are some of our new favorites!
Rocktupus //
We were gifted this as part of a campaign I worked on with the brand, and I'm so happy to say that the girls really have loved playing with this toy from Fisher Price. It allows you to mix and match the little plugs to create different instrument sounds and both Ainsley and Collins have enjoyed it.
Plus Plus Basic Assortment Building Pieces //
My dad gifted these building pieces to Ainsley when we celebrated early family Christmas this year and she has been having so much fun building and creating with these little interlocking pieces. The come in a bunch of colors and are so fun to use!
Dexterity Dough //
Ainsley got this from my mom as a safer, more user-friendly Play Doh and it's awesome! It's made without any artificial fragrance and or petroleum and smells like oranges!
Kwik Stix Paint Sticks //
A less-messy alternative to painting, these have been a favorite in our house for a while. They almost feel like writing on paper with lipstick, and they dry quickly so you don't have to worry about the typical mess associated with traditional paint.
Shopkins Happy Places Rainbow Beach Convertible //
Ainsley gifted this to her cousin, Lottie, for her birthday and then got one herself for Christmas from her aunt (we celebrated early with my side of the family) and it's been a hit in our house! The Shopkins craze is something I'll never understand, but preschoolers love them!
Plae Shoes //
We have bought Ainsley a pair of Plae shoes for the last 4 or 5 seasons and she loves wearing them. We got her this very pair for her next size up. They are so comfortable, wear well and are cute enough to go with most outfits – casual and dressy.
Magna Carry Playbook //
So great for keeping little hands busy in church, in the car, etc.!
Little Tikes Jump & Slide Bounce House //
We finally did it! We bought a bounce house for the girls to keep in the basement. I promised myself last winter that I wouldn't go another winter without a bounce house for the basement. So excited to see their excitement about this!
Little Tikes Indoor Trampoline //
Another solid choice for getting wiggles out in the winter months!
Paw Patrol Slippers //
Ainsley has these, she loves these and she wears them all the time!