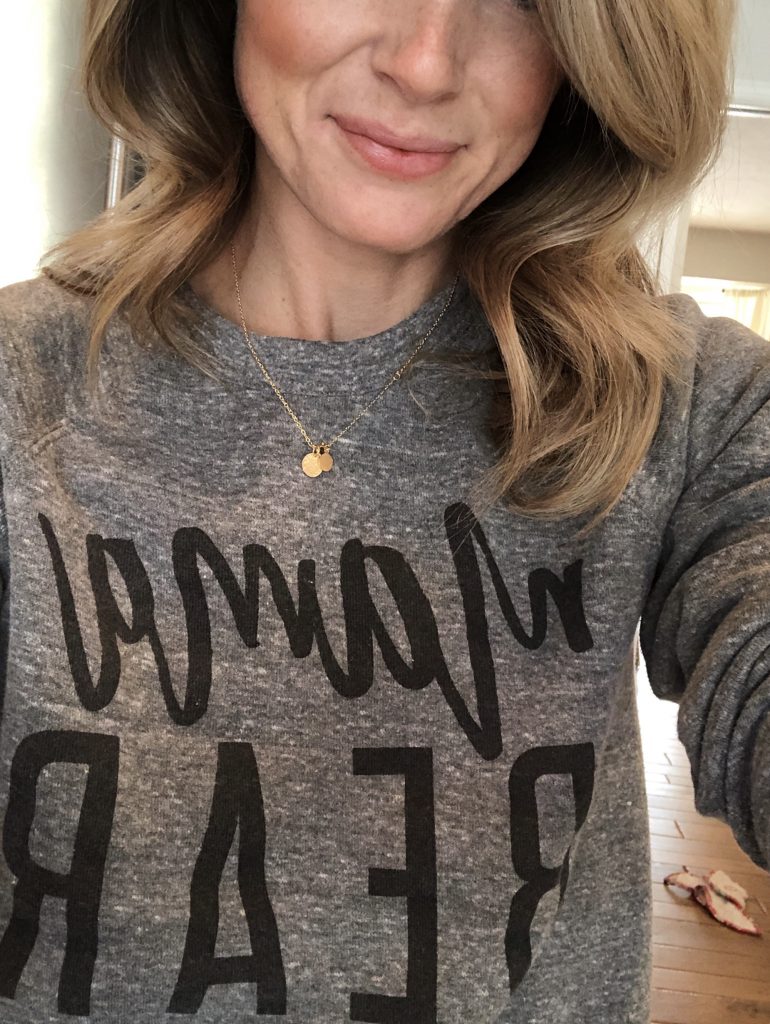 Mom life and working at home means I spend a LOT of time in more athletic clothes than I would like to admit. On days that I'm working I try to get dressed in real clothes most of the time, but when I'm not working and hanging with the girls, I much prefer to be in comfy-cute clothes. It allows me to be a more active, interactive mom when I'm comfortable and ready for a game of tag, hide and seek, or puzzles on the floor at any moment.
Here are a few of the items I've been loving lately:

Gap PureBody Modal Joggers // I wear this year round and while they are a tiny bit lightweight for winter, they're great for lounging around the house. Buy a pair (or three!) and I promise you'll be happy you did.
Athleta High Rise Chaturanga Tight // THE best workout tights around. They are expensive but worth the investment, and I personally find Athleta clothing to wear/wash the best and last the longest.
The Be Brand's "Mama Bear" Sweatshirt // I've hardly taken it off since I got mine a couple weeks ago. It's so comfy, has a great roomy-yet-cute fit and washes really well. I'm already planning on getting another style.
Athleta's Metro Joggers // Cute, comfy and looks presentable when worn outside the house, these joggers are just so good.
Headbands from The Be Brand // I get a TON of questions about the headbands I'm wearing in about 50% of my photos on Instagram. I've been loving these headbands from The Be Brand since I discovered them this summer and recommend them to everyone. They hide a bad hair day and work great for keeping your hair out of your face while working out and momming.
Tanks and Tops from Old Navy // When it comes to athletic pants and active leggings, I'm all about high quality. But for tanks and workout tops Old Navy can't be beat. I am LOVING all my tanks and tops (including this one and this one with the cute scalloped detailing) from Old Navy. Added bonus: they are all on sale right now!