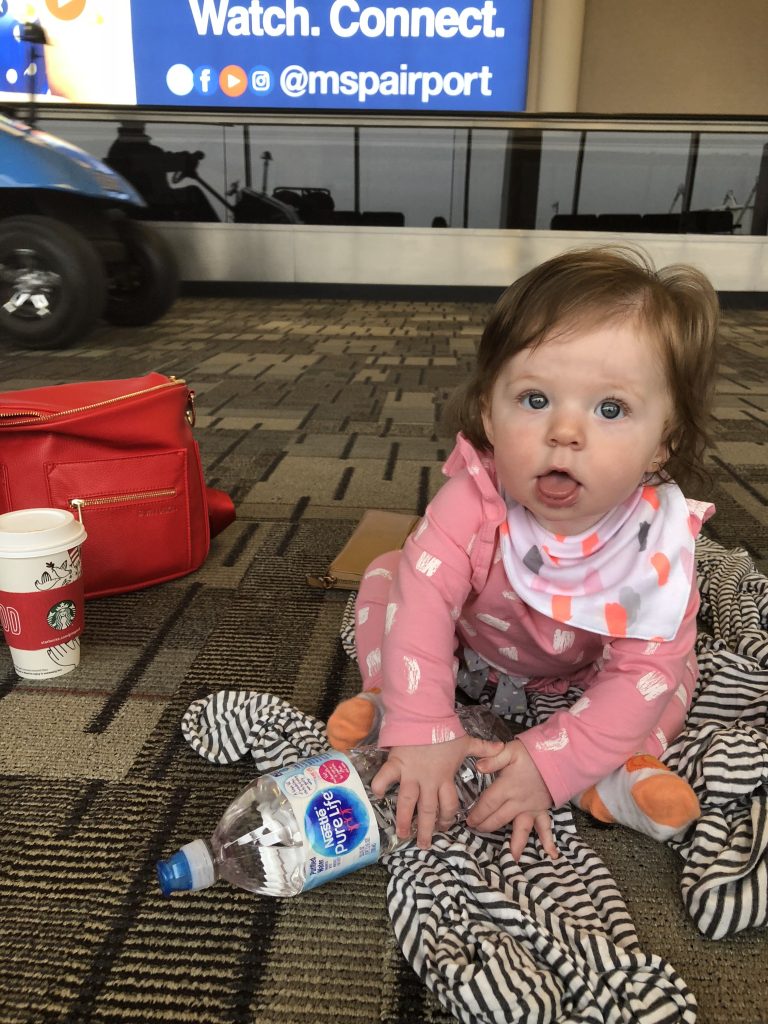 We have recently returned from our first big trip with both girls and man, what an adventure! We had a wonderful time in Florida and I certainly learned that travel with one toddler is not the same as travel with a toddler and a baby. It was good for us to take the trip and learn a little bit about what to do differently the next time we embark on a big trip with these two – most likely this summer when we go to Oregon on family vacation.
Surprisingly, Ainsley was actually the easy one to travel with. I was shocked that on the entire trip to Florida we didn't even have to get out the iPad or movies on the plane once. She happily entertained herself with figurines, books, stickers, crayons and lots of snacks. Her little sister, on the other hand, was a handful! Collins was as good as a 7-month-old baby could probably expect to be, but she is at an awkward age for air travel. She is crawling now, so she wanted to move and crawl all over every single (dirty) surface. She isn't old enough to snack on finger foods and toys hold her attention for about 5 minutes each. So we had to work to keep her happy and entertained.
That said, I learned a lot and have a few suggestions for anyone thinking of taking a trip with their little ones!
Take a double stroller with you! I can't stress this enough. We debated leaving or Baby Jogger Summit X3 (which is currently on MAJOR sale on Amazon!) at home, but I'm so glad we didn't. Having a way to contain/restrain both kids at once was so helpful when we were in the airport and with the warmer weather, it was really wonderful to be able to take the girls on long walks and have a place for Collins and Ainsley to nap out and about.
Take your favorite baby carrier. Collins LOVES the Ergo 360 and we have gotten so much use out of it. I opted to take the Solly Baby Wrap instead because it's smaller and more portable, but it was a mistake in the long run. The Ergo 360 would have been so nice to have, so if you can fit your favorite carrier in your suitcase, make it work!
Don't try to do too much. If it sounds like it's too much, it probably is. We made a few mistakes trying to go out to eat too close to nap time or bed time, trying to do too much in a single day, etc. It led to tired, melting down kids and exhausted parents. It's not the end of the world, but if you're looking to minimize stress and frustration on everyone in your family, bite off only as much as seems reasonable.
Take a diaper bag that has a backpack carry! I LOVE my Fawn Design diaper bag and will sing its praises forever and ever. It's pretty, functional and the hands-free nature of being able to wear it as a backpack came in handy more times than I can count.
Invest in good car seat bags. We borrowed this Britax Car Seat Travel Bag from a friend and I'm planning on buying two for our family because it was SO handy. We checked both of the car seats for the girls with our luggage and these bags help protect the car seats and make them easier to carry. This particular bag has wheels as well as a backpack carry option which was so incredibly useful! There are some risks in checking your car seats vs. checking them at the gate, but with two kids and a double stroller we really felt it made more sense to check the car seats with our luggage so we could have our hands free to wrangle the girls. Bonus: Car seats fly free on most major carriers!
Take a carry-on suitcase packed with the essentials for each family member, especially if you are traveling in the winter! We took a carry-on suitcase plus one large checked bag for our week in Florida. In our carry-0n bag we had all the essentials in case our luggage got lost or we got stuck in the airport for an extended period of time. Think: Diapers, wipes, formula, extra clothes for each family member, toiletries, etc. We didn't need most of the items in that bag, but I'm so thankful we had it just in case!
Send larger items ahead of time. I placed a large Target order in advance of our trip and had it shipped directly to my aunt's house – diapers, wipes, extra formula, baby food pouches, puffs, and a collapsible high chair. It saved so much space for us and the shipping was free!
Spend some extra $$ if possible on picking reasonable flight times and schedules. If you are traveling by air, you will be thankful that you didn't pick the flight that leaves at 7 pm or that has a four hour layover. If it's a reasonable price difference, pay a little extra and leave at a reasonable, yet early morning hour when your kids are fresh and get to your destination sooner rather than later. If you can do a nonstop flight – by all means do so!
Have a sense of humor! Things will go wrong, melt downs will occur, delays will happen, etc. My husband is great at this and it helped to laugh off some of the more difficult parts of our trip. Traveling with kids is hard, and sometimes it seems like it's just not worth the hassle, but it truly is! Remind yourself why you are going through all the effort: So your kids can see their family, so that you can expose them to the big, wonderful world that God created, so they can have new and exciting experiences. Having that perspective goes a long way in making your trip more enjoyable.
Madison
*Affiliate links used when applicable.