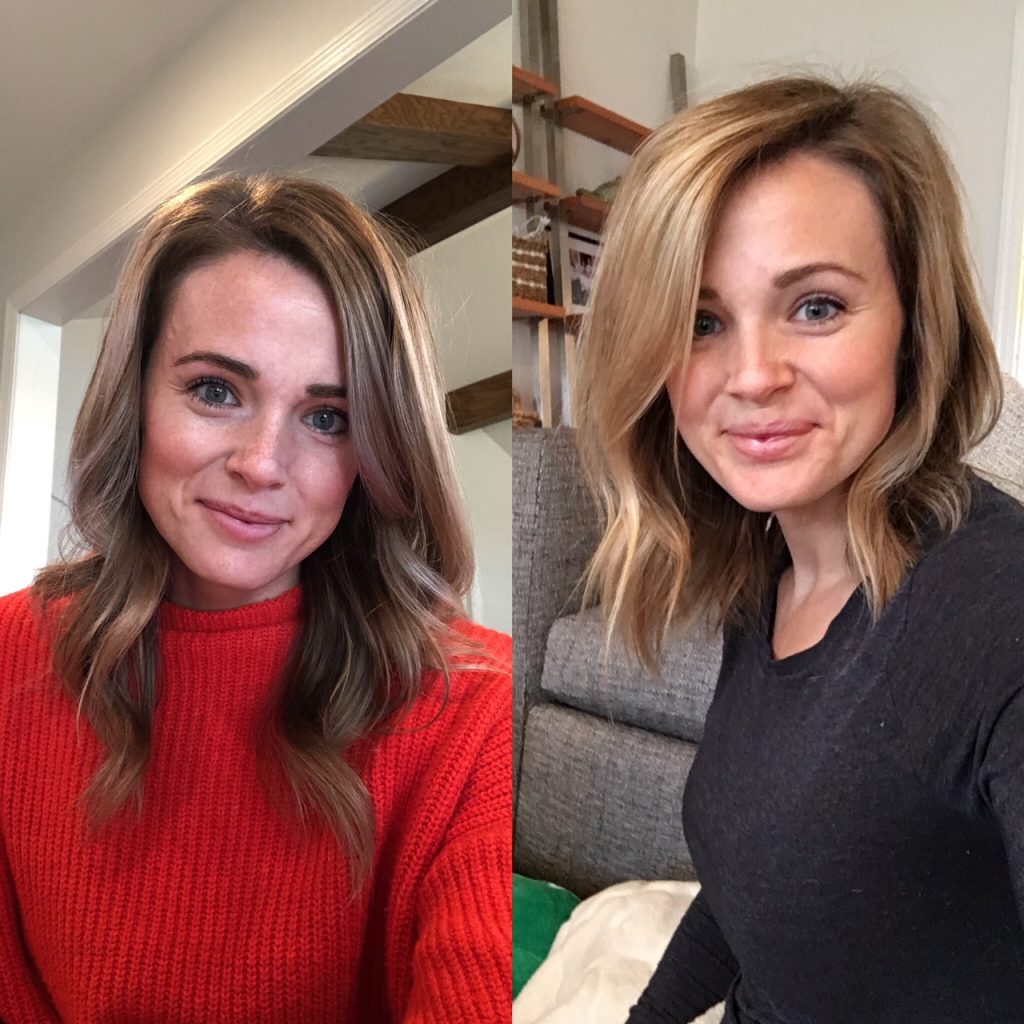 I've talked a lot about hair on Espresso and Cream over the years. About a year ago, I posted this while I was contemplating what to do with my hair. It was brittle, breaking off like crazy, and incredibly unhealthy, despite being 1 1/2 years postpartum and pregnant with another baby. Babies, man, they are hard on your hair!
Less than a year ago shortly after writing that post, I decided to chop my hair. My stylist agreed that there really wasn't much else I could do to salvage my hair and starting fresh might be the best (only?) option. After chopping my hair I committed myself to growing my hair back out in the healthiest way possible. It wasn't until yesterday, when I looked at my new color and how long my hair has gotten in less than a year, that I realized how much healthier my hair is now than when I chopped it all off.
My Healthy Hair Routine //
1 / Beautycounter's Volume & Shape Line
I switched over to Beautycounter's Volume & Shape Shampoo, Conditioner and Volumizing Mist when they launched their new salon-quality hair care products this spring. I fell head over heels for the V&S collection from the first weeks I used it and haven't looked back. What I learned about traditional hair care is that a lot of the products make your hair feel healthy rather than making your hair truly healthy. Beautycounter's line doesn't contain sulfates, silicone or SLS and uses PureFoam Cleansing Technology to get the amazing foam without sacrificing safety. My hair has never felt so clean, so shiny, so truly healthy and strong!
2 / Continuing Prenatals 
I still take my prenatal vitamins on the regular even after having a baby. There are a lot of "hair growth" vitamins out there, but many of them contain cheap biotin and b-vitamins that aren't the bio-available variety. Don't settle for cheap vitamins. If you're going to take them, make sure your vitamin contains methylated folate (NOT folic acid) and that they are good quality. My favorite prenatals come from Seeking Health or Garden of Life.
3 / Collagen Supplements 
I take a collagen supplement most days to help my skin and hair from the inside out. My favorite collagen is from Vital Proteins and can be bought on Amazon! If you're curious to learn more about why collagen is good for your skin and hair, this article does a good job breaking it down.
4 / Dropping the Dry Shampoo
I was also struggling terribly with itchy scalp when my hair was at its worst. I read enough scary articles to convince me that perhaps dry shampoo wasn't helping my hair but was, in fact, hurting it and contributing to my itchy scalp and hair loss issues. The first few weeks to a month my hair looked greasier between washes, but now that I've gone without it for nearly a year, I find that my hair doesn't need it – even if I only wash it a few times per week. When I really need to absorb excess oil on my hair between washes I use Beautycounter's Mattify Powder on my hair and brush it on where needed. Does the trick well!
I hope this helps someone who may be in the same spot I was in! It's SO frustrating to deal with hair issues and the two year long saga of my hair has really been a learning experience for me.
Madison