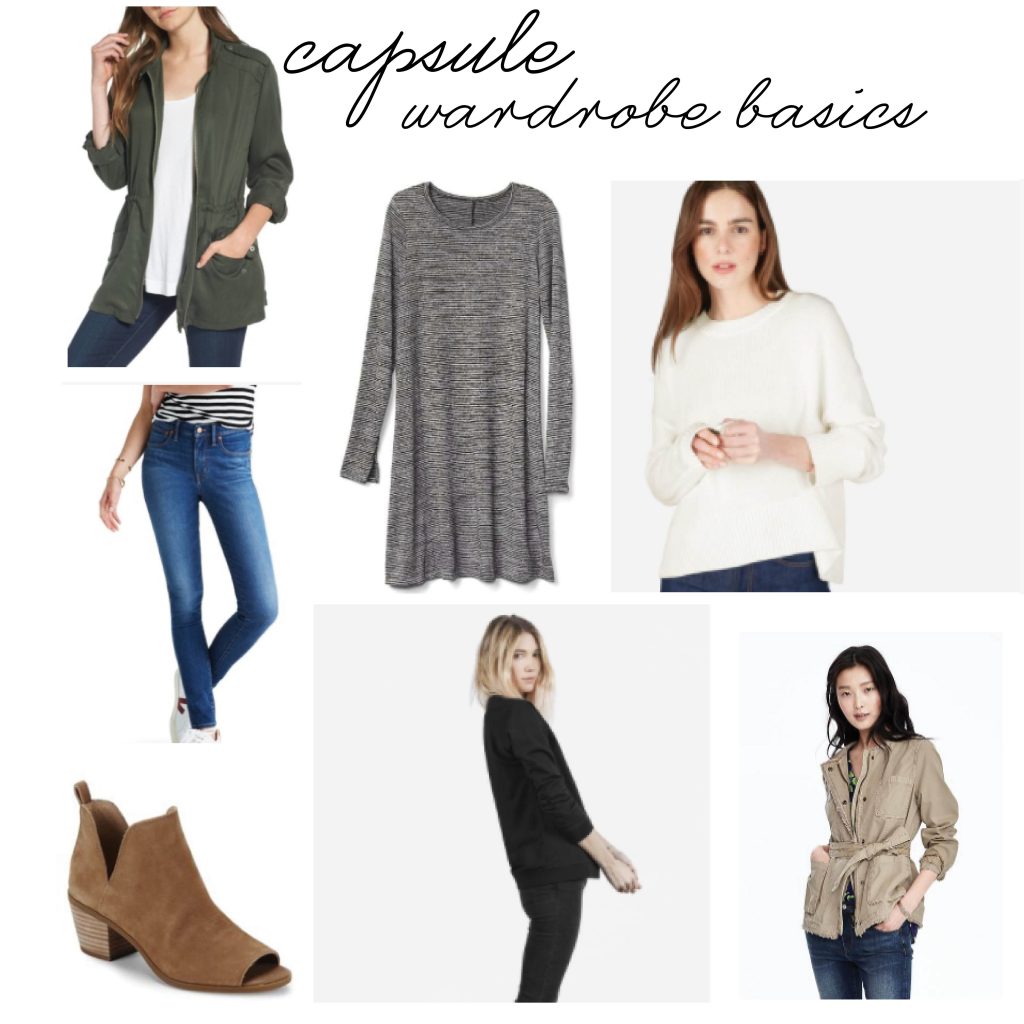 I've been going through a little bit of what you might call a "style crisis" lately. Maybe other moms out there can relate? When your body is growing, changing, shrinking, expanding, it's really hard to find a style that works and stick with it. While I don't follow a strict capsule wardrobe, I have a very curated wardrobe that is free of excess and things I don't absolutely love.
A few readers messaged me, asking if I would be willing to share what my must-have items are in my wardrobe. So here you have it! While my style is still growing and changing, this is a list of my favorite basics to build a foundation of a great closet.
Although there are some pricier items listed below, quality absolutely trumps quantity in my opinion. And if you love a brand or store, I would highly recommend looking on ThredUp! I've found a lot of my favorite Anthropologie brands for a steal on the site for much less than what I would pay in store – some of the items even have their original tags!
Madewell 9″ High Rise Skinny Jeans 
These jeans feel like a warm hug. I don't know any other way to describe them. I love wearing them and the high rise is a mom's best friend. So good for getting down on the floor and playing with your kids!
Casual + Pretty "Everyday Dresses" 
I think my definition of "everyday dress" is probably a little fancier than others, but I love a good, flowy dress for looking put-together yet able to play with my kids at a moment's notice. This Trimmed Peasant Dress from Anthropologie caught my eye, as well as anything from Sonnet James. I have this Softspun T-Shirt Dress from Gap that is on regular rotation. Bonus for dresses that can be dressed up or down with the right shoes and accessories.
Comfortable, Substantial Layering Tanks 
When you are postpartum, or if your stomach doesn't resemble a washboard, I think that layering tanks that are a little looser and made of a more substantial material are a must. I love this stripe softspun scoop neck tank from Gap.
Structured Crew Sweatshirts 
I love these crew sweatshirts from Everlane. I wear them with jeans, with athletic shorts, with jean shorts, etc. They are both casual and put together all at once and wear well. My tip? Size up!
Peep-Toe Booties 
I have a flat pair of peep-toe booties (a similar style shown here) and I wear them all. the. time. They are comfortable and work great for the fall transition.
Comfortable Joggers for Lounging 
I love the Gap Modal Joggers. I have them in two colors and can't recommend them enough! Great for looking put together when running errands with the kids.
Classic, Comfy Sweaters 
Everlane is also my go-to for sweaters. I love this style, as well as this chunky, oversize one.
Utility Jacket 
I have a favorite and well-worn utility jacket from Banana Republic that I got on a sale rack four years ago and have worn so many times. This one looks promising, as does this one.
Tunic and Peasant-Style Blouses
I'm a huge fan of tunic-style tops and peasant-style blouses. This one from Anthro caught my eye and is similar to one I have in my closet, as well as this top.