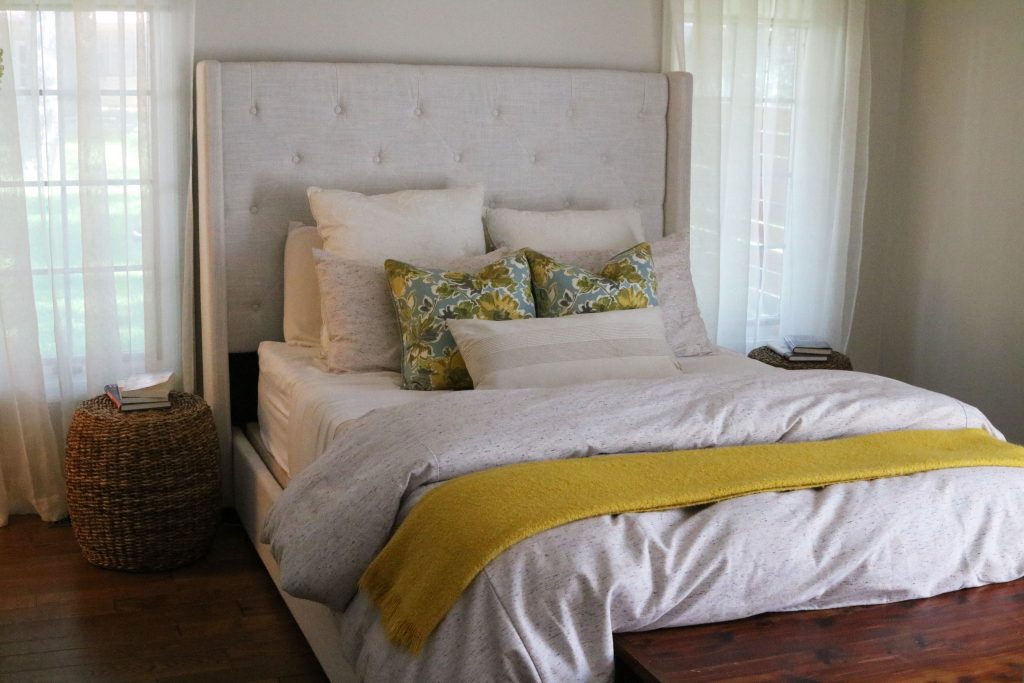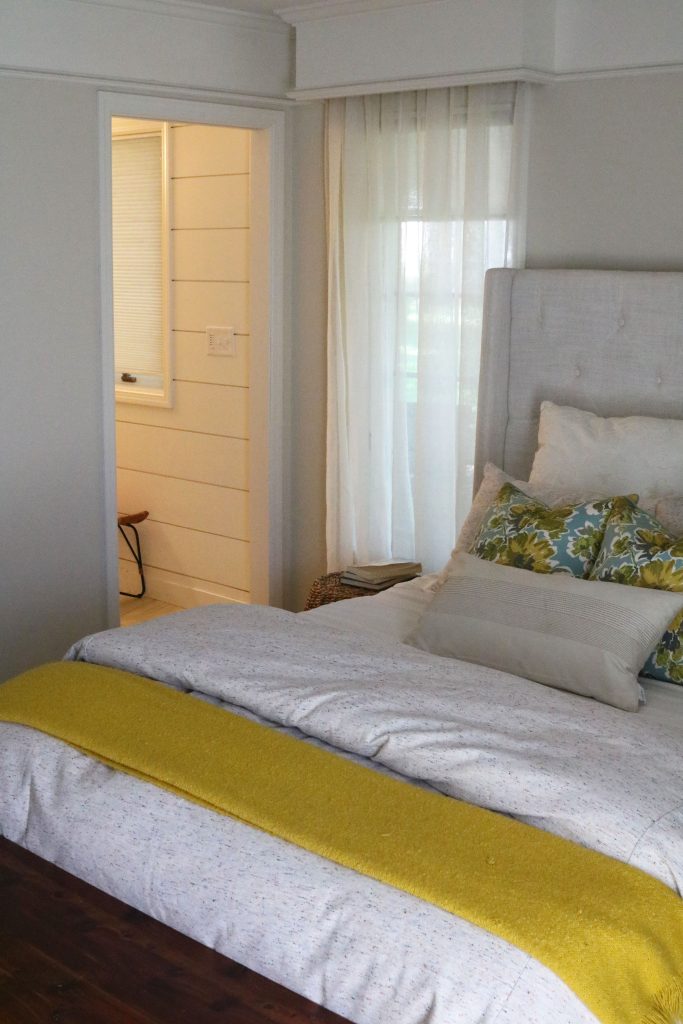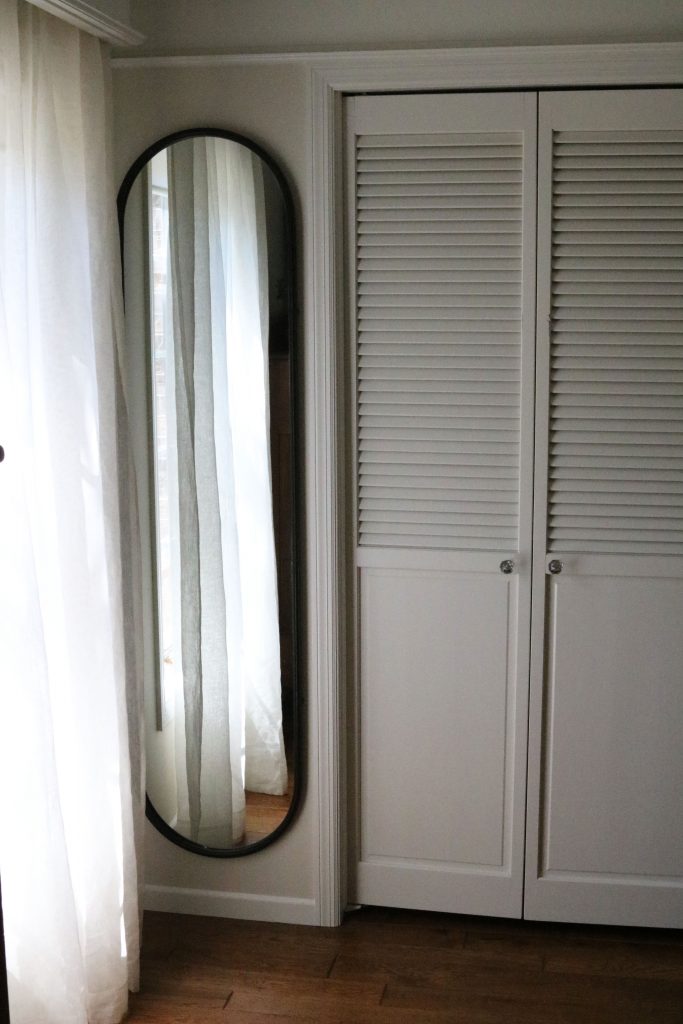 What has become incredibly clear to me while taking photos of our home is that I'm really bad at taking photos of our home. Home photos are not the same as food photos! BUT I've gotten a lot of requests for a house tour. I've been meaning to blog our home for the longest time, not because I think it's something amazing (and certainly not because it's "complete") but it's been so much fun to take an older home (1973 to be exact) and give it new life.
The details of our home still need to be fine tuned and fleshed out, but we've come a long way! All the floors needed to be replaced when we moved in, the house was almost 70% covered in wallpaper (and not the good, modern kind) and the bathroom had carpet. We painted the entire house – ceilings and all – tore down walls, re-worked the layout, etc. Basically a lot changed in our house from the day we moved in nearly two years ago today. It's been SO fun, and exhausting, and rewarding.
The biggest change we made in terms of layout was turning one very large bathroom into two smaller bathrooms. (See the original bathroom here) The entire main floor only had one full bathroom and a small powder bath near the kitchen. Since there are three bedrooms on the main floor, we knew we wanted to turn the one large bathroom into two bathrooms if possible, including a master suite. So we worked with a designer to put together a floor plan that gave us one full bathroom (with tub/shower) and one 3/4 bath (with just a shower) – one of which is accessible via the hallway shared with the bedrooms and the other which is only accessible through our bedroom.
Ideally we would have had two full baths, but our space didn't allow for that. We made the decision to put the full bathroom in our master suite since I take a bath every night. Although, in retrospect, that might have been a mistake. Joe really dislikes our swinging glass 1/2 shower "door" in the master because it doesn't feel like a true shower to him, so he ends up showering almost exclusively in our other bathroom with the walk-in shower. And I use our master bath and shower almost exclusively. All that to say, there are things that we would have done differently if we could go back, but the shower door is very aesthetically pleasing, even if it's not 100% as functional as it could or should be. But we are overall really pleased with how things turned out and I'm thrilled to have a master bathroom/suite!
Our master bedroom is on the smaller side as far as masters go (our bed is a queen, for reference) but older houses rarely have bedrooms that are as large as newer homes, and for now we're just dealing with that fact. I would love to have a king bed someday! We had an older rug under our bed for a time, but it was in bad shape so we opted to drop the rug all together until we find a rug we love. Joe has also been requesting reading lights above the bed so he can read after I go to bed.
So there you have it! Our master suite. Not nearly as complete as I would like it to be, but we are working on tweaking all the details over time. The bathroom is pretty much finished, but we would really like to make the bedroom feel a bit more finished in the next year!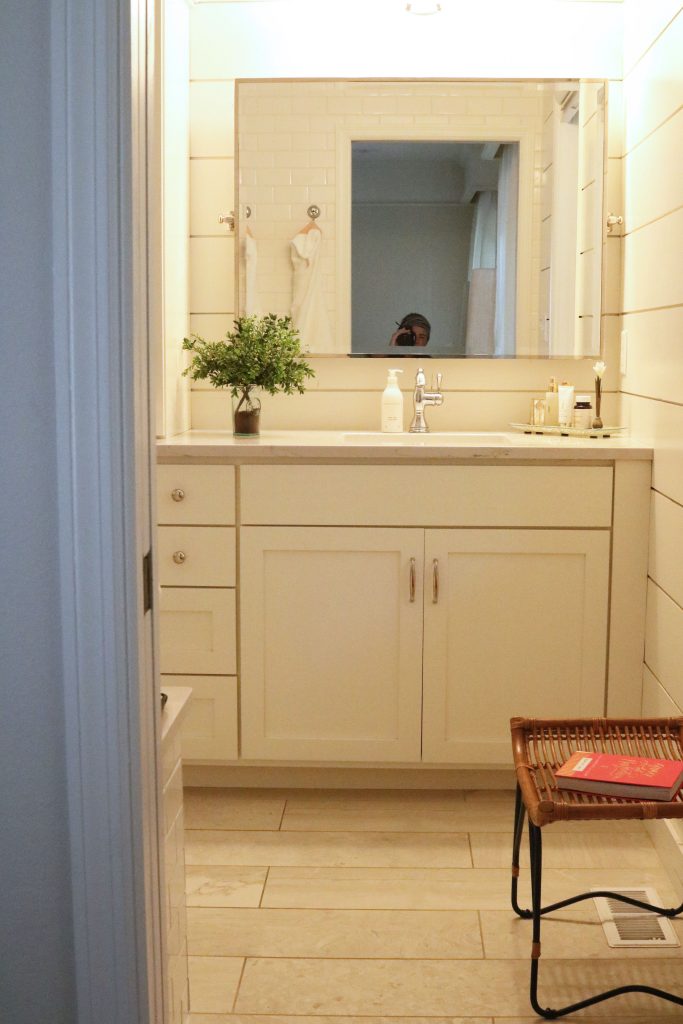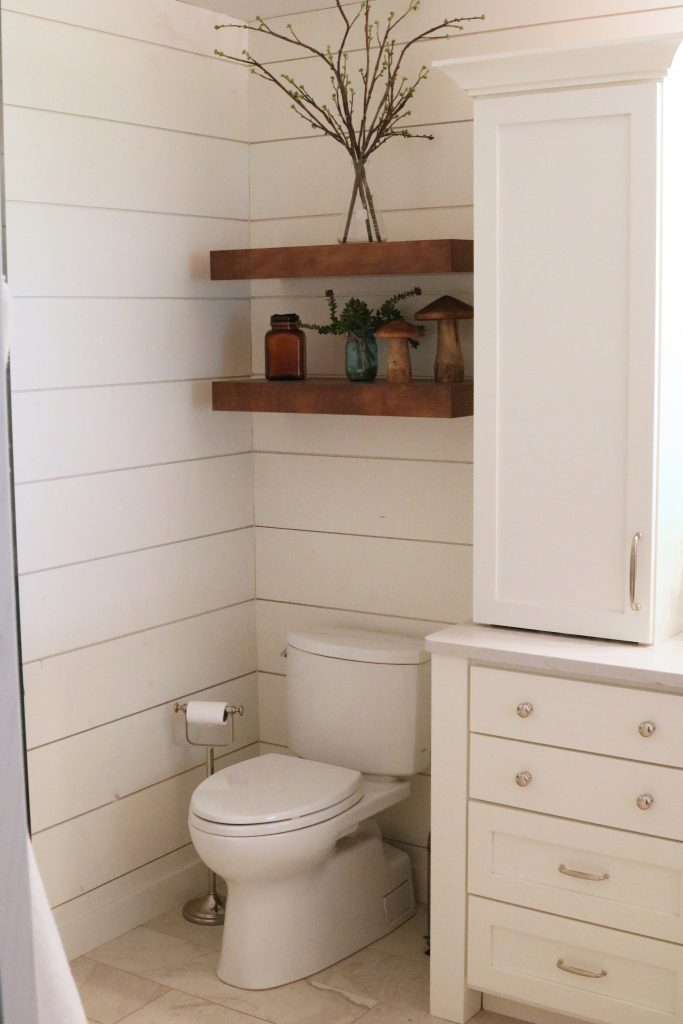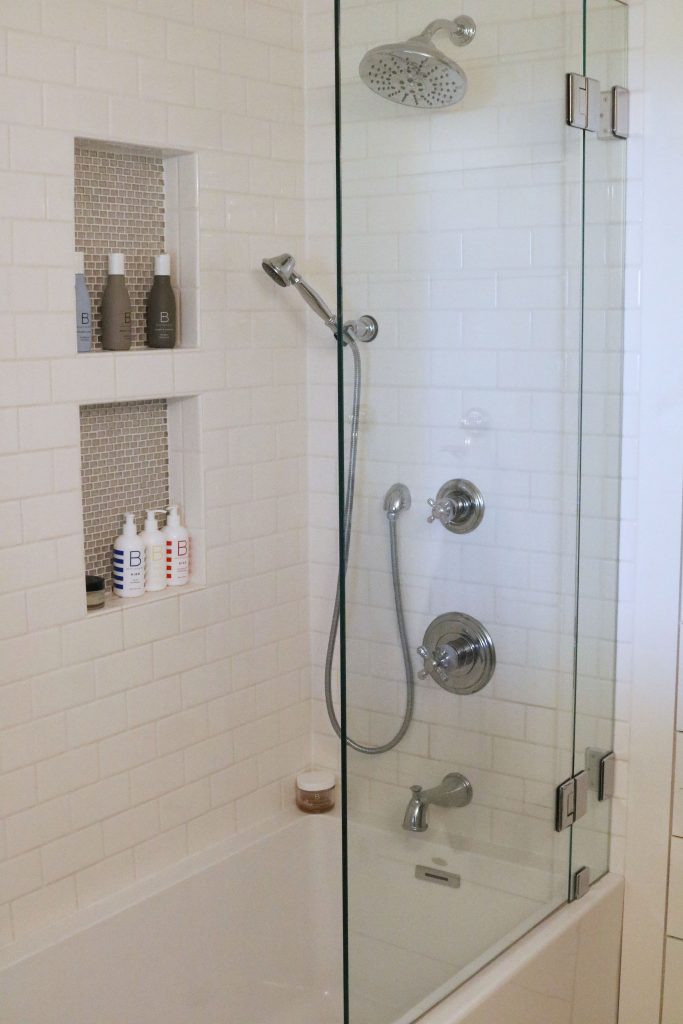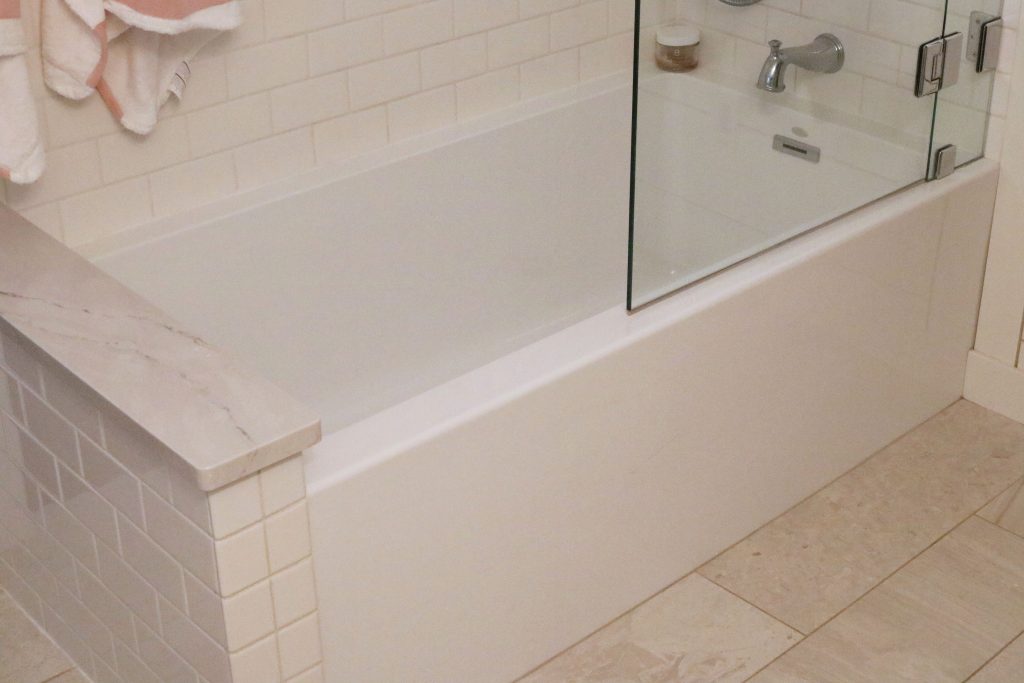 Resources //
Bedroom: Duvet (West Elm, no longer available) | Similar Rattan Side Tables | vintage storage trunk | full length mirror from Holland House Interiors  | similar gold West Elm throw | West Elm sheets |  Wall Color: Benjamin Moore Ballet White | Trim Color: Benjamin Moore White Dove 
Bathroom: custom made vanity from Verhoef Custom Woodworking | Restoration Hardware knobs and pulls | custom made shiplap from Joel Jongerius Construction | Kohler shower and faucet fixtures | Pottery Barn Kensignton Pivot Mirror | Shiplap Paint Color: Benjamin Moore White Dove | Countertop: Cambria "Ella" | Custom made shelves from Verhoef Custom Woodworking | Flooring: Discontinued