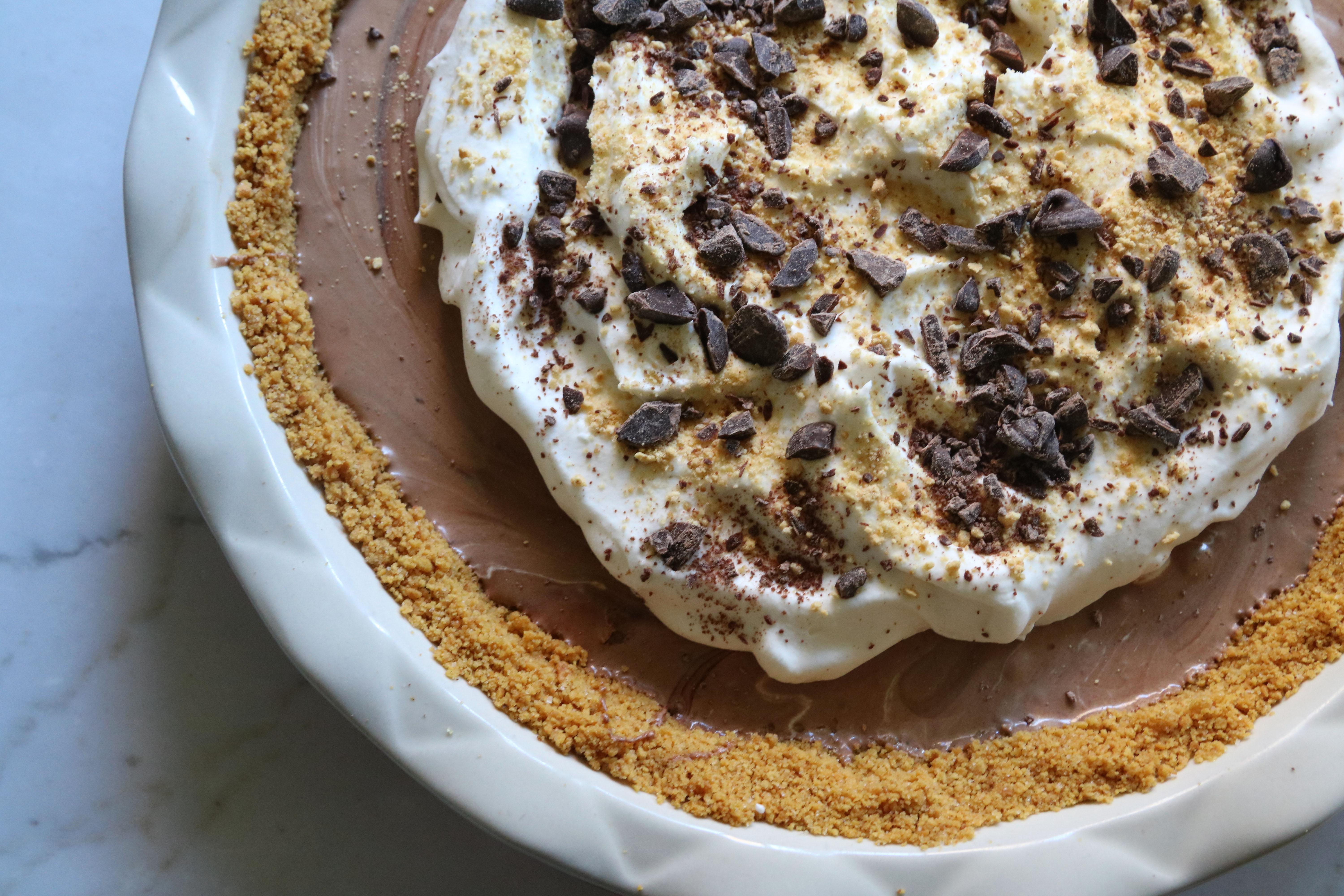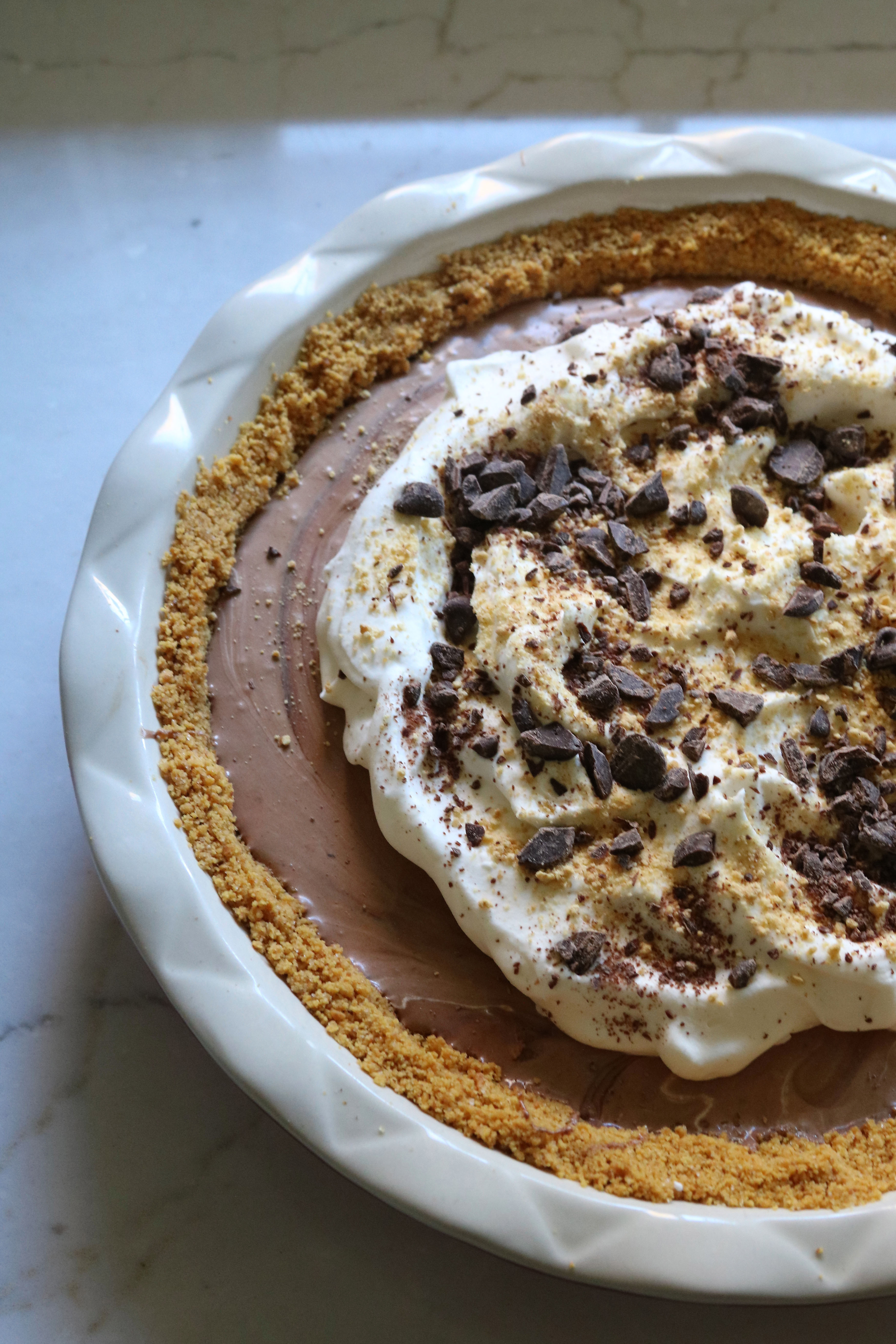 Today's pie of the week is a good one, my friends! Okay, if you're my husband then you probably disagree – the man has a serious dislike of "fluffy" things including pudding and whipped cream, which is why I decided to gift this pie to my mom's co-workers rather than keeping it in our house. That said, if I was left with this pie in the house it wouldn't be long before I would eat the entire thing on my own!
Although this chilled pie would probably be better suited for summertime, I tend to think that the s'mores flavor profile is good any time of the year. In fact, I think you could easily bring this pie to the table during the holiday season and almost everyone would be pleased. The marshmallow flavor is quite subtle, but if you're looking to boost that a bit, I would suggest adding some miniature marshmallows to the top of this pie when garnishing just to be sure the message and flavor comes across.
The pie can be kept in the refrigerator, covered in plastic wrap, for up to three days, if it lasts that long! Just be sure to top with the whipped cream right before serving for best results!

S'Mores Pie
Author:
Espresso and Cream
Ingredients
Crust
1½ cups graham cracker crumbs
3 tablespoons sugar
6 tablespoons butter, melted
Filling
¾ cup heavy cream
1 cup semi-sweet chocolate chips
¼ teaspoon salt
1 tablespoon water
1 teaspoon unflavored gelatin
½ cup heavy cream
1 (7 oz.) jar marshmallow creme
½ teaspoon vanilla extract
Topping
Whipped cream, graham cracker crumbs and chopped chocolate
Instructions
Heat oven to 350°F. In a medium mixing bowl, combine the graham cracker crumbs and sugar. Add the butter to the bowl and stir until well combined. Press mixture into the bottom and up the sides of a 9-inch pie plate. Bake 10 minutes; cool completely.
Meanwhile, in a small saucepan over medium heat, bring the ¾ cup heavy cream to a simmer. Remove from heat and stir in the chocolate and salt. Whisk until completely smooth. Cool.
In a very small pan or saucepan over medium heat, heat the water. Sprinkle the gelatin over water and allow to dissolve. Whisk mixture together until gelatin dissolves completely, about 30 seconds. Remove from heat and cool slightly.
Meanwhile, in a stand mixer fitted with the whisk attachment, whisk the heavy cream on medium speed until very soft peaks begin to form. With the mixer running, slowly pour the gelatin mixture into the cream and continue to whisk on high speed 2 to 3 minutes more or until firm peaks form (the gelatin will prevent true stiff peaks from forming.) Slowly whisk in the marshmallow creme and vanilla until evenly combined and smooth.
Stir together the marshmallow mixture and the semi-cooled chocolate mixture until evenly combined. Pour mixture into the prepared crust. Refrigerate 4 to 8 hours or until filling is set. Top with whipped cream, graham cracker crumbs and chopped chocolate just before serving.