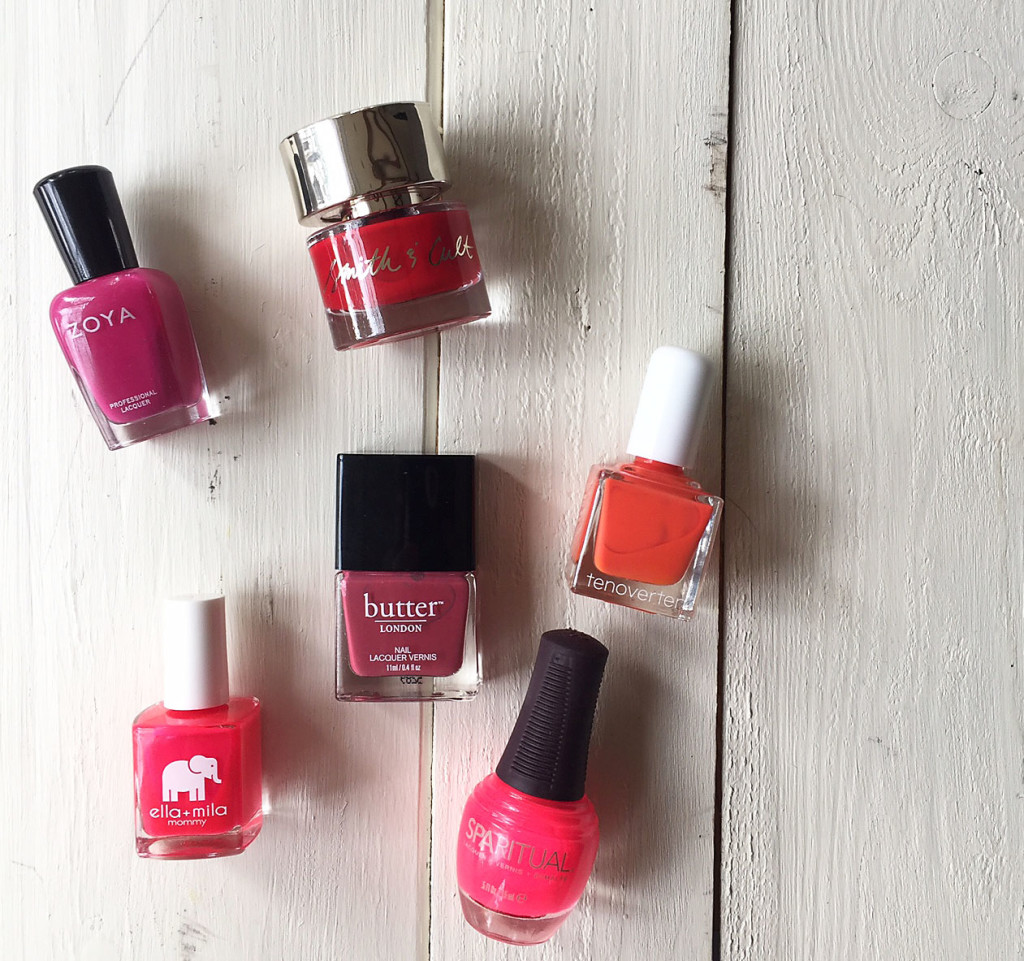 In an effort to clean up my beauty routine, I decided to target what might be the worst offending category – nail polish. Seriously, guys, I don't even want to know what's in most conventional nail polish. As Ainsley's gotten older and I've thought about painting her nails I just didn't have a lot of peace about using regular nail polish on her little nails. So, I asked for recommendations of your favorite natural brands, ordered them all on my own dime and started testing them for a month in order to take the guess work out for you. It's a tough job, friends, but someone has to do it! 😉
The Best of the Best //
1. Smith and Cult in Kundalini Hustle $18
I can't even believe that I paid this much for a nail polish, but once I applied it and wore it day in and day out without chipping, I was sold. You guys, this stuff is pure gold. It's 5-free but wears better than any conventional nail polish that I've used. It goes on flawlessly and I think you could get away with a single coat if you wanted.
2. Butter London $15 
I wasn't crazy about the shade that I purchased, so I wouldn't recommend that specific color, but the polish was lovely. It went on well, dried reasonably quickly and two coats was sufficient coverage for what I was trying to achieve. The formulas are 8-free, too!
Middle of the Road //
1. Zoya $10
This polish was the closet to my typical Essie nail polish that I'm used to using. It performed well and covered nicely. I didn't love either of the colors that I picked, but that's more my personal preference and less of a knock on the brand itself. I loved the price point, too, which was much more on par with what I'm used to spending on polish.
2. Ten Over Ten $18
The polish colors offered by Ten Over Ten are some of the best! They have a great variety and the polish applied nicely/wore well. I put it in the middle category because I loved the Smith and Cult better for this price point, but this is still a great option if you're looking for a wide variety of colors.
Pass on These // 
1. SpaRitual $12
These polishes are vegan and 5-free, which is what attracted me in the first place. I will say that I loved the color going on. It was a little thin in consistency, but two coats provided nice coverage and it dried quickly, which I love, but it wore terribly. The nail polish chipped within a day, and within a couple days it looked pretty awful. I'm a big believer that safe beauty also needs to work well, and this didn't pass the test.
2. Ella + Mila "Mommy" Line $10.50
I have the same complaint about this polish as the one prior: the wear was horrible! I really wanted to love the brand because they have great colors, great branding and a really nice list of ingredients they don't contain, but once again after just a couple days of wear it was very chipped and didn't hold up well to every day life. I will be giving their kiddo line a try in the future to see if it works better for Ainsley.
Madison