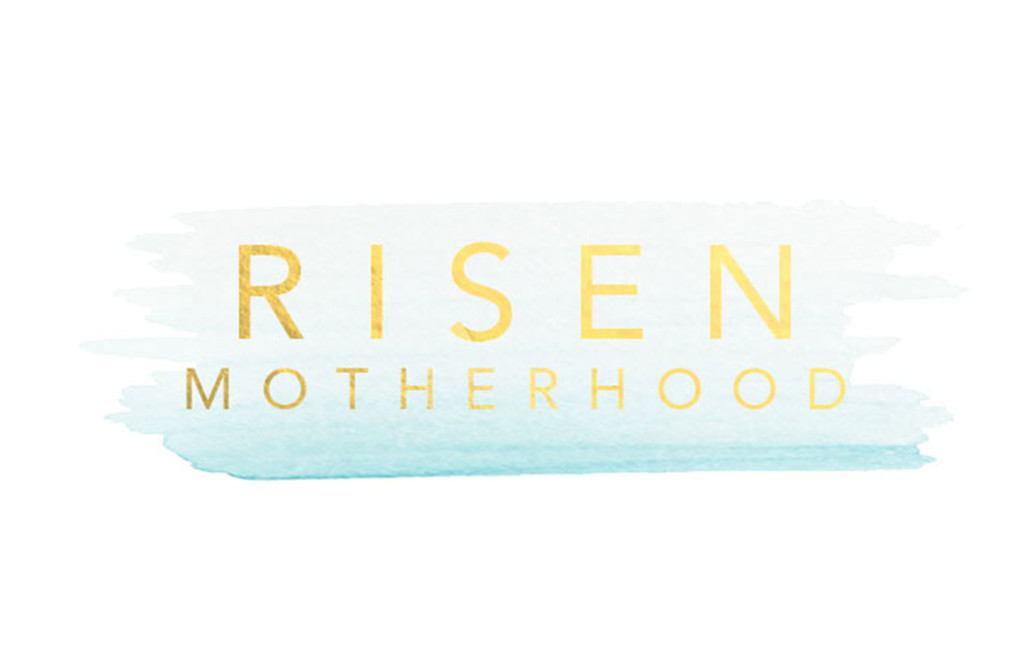 I've been excited about today's post for weeks, you guys! As many of you know, my friend Laura blogs over at Oakland Avenue. Laura and I went to college together and then lived in Minneapolis at the same time for a couple years. While living in Minneapolis, I started reading Laura's sister-in-law's blog, Emily Jensen Writes. I've been constantly challenged and encouraged by both of these amazing ladies – their heart for the Gospel and for raising Godly children, their commitment to motherhood and family, and their conversational and encouraging writing styles.
Recently Laura and Emily launched a new podcast + website called Risen Motherhood. Trust me when I say this podcast is so heavy on the good stuff. It's incredibly encouraging (and sometimes a little convicting!) to listen to Christ-centered talk about motherhood. I feel like I have two best friends sitting in my living room with me. So today Emily and Laura agreed to do a little interview/Q&A with me for Espresso and Cream readers. I hope you enjoy and I hope you'll head over to Risen Motherhood to learn more.
Questions for Emily & Laura:
Do you record your posts together at the same time? Or remotely from two separate locations? 
Emily:  Oh, it would be so fun if we could always record them together in person!  But, since we live about 5 hours apart, we typically  record via Skype.  Because of our kids' schedules, recording has to happen at about 6:00am.  It's early, but it challenges us to make good use of our time and we both think most clearly in the morning.
Laura: Ditto to Em. We're usually both chugging our coffee as fast as we can before we hit record since we can't actually drink while we record. I mean, that would be the worst sound to hear someone slurping on the show! It kills me to not drink my coffee slowly like usual, but I need the caffeine too much to wait until we're done recording!
Do you talk together about what you're going to say or let the conversation flow naturally?
Emily:  We've actually tried several different strategies, because Laura and I process differently.  I need more notes, and don't do well just speaking "off the cuff", but Laura gets anxious and bogged down by too many word-for-word points.  So it's been interesting finding a happy medium!  When we get an idea for content, we  discuss it informally over Voxer or Skype .  Once we know what   the main  points we want to make are , we develop a loose show outline  to make sure our conversation stays on track.
Laura : One of our biggest struggles is finding a balance between sharing stories and relatable content, while also trying to make sure key points are shared about how the gospel impacts that particular topic. Emily and I are really different in how we consume and deliver content, so it's been interesting as we learn to work with each other's dynamic while still feeling like we're "ourselves" on the show. One great thing is our strengths balance each other's weaknesses. Emily's tendency is to keep things deep, serious and impactful, while I lean towards wanting to keep everything lighthearted, funny and relatable. But at the heart, we value making the same impact: pointing moms to Christ – so somehow, even with our different focuses, it works, and I actually think it helps us strike a nice balance on the show.
How have you decided on the topics to cover? 
Emily:  Most of it is just gathered from our own life experiences – what we are learning about, what we are struggling with and so-on. If there is a topic we are both excited and passionate about we run with it!  We also want to talk more about unbiblical messages moms are getting on social media and on blogs – I'm pretty passionate about dispelling those "myths" or false teachings.
Laura: We get ideas everywhere! Honestly, all I have to do it look at my Facebook feed and find no shortage of topics to cover. One of our biggest focuses is to flesh out content that young moms are dealing with right now – and show them a) how they're not alone, because we struggle with the same things, b) yet at the same time encourage them to "aim higher" in their mothering towards gospel-truth. The beautiful thing is, the gospel relates to everything! Which means no topic is off limits for the show.
What are your plans for the Risen Motherhood podcast going forward?
Emily:  I am just excited to focus on releasing helpful, quality content and getting to know our listers better.  Laura and I have been so encouraged by all the positive feedback and personal stories of God using this podcast in the lives of everyday moms.  It's a joy to be a part of that!
Laura : Right now, I'm trying to bask in the fact that the website is finally done and live! That thing was a beast to program, so it feels good to have it done. Emily and I have lots of dreams for Risen Motherhood, but right now we're looking at adding interviews to the show and taking on Q&A's from listeners. It's still mind-boggling to me that we would even have listeners to take questions from!
10 Questions with Laura
Favorite food: Anything fried. Ramen Noodles. Fritos. While I have decent self-control for this stuff normally, I'll admit that these three vices are the reason I gain so much weight while pregnant. The train of thought goes something like this: "I'm preggers. I'll eat what I want. Bring it or I'll bounce you with my belly."
Number of kids you have:  Two kiddos, a boy and a girl, 20 months apart, and finally – FINALLY – starting to play together. Game. Changer.
Hidden talent: I have a double jointed pinky … is that a talent? What can I say, I exploit the few talents I have! Nothing's hidden anymore!
Favorite time of day:  I'm all about early morning. My husband gets up and goes to work early in the morning, so I started getting up with him and it's turned me into an early riser. I love that it's so quiet – and dare I say peaceful? – I can get a lot done in those few hours before the kiddos get up.
Least favorite task around the house:  Mopping floors and baseboards. In our house we have all white trim, but usually it just looks grey because there's so much dirt and dust on it. Whoops.
Naturally messy or organized:  Naturally organized, but that's not to be confused with clean. As long as the house looks picked-up, I'm happy. See "least favorite task."
Guilty pleasure: My mom won't like this one, but probably The Bachelor. It's just such a game and I love trying to figure out what the producers made the contestants do, or how long they must have interviewed someone until they finally broke and cried. I just love the contrived drama of it all, what can I say?
Favorite way to de-stress:  Intentionally arriving to a hair cut 30 minutes early so I can binge-read magazines. Or just treating myself to a cup of coffee someone else made while I people-watch. That one's much less expensive.
Best piece of marriage advice:  Believe the best in your husband. Usually, you're wrong when you assume his motives. Trust he's trying his best and affirm him in the process. Be his biggest fan.
Most embarrassing mom moment:  That time I walked around with my jeans unzipped. Oh wait, that wasn't just one time, that was for three months straight each time I had a kid and switched from wearing maternity jeans to real jeans. 
10 Questions with Emily
Favorite food:  Sushi (particularly, spicy tuna rolls)  – and I will almost never turn down a good cookie!
Number of kids you have: 4 (all boys, ages: 3.5, twin 2-year-olds, and 6 months)
Hidden talent:  I would never do this in front of other adults, but I can put on a pretty great show when I read a children's story.  It's fun to be dorky around my kids!
Favorite time of day: I never thought I would say this, but I love the early morning.  The 5:00-6:00am hour is the best time. Everything is quiet, my brain is sharp, I feel somewhat rested, the sun is rising, and I'm alone with the Lord.
Least favorite task around the house:  Unloading the dishwasher, putting away folded laundry, and making the bed. (can I have 3 least favorite things?)
Naturally messy or organized:  I'm naturally messy, but have learned to really appreciate and enjoy a tidy space. Life with a family of 6 just goes so much smoother when our stuff is organized and under control!  It gives me more space to care for people instead of things.
Guilty pleasure:  When the kids are in the car, I am selective about what the type of content they watch and listen to, which means I'm usually blaring some type of toddler tunes. So my "guilty pleasure" is listening to whatever I want on the radio when I'm driving alone!
Favorite way to de-stress:  You can catch me taking long epsom salt baths while reading a book (until my water is no longer warm or I'm falling asleep).  When I'm really struggling to wind down, I'll lay under my heated blanket in bed and listen to relaxing worship music. I learned that technique when I was pregnant, and I still love it!
Best piece of marriage advice: (Laura and I pretty much wrote the same answer for this question, but it's so important, I'll say it again!) Believe the best of your husband's intentions and be his biggest encouragement. He needs to know you hold him in high regard and that you enjoy the life you have together.
Most embarrassing mom moment: Pretty much anytime I'm out with my 4 kids on my own, I have an embarrassing moment (which is why I don't do it very often). I've had a couple of experiences at the park or leaving bible study where I've had to carry them individually kicking and screaming to the car while friends helped keep track of my other kids. It's like they sense that I don't have enough limbs to grab them all at once, so they purposefully lay themselves on the ground or disobey. Sometimes I'm "that mom" that everyone's NOT jealous of!
Thanks, ladies, for taking the time to share! I'm so looking forward to finding out where this Risen Motherhood journey takes you!
Madison