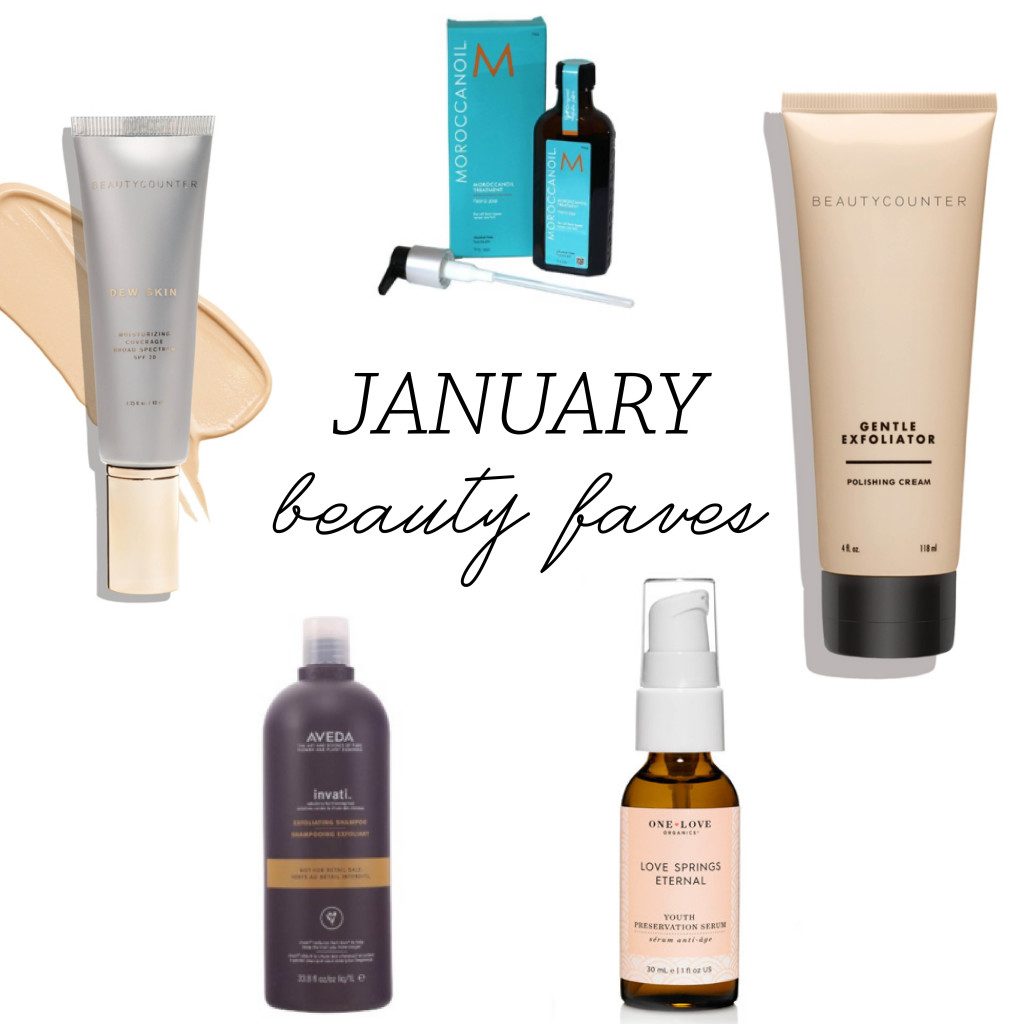 1. Love Springs Eternal || Youth Preservation Serum by One Love Organics
This product is a splurge, but the proof is in the results. Using a few drops of this serum every night makes a difference in the look and appearance of my skin, which is starting to show a few signs of getting older now that I'm edging up on 30 and getting less sleep that I once was.
2. Gentle Exfoliator Polish || Beautycounter
We've all fallen victim at some point to one of those super abrasive drugstore exfoliators. But would you believe me if I told you there is a safer and more effective way to exfoliate your skin? I'm in love with this gentle exfoliator from Beautycounter, which is easy on the skin but really helps give dull winter skin a fresh glow.
3. Invati Shampoo and Conditioner || Aveda
I would love to tell you that my postpartum hair loss is a thing of the past, but while it has slowed down a bit, it's still an issue. In addition to getting more dedicated to taking my prenatal vitamin, I returned to using this shampoo and conditioner, which are made to help with hair loss. It's amazing! PS: If you just want to try before you buy, they make a little sample kit for much less with all three of the products.
4. Moroccan Oil Treatment || Moroccan Oil
These days I'm a bit of a hair product minimalist. I've replaced countless products with a good shampoo + conditioner and a little Moroccan oil on my hair after I get out of the shower. On days when I have the time (especially if it's warm out) I just choose to let my locks air-dry and then lightly style with a curling wand to smooth my strands a bit. I think protecting my hair and cutting back on the styling tools has really helped with the health of my hair.
5. Dew Skin Tinted Moisturizer || Beautycounter
This is my new g0-to tinted moisturizer. I love the way it smells and the creamy, flawless look it gives my skin without actually feeling like I'm wearing make-up. I've always tried to avoid anything with a lot of coverage, so this is right up my alley!
Madison
*Affiliate links used when appropriate.