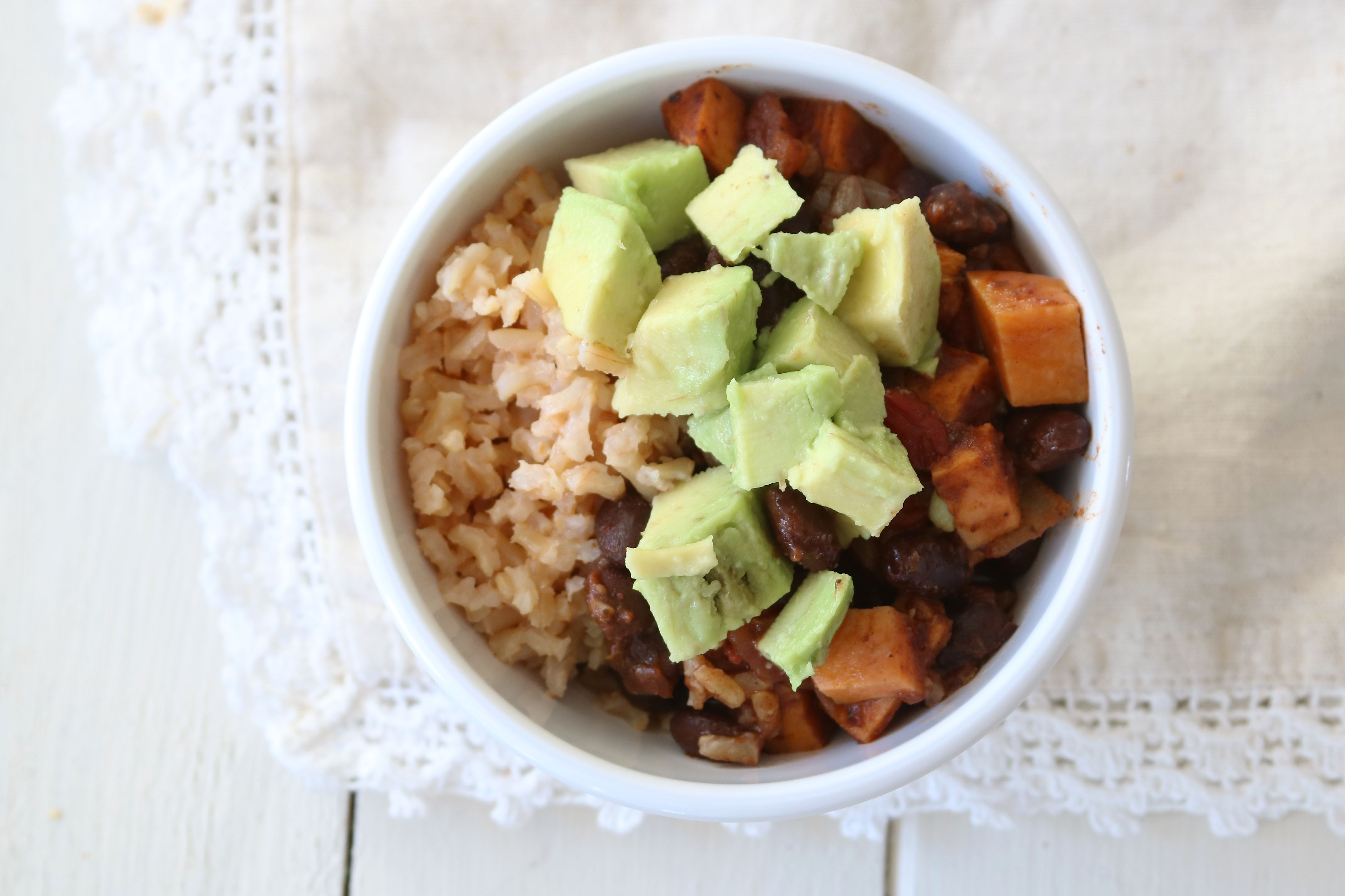 Since we ran in 2016, I've been making a real, honest effort to get back into the kitchen for non-work related purposes. For me that means more meal planning, taking the time to prepare a grocery list based around sales fliers and coupons, and then actually sticking to that meal plan. What I've realized is that we not only eat healthier (duh!) but our meals are more interesting and fun and we spend so much less on groceries each week.
I'm making it a goal of mine to share more real, everyday meals with you. Because sure, I can make a really beautiful, involved recipe to share on this blog, but chances are you don't have the ingredients on hand nor the time or interest in actually making said recipe. So instead of sharing a Pinterest-perfect meal, I'm going to be sharing more real meals from the Hofmeyer kitchen. You know, the stuff we're eating week in and week out!
I've been working with the team at Riceland Foods on some recipe development, so we have a surplus of brown rice on hand. Joe has been joking that we are going to be eating rice for the next month, which is probably very, very true. I'm a big believer that rice and beans is one of the best meals around. Basic, healthy, cheap. But if we're going to consume rice and beans in this house, Joe needs it to be a little more interesting than the basic version.
Our whole family enjoyed this dinner. It was healthy, relatively quick and easy to make and completely filling. I added sweet potatoes to the mix for a little color and added nutrition and topped the bowls with chopped avocado and salsa. And I totally would have added sour cream if we had it on hand!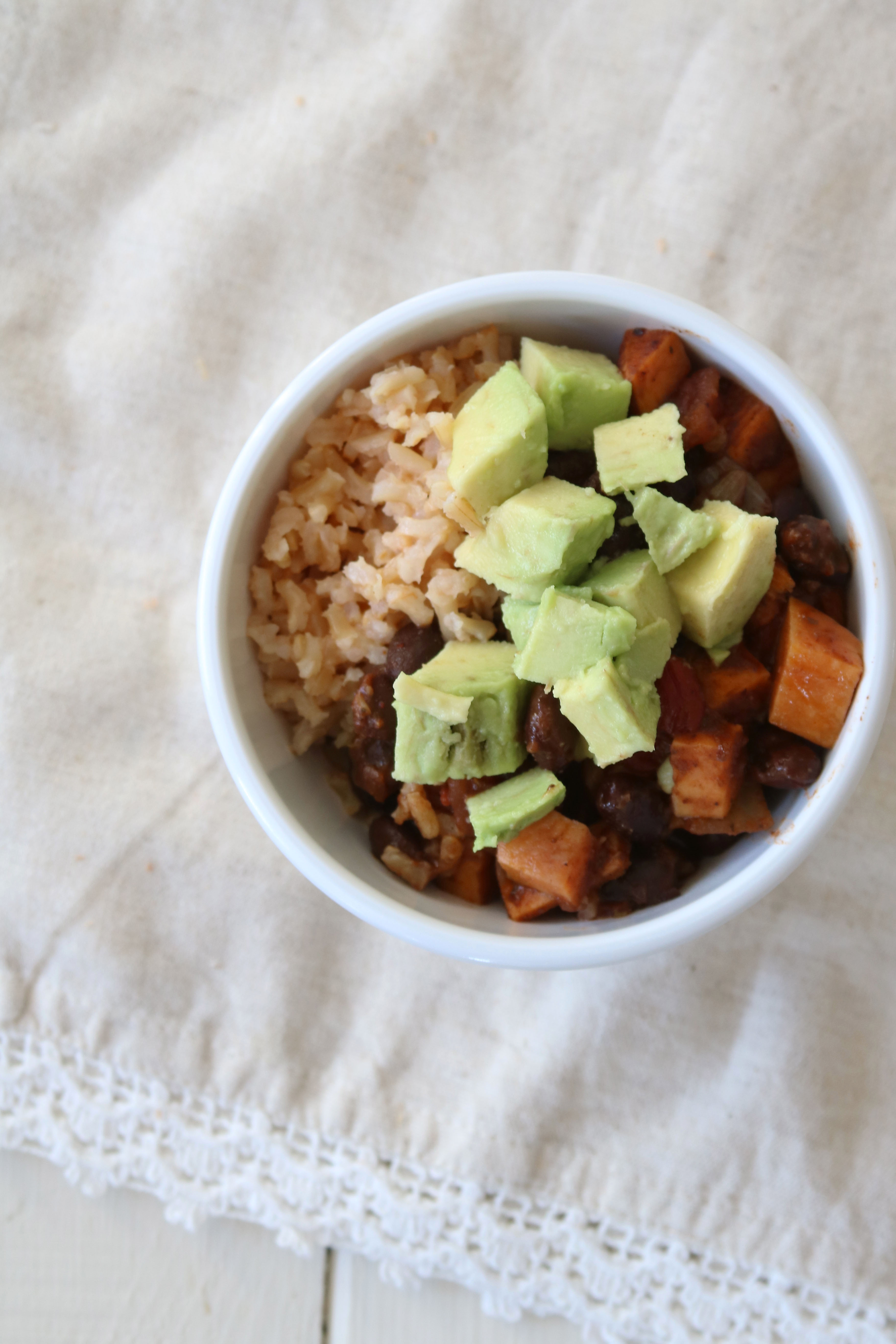 Spiced Black Beans and Sweet Potatoes with Rice
Recipe type:
Entree, Main Dish, Vegetarian
Ingredients
1 tablespoon olive oil
1 medium yellow onion, chopped
2 cloves garlic, minced
1 medium sweet potato, peeled and chopped into small pieces
1 (14- to 15-oz) can black beans (do not rinse or drain)
1 (14- to 15-oz) can diced tomatoes (I used the kind with oregano and garlic)
1 teaspoon dried oregano
1 teaspoon chili powder
¾ teaspoon cumin
½ teaspoon garlic powder
¼ teaspoon cayenne (optional)
Hot cooked brown rice, avocado and salsa, if desired
Instructions
In a medium skillet over medium high heat, heat the olive oil. Add in the onion and cook 3 to 5 minutes, stirring frequently, until onion is cooked and softened slightly. Add in the garlic and sweet potatoes and cook 2 minutes more or until garlic is fragrant.
Add the black beans, tomatoes, oregano, chili powder, cumin, garlic powder and cayenne to the skillet and reduce heat to medium. Simmer 15 minutes, stirring occasionally, until mixture is thick and sweet potatoes are softened.
Spoon brown rice into bowls. Top with some of the black bean mixture, followed by some avocado and salsa, if desired.
Madison