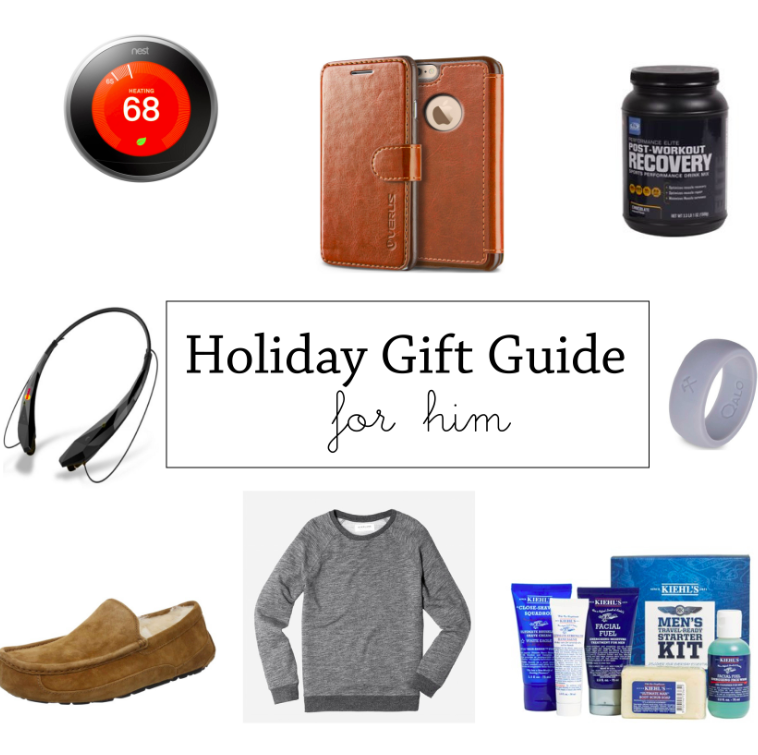 1. Nest Learning Thermostat
My husband loves to save money and he loves tech-y things. The Nest combines the two! This thermostat has gotten rave reviews from all our friends who have one, and I'm dying to purchase one when our home remodel is complete. It learns how your live, and then adjusts your thermostat automatically, saving your money and keeping your home a comfy temp.
2. Cell Phone Case/Wallet
This cell phone case has a pocket inside that holds credit cards and cash, so your husband doesn't have to walk around with both his wallet and phone in his pants pockets.
3. Ugg Men's Slipper
I know slippers sort of seem like a cop-out gift, but these Ugg slippers are amazing. Durable, semi-acceptable to wear out of the house (you know they will wear them out at some point…) and comfy!
4. Bluetooth Headphones
Joe has been asking for a pair of these, and although I think they look a little sci-fi-ish (maybe that's a good thing?) I can totally understand the functionality.
5. High-End Crew Sweatshirt
My dad, when not dressed for work, is almost always wearing a crew-neck sweatshirt. I bought him some upgraded basics this year from Everlane, and hope to eventually transition Joe's entire wardrobe to Everlane, if he'll let me!
6. Expensive Protein Powder
My husband loves Advocare's Post Workout Recovery, but now that he's not playing college football it's a little hard to justify spending that much on protein powder. You can never go wrong with upgraded basics, even when it comes to protein powder!
7. Manmade Essentials Grooming Kit from Kiehl's
How fun is this men's grooming kit? I *wish* my hubby would take better care of his skin. Maybe if I bought him a really man-specific kit like this I would have a better chance?
8. Qalo Men's Silicone Wedding Ring
I've seen a few guys I know wearing these rings, which are more durable and suitable for wearing during exercise and other outdoor events. Some guys even swap their regular ring for this one instead! Bonus: If they loose it, it's only $20 to replace.