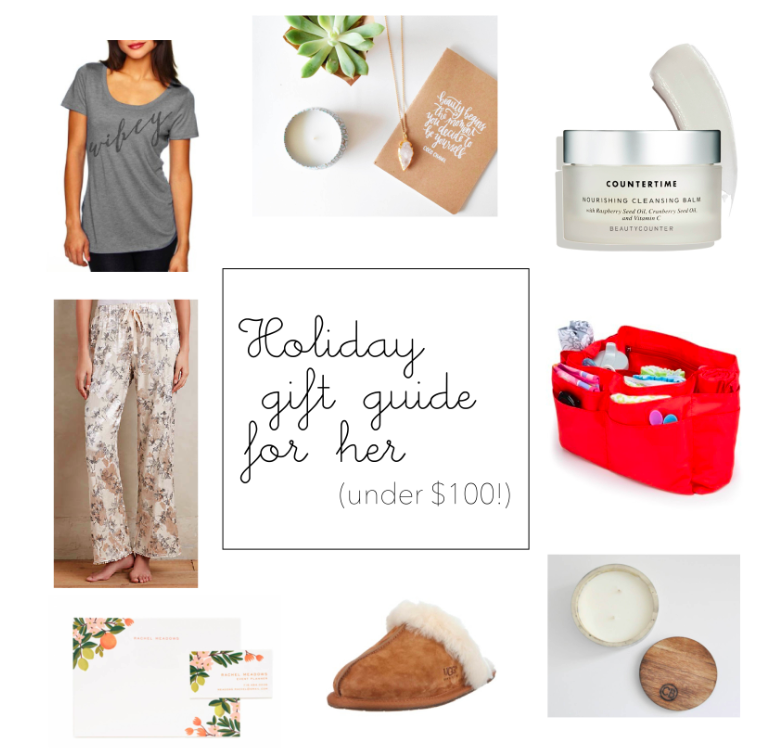 1. "Wifey" T-Shirt | Ily Couture
I bought the sweatshirt version of this for my sister who just got married this year and it was a hit! I own an Ily Couture product and absolutely love how soft the material is that they use and the cute, cheeky sayings.
2. The Quinn Necklace | Natalie Borton
I love supporting small business owners, and I was so excited when my blog buddy Natalie decided to open up her own jewelry shop. Her pieces are so pretty and they are all limited edition, meaning only a few people will have the same piece of jewelry. How cool is that?
3. Volcano Mercury Glass Candle | Capri Blue
A candle is a candle, right? Wrong! I have fallen head over heels for the scent of this candle. (It's the same one they use in Anthropologie stores…) It's heaven on earth, I tell you, and anyone would be thrilled to get one.
4. Nourishing Cleansing Balm | Beautycounter
This is my new favorite face product and I can't stop singing the praises of it. The balm functions as a cleanser and makeup remover while also giving moisture to your skin. Bonus? It can be used as an overnight face mask when your skin is feeling dry during these cold winter months.
5. Diaper Bag Organizer | Lily Jade
Lily Jade makes amazing diaper bags, but if that isn't in your budget, consider buying just the diaper bag organizer from Lily Jade. I love that it immediately turns any large purse into a diaper bag, meaning you can enjoy fashion and function together in one. Great for any new or expecting moms!
6. Personalized Stationery | Rifle Paper Co.
I think personalized stationery is just so lovely, and it's something that I'm always hesitant to buy myself. But when I do? It just feels so fancy and inspires me to write more handwritten notes. Do your family members a favor and buy them some beautiful paper products.
7. Eloise Brocade Sleep Pants | Anthropologie
I have a theory that you can never go wrong with giving a gift that is a "practical indulgence" – meaning that it's something useful but a little more of an upgrade than what someone would normally purchase on their own. Sleepwear is a great example. I always want to buy beautiful sleepwear, but I can never justify the price. What a great gift to give, right?!
8. Chestnut Suede Slipper | Ugg
I have Ugg slippers and wear them all the time. They're durable, comfortable and cute.
*Affiliate links used where applicable