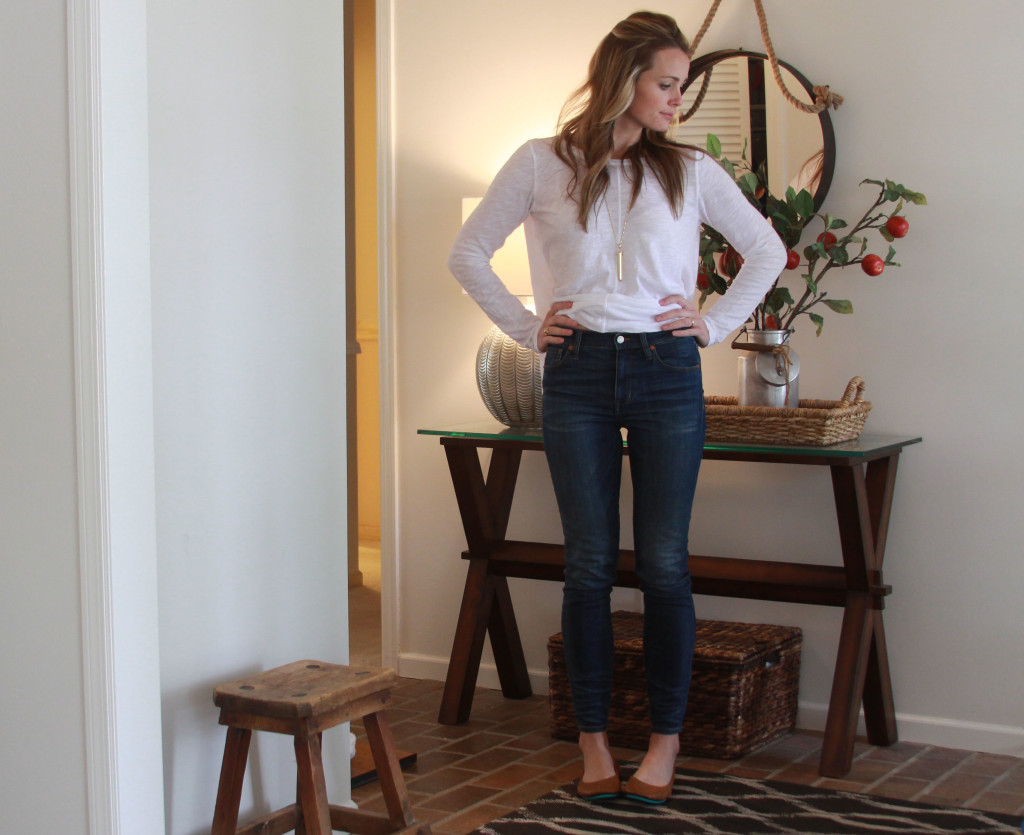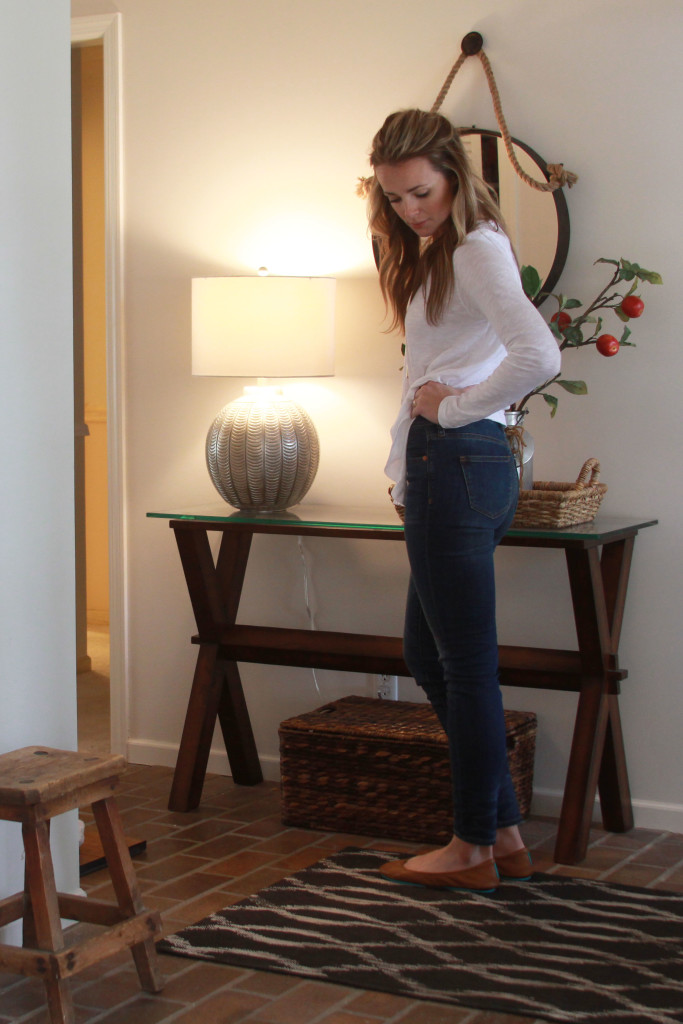 Madewell High Rise Skinny Jean in Dayton Wash (tall) || Anthropologie Slubbed Scoop Tee ||
Tieks Flats in Camel || Stella & Dot Rebel Pendant 
I feel like I've been in pursuit of the perfect pair of jeans for as long as I can remember. A few things I've found true (for me) along the way…
1. Gap and Banana Republic jeans are deceptive. They feel great in the store and fit wonderfully, but they start to sag and do funny things after even the tiniest bit of wear.
2. Low rise jeans are not a momma's friend. You always end up yanking them up to avoid looking indecent. And it's hard to chase after a baby when you're focused on not showing your behind to everyone.
3. Expensive jeans are (almost) always worth the high price tag.
4. A good pair of jeans should hold their shape for multiple wears before washing and shouldn't leave you itching to take them off at the end of the day. You should actually enjoy wearing them!
5. Size doesn't matter. Find a pair that fits, regardless of what number is on the label.
That said, I've been having a hard time finding a great pair for a little while now. Okay, a long while. I used to be head-over-heels about J. Crew's Matchstick jeans, but they went and changed them on me and there's something that just isn't quite right anymore.
I had heard a lot of buzz about Madewell's denim and finally bit the bullet and gave them a try. Since we don't have a Madewell nearby, I ordered four pairs online and tried them on at home. Madewell offers free shipping both ways, so it was a no-risk proposition.
You guys? These jeans are amazing! I went with the 9′ High Riser Skinny Jean in Dayton and couldn't be more thrilled. I ended up having to buy them in tall because they were a tad on the short side, but once I found the right size and fit it was a perfect match. They have just a tiny bit of stretch, hold their shape for multiple wears and are SO incredibly comfortable. I'm pretty sure the high rise is just our modern version of the mom jean, but with a fit like this, I'm totally okay with that.
*I was in no way paid to write this review. I simply love these jeans and thought others might be looking for a great pair, too!