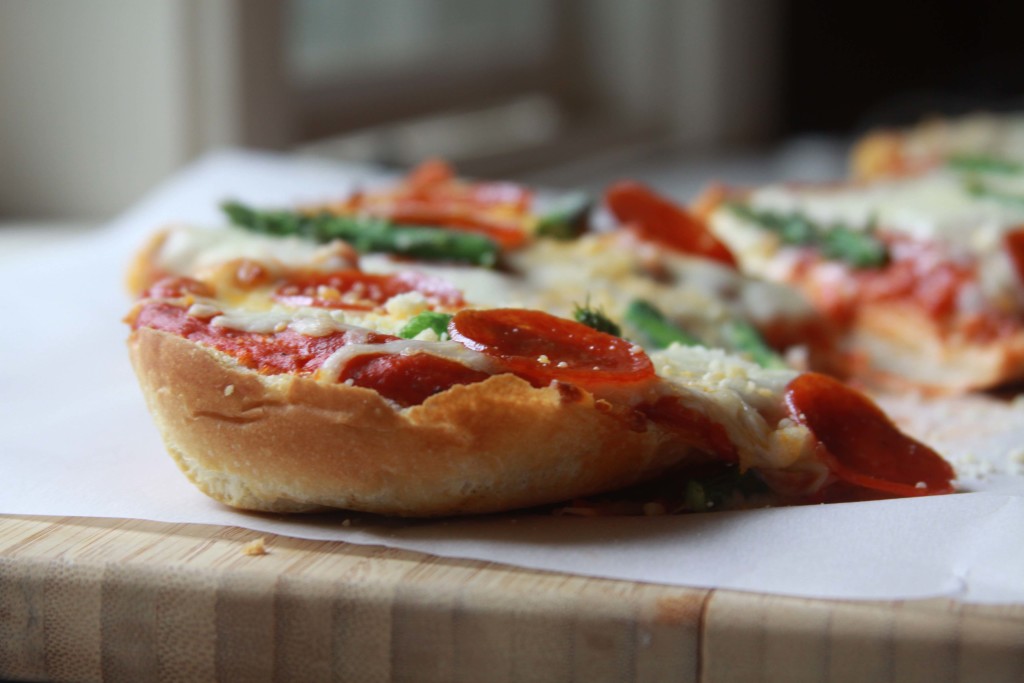 Fall is my absolute favorite season. I know I'm going to sound like a total chiche saying so, but there's something about the crisp air and the leaves falling and the fact that football is back on TV brings back all sorts of good memories. My birthday is in October and my husband's birthday is in September, and our dogs both have birthdays in the fall, too, so there's plenty to celebrate.
The change in seasons also means I'm thinking about cooking with a little more comfort in mind. Okay, to be totally honest, I'm thinking about comfort food but the actual cooking has been in short supply. Our house renovation is in full-swing and we're in a mad rush to get things done before our furniture arrives at the end of the month, meaning we've been eating a lot of late-night dinners that are easy and quick. 
Mezzetta (you know, the brand that makes amazing olives and pepperoncinis and roasted, jarred red peppers) came out with a new pasta sauce that's out of this world. Jarred marinara is a pantry staple at our house, so I feel qualified to judge good marinara when I taste it. Figuring out how to put their Napa Valley Homemade marinara to use for dinner was an easy task.
Cue the French Bread Pizza! This 30 minute recipe is perfect for weary house-renovators eating around the counter late into the evening hours but it's also great for impromptu game day get togethers. I keep a loaf of French bread in my freezer, some shredded cheese in the fridge and a couple jars of marinara sauce in my pantry at all times, meaning dinner is never too far away. Then, I top the pizza with whatever ingredients I have on hand, like shredded chicken, veggies and ground beef. Super simple!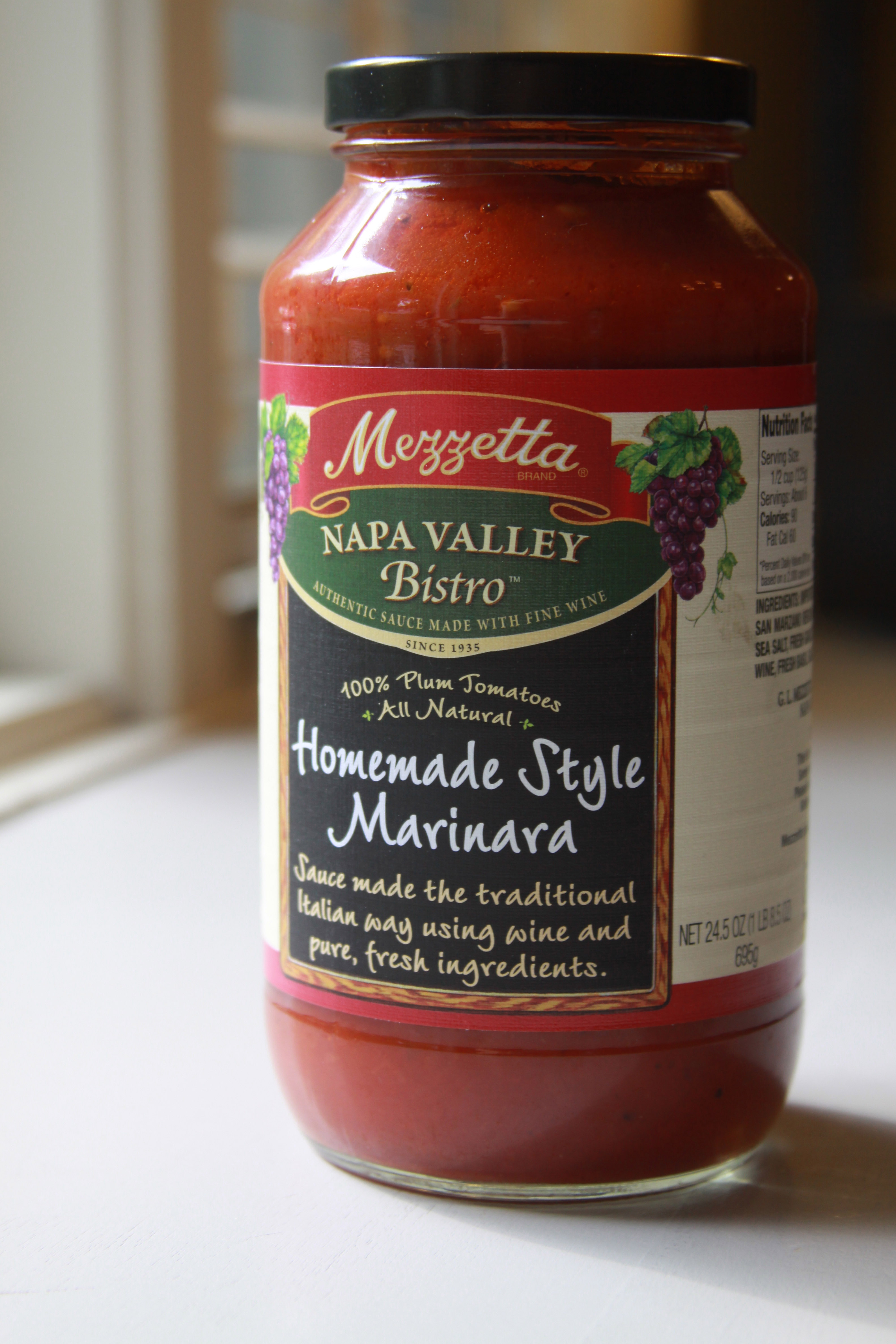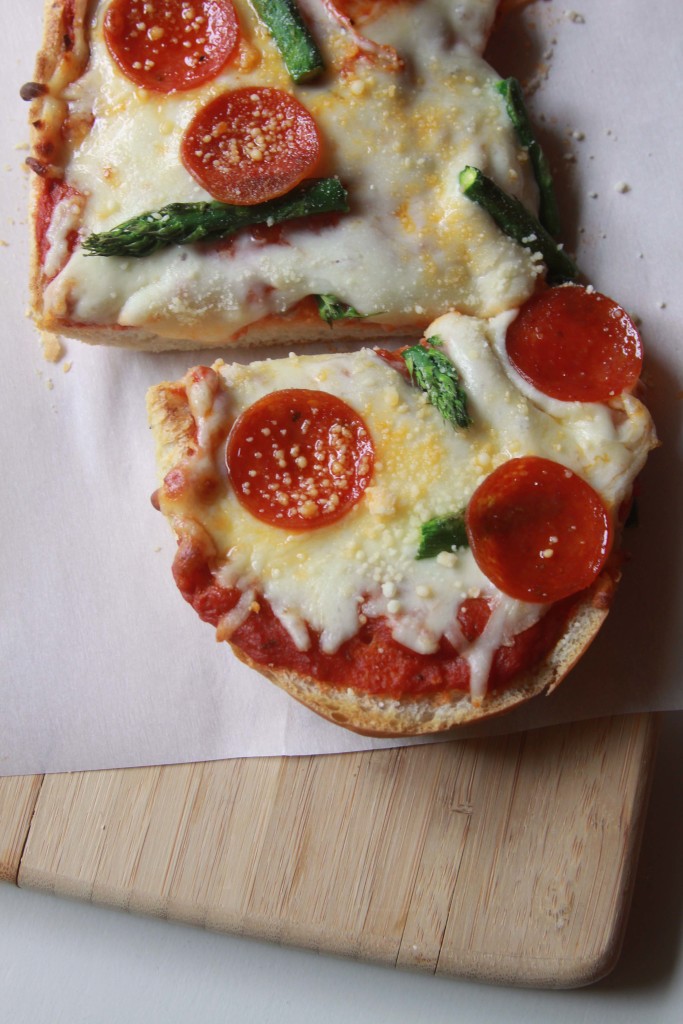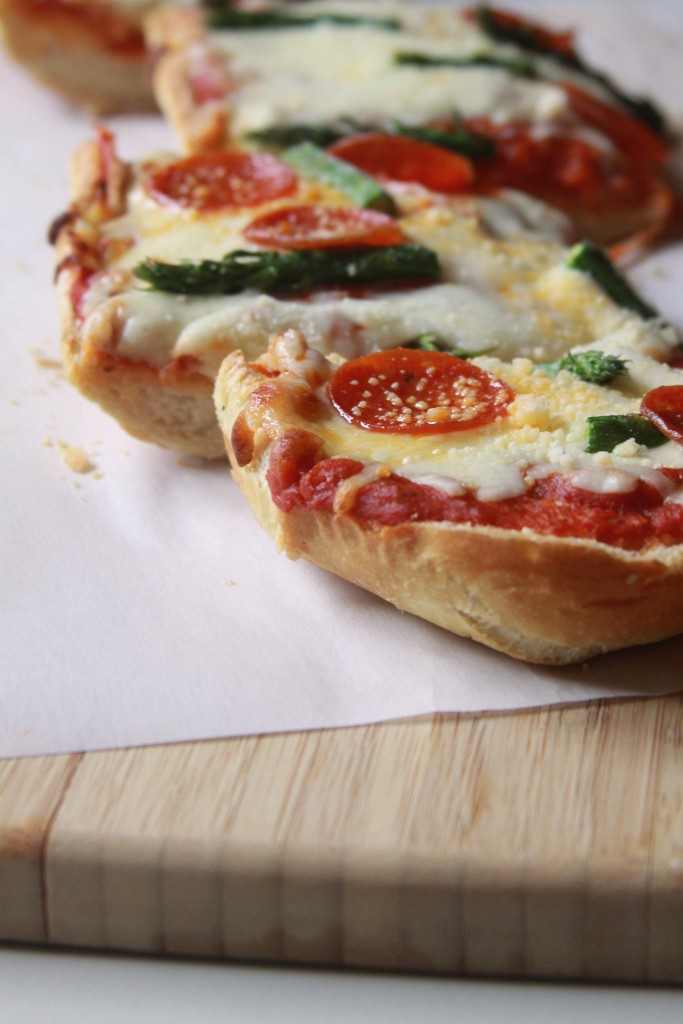 30 Minute Meal: French Bread Pizza
Author:
Espresso and Cream
Prep time:
Cook time:
Total time:
Ingredients
½ of a large loaf of French bread (cut widthwise)
1¼ cups Mezzetta® Napa Valley Homemade™ pasta sauce
1¼ cups shredded mozzarella cheese
4 stalks asparagus, chopped
12 slices pepperoni
Garnish with grated Parmesan cheese
Instructions
Heat oven to 350F. Line a baking sheet with aluminum foil for easy clean-up. Set aside.
Place the loaf of French bread on the baking sheet. Spread pasta sauce on top of bread. Sprinkle with the cheese, followed by the asparagus and pepperoni.
Bake 20 to 25 minutes or until cheese is bubbly and bread is crisp. Cool 5 minutes. Sprinkle with grated Parmesan cheese, if desired, and cut into slices to serve.