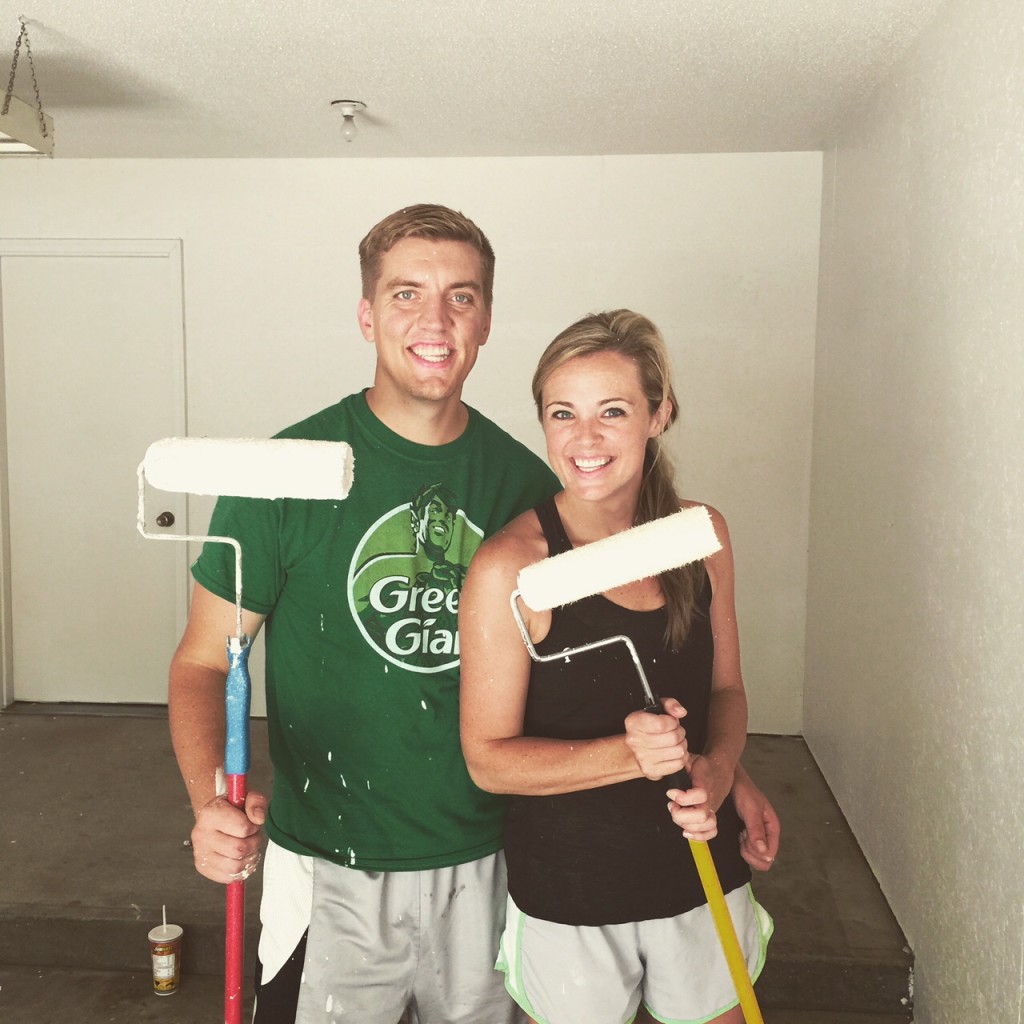 Sometimes I'm guilty of writing without really thinking about what I truly want to say. I'll look at photos I've taken recently on my phone or camera, pick one that looks cute and write up a post without really thinking about the intention behind my words, because sometimes it's easier to write about the surface stuff than write about the heart issues that lie deep below the shiny exterior.
We're semi-settled into our new small-town life in Iowa. Nine days ago we packed up our bags (a lot of them!) and settled into my mom's basement while we wait to officially close on our new home. Joe started work a little over a week ago and I started my new gig this week, but I would be lying if I said I wasn't totally and completely overwhelmed by all that is ahead of us.
Our new home is lovely, but it needs quite a bit of updating to make it work for our family and give it a more modern feel. While we haven't officially closed, the seller generously gave us permission to do a few minor updates in the interim. This weekend we removed lots of shelving from the garage and gave the garage floor a good power washing, and after that we brought in the white paint. White walls, white ceiling, white everything! It's amazing what 8 hours, a lot of manual labor and four gallons of fresh paint will do to a space. Everything felt so clean and fresh when we were done and I couldn't help but feel like we had a brand-new garage.
Lately, if I'm being totally honest, I feel like my life needs a fresh coat of white paint. For many reasons, the season we're coming out of has been hard, which has only been compounded by the sudden, earth-shattering change that is parenthood. There has been a lot of wonderful mixed in with the hard stuff, but as I look back on the last year I can't help but feel like there were so many things I hoped to accomplish that didn't get done, so many relationships I wanted to invest in that went by the wayside, so many passions and interests and things I said I would dig deeper into that never happened, so many workouts I planned to work into the schedule that just didn't take place.
So as we remove wallpaper and carpet and paint walls and lay down new flooring, I think I'll be doing a bit of soul-searching, too. I want this new season to be one that bears fruit in the form of relationships, dreams, goals, passions and interests. Although there is something wonderful about having a newborn, I'm ready to move past looking inward at my own circumstances and instead look out at those around me, thinking more about how I can pour into others rather than what others have to offer me.
Instead of waiting for the new year to make a resolution or two, I'm hitting the reset button in August, in hopes that this new chapter is the best one yet. Here's to new paint, both in our houses and our lives!
Madison