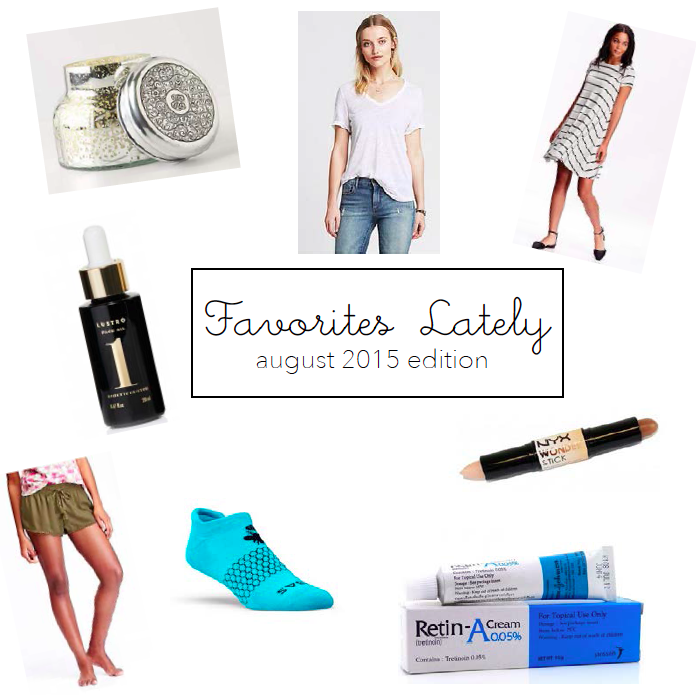 Old Navy Women's Jersey Swing Dress $28
My friend Natalie posted about this dress, and I ran out immediately to find one for myself. It's super versatile and comfortable, and I could see it getting some wear into fall with a great jacket and boots.
NYX Wonder Stick in Universal $13
This little stick is great for contouring and highlighting. Plus, it's available on Amazon Prime! I found it at Target a while back, but haven't been able to find it there since. It really is a wonder stick for those days when you're looking washed out and tired.
Capri Blue Candle :: Volcano $28
I know, this seems like a crazy amount to pay for a candle. And I agree! But the scent of this candle can't be beat. I burn it occasionally to keep my house smelling amazing and savor the way it makes my house smell.
Beauty Counter Lustro Face Oil 1 $64
I've been using this face oil for about a month and it's been great for my skin! It absorbs really well and doesn't leave my face feeling greasy.
Old Navy Crochet-Trim Lounge Shorts $12
I've been trying to update my "lounge wear" wardrobe post-baby. Most of my pregnancy I just wore Joe's sweatshirts for hanging around the house and now I'm aware of the shabby state of my lounge wear. I'm not willing to sacrifice comfort for cute, so these shorts are a great compromise!
Bombas Athletic Socks $11
The Bombas team sent me a few pairs of these socks to try and it was love at first run! They're seriously some of the most comfortable socks I've worn for working out and are well worth the premium price tag! Plus, they're super cute.
Retin-A topical cream (prescription only)
I'm back on the Retin-A bandwagon now that pregnancy and nursing is behind me. I LOVED the way Retin-A made my skin look and feel a couple years back, and I'm so excited to get that glow back. The first couple weeks are rough (lots of skin peeling and breakouts surfacing) but it's totally worth it. If you're looking for something to even out your skin tone, brighten your complexion and reduce sun spots and acne, ask your dermatologist about it!
Banana Republic Linen Vee Tee $30
Now that I'm transitioning to more flexible and casual work (more on that soon!) I'm stocking up on cute but comfy basics. I bought this t-shirt in a couple different colors and have been wearing it a lot!