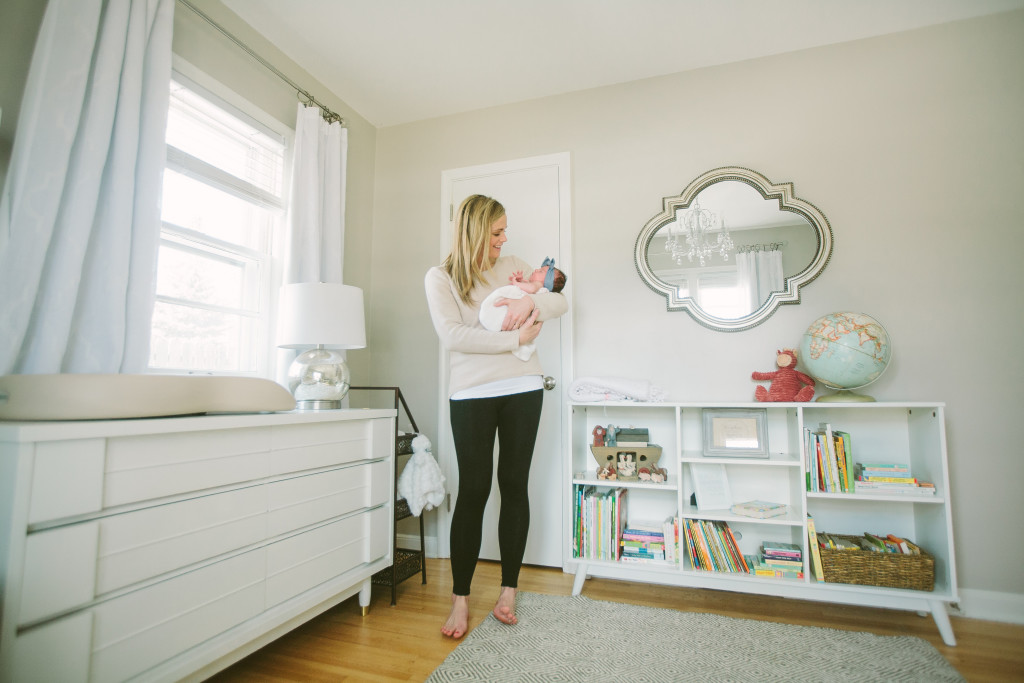 Photo by Gina Zeidler 
As we were preparing for Ainsley's arrival I heard a lot of people talk about the amazing "love at first sight" that you feel when your little one is born. People went on and on about how the minute you become a mom you are instantly changed and overwhelmed with all the feelings. Me? I was a little skeptical and more than a little worried about the whole thing. You see, when someone tells me that I'm going to feel a certain way there is a degree of stress and pressure to feel those same feelings. And if you don't what does that mean?
Here's the thing that people don't tell you: You might not experience overwhelming love at first sight. I know I certainly didn't. I loved Ainsley from the moment I saw her: she was our long-awaited and much-anticipated miracle baby, for goodness sake! But I was also exhausted, clueless, overwhelmed and navigating a whole new world with a baby I hardly knew. I didn't know anything about her personality or her likes and dislikes and I wasn't confident in my skills as a mother in the least, because no amount of babysitting can ever prepare you for being a mom.
I was deeply committed to being her momma, in awe of her presence and her cute little features, thankful beyond words for her presence in our life and grateful for her safe and healthy delivery. But I felt so guilty about not having the emotional love response that others had told me I would have. I carried that guilt around with me like a dirty little secret that wasn't appropriate to disclose.
The other night while on vacation, Joe and I were laying in bed after Ainsley went to sleep just chatting on and on about how much we loved her and how much FUN she has started becoming in the last month or so. Now that she is 4 months old, she is smiling, babbling to herself, giggling and responding to us in new ways everyday. She grabs the puppy's tail and makes funny faces to things, her eyes light up when we sing to her and she tries her best to sing along. She's becoming a real person with real likes, dislikes and personality traits. And over the past couple months I've started to fall deeply in love with who she is as a unique individual, beyond the fact that she is our baby.
I told Joe, "I think I've always loved her, but now I really understand what that all-consuming love for her is about!" Sounds horrible, right? I mean, you're "supposed" to love your baby that way from day 1. But with all the sleepless nights, hazy days, raging hormones, baby (and mommy!) tears, and so many unknowns, I found it sort of difficult to really make that connection. And now that things have settled into a routine and we're getting to know our little person? Gosh, it just keeps getting better and better!
So if you're a new mom or soon-to-be mom or even thinking about having kids in the future, I want to encourage you. You don't have to feel any certain way at any certain time. Maybe you'll experience that great "love at first sight" moment like some people do, or maybe, like me, it will take you a little longer. Whatever your journey, there really is no "right" way to do things or a set of benchmarks that you need to reach and different moments in your development as a mom. Just like your baby reaches developmental milestones at different times, moms reach those moments at different times, too!
Madison