Right after returning from vacation I had a new Stitch Fix box to welcome me back to real life. I'll admit, it helped a bit in softening the post-vacation blues and was a fun surprise when it arrived at my door yesterday morning. Since I haven't decided which items to keep and which to return, I was hoping you might be able to help me with this month's box? I'm super torn on what items to keep! Let's dive in…
PS: Interested in signing up for Stitch Fix? You can do so with my referral link HERE.
1. Brixon Ivy Azure Lace Overlay Blouse $54
I thought this top was sort of strange before I tried it on, but when I look back at photos that Joe took, I really like the top?! I'm not entirely sold either way, because in some respects it seems a bit casual for work and doesn't really fit my style, but it's fun and a little different, too.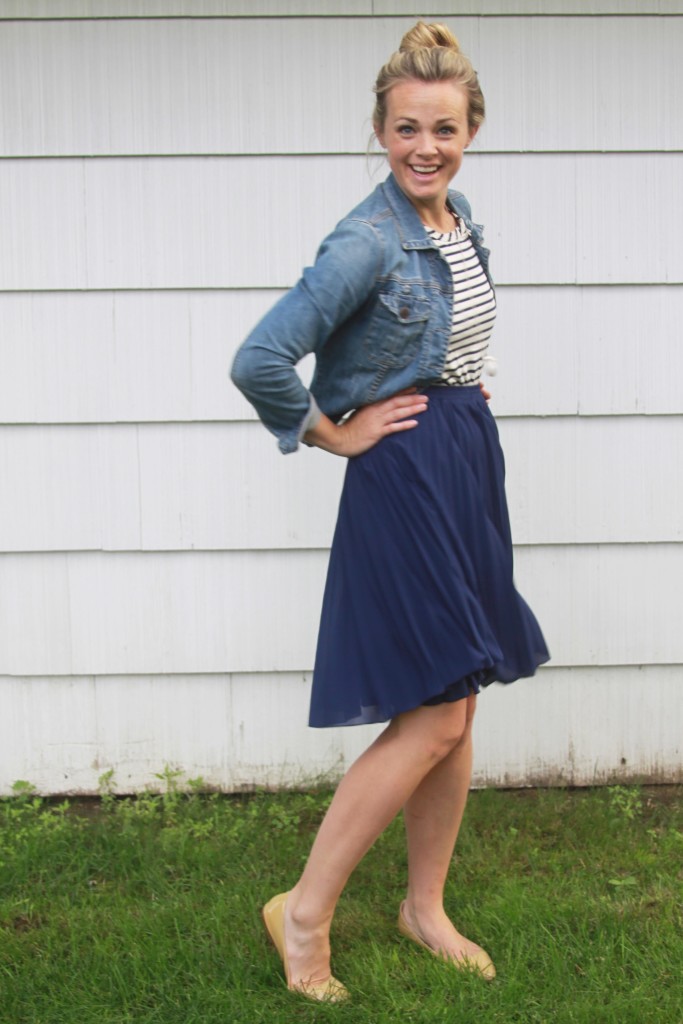 2. Pixley Carlyn Pleated Skirt $58
I wanted to love this skirt, but I'm not sure it's really the most flattering thing? Overall, stretchy waist skirts don't tend to be the best look for my body type, at least that's what I've always thought. And I have a skirt that's pretty similar in color and shape, so I'm not sure it meets a real "need" in my closet at this time.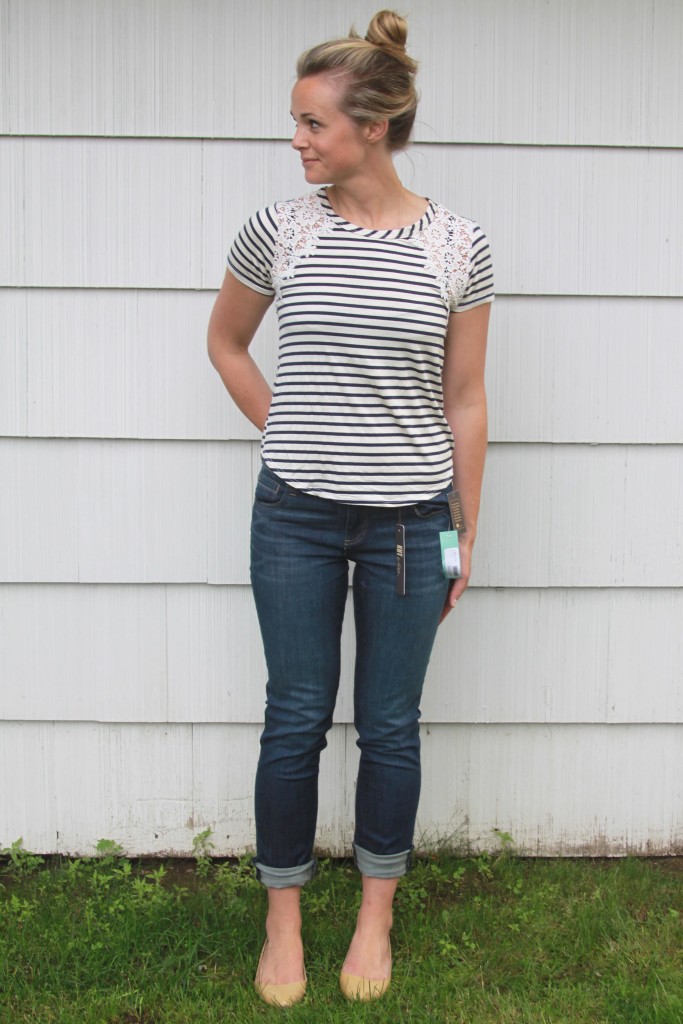 3. Pixley George Crochet Detail Knit Top $44
As you can probably tell from the photo, this top was a little bit too short for my long torso. That said, I'm not sure I would think about keeping it even if it was longer. It's casual and cute, but at this point I'm not really looking to buy clothes that are super casual. They need to work for the office and at home!
4. Kut From The Kloth Kate Boyfriend Jean $78
I love this brand of jeans and have purchased a pair or two from Stitch Fix before. My complaint is that they are semi-boyfriend but not really? I have a few pairs that require you to roll the bottom up and this just seems like more of the same. I guess I would rather have a pair of skinny jeans that fit well. But I do love the way these fit and how comfortable they are!
5. Pixley Joaquin Hooded Vest $74
I asked for a denim vest but was told in my comment card that they weren't able to find a denim vest and included this vest instead. I'm not a huge fan of the loose fit and giant pockets at my hips. Although I appreciate the effort of including a vest, this one doesn't really seem like a suitable alternative to a denim vest. I was hoping for something a little more cropped and fitted.
So what items would you keep? Which ones would you return? I desperately need your help deciding this time around!
Madison
Stitch Fix affiliate links used. Opinions are my own.