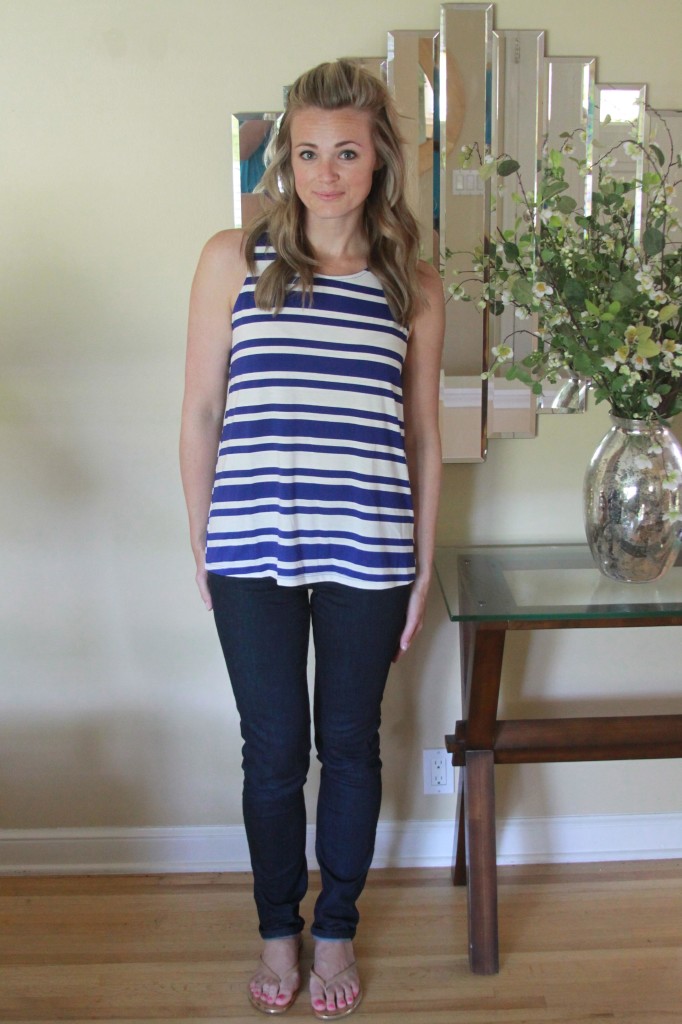 It's been so long since I've done a Stitch Fix review; I can hardly believe it! If you're unfamiliar with Stitch Fix, it's an online clothes delivery service. You fill out a style profile and get shipments of hand-picked clothes to try on in the comfort of your home with clothes and accessories in your own closet.
I've been getting Stitch Fix shipments monthly for the last couple years and have really enjoyed most of the things that my stylist picks out. Although I've had a bum box every now and again, the items I've been sent have generally been great. Now that I'm a mom and shopping trips are harder to come by, it's fun to get a box delivered directly to my door so I can try the clothes on during nap time or after Ainsley goes to bed.
Okay, so let's get to my box, shall we? I haven't been super specific about the types of items I wanted to see in my box lately, although going forward I think I'm going to ask for pants, skirts and dresses rather than tops, since I'm pretty set in that department.
1. Skies are Blue Swanley Knit Tank $38 (above)
Looking at the photos, I don't dislike this top as much as I did when I first tried it on, but it wasn't a favorite of mine. I have broad shoulders and the cut of this top made them appear even larger. And as far as versatility goes, I couldn't really see myself wearing this tank at work. Verdict? Return!
2. Market & Spruce Corby Knit Tee $38
Usually I'm not a huge fan of t's with words on them, but this one was so dang cute! And I loved that it was a neutral color with a cut that was longer in the back. I could see myself wearing this with jeans for a casual date night as well as with a blazer and a dressier necklace for work. Verdict? Keep!
3. Ezra Cannes Scoop Neck Blouse $48
This top was NOT my style at all. Joe thought it looked a little grandma-like, and I wasn't crazy about the cut and fit. It wasn't dressy and it wasn't super comfy/casual, so I had a really hard time thinking of a time or occasion that I would wear this top. Verdict? Return!
4. 41 Hawthorn Renesme Geo Print Faux Wrap Dress $78
Hello, bold print! Since I ask for neutrals in my fixes, I'm not sure how I got such a bold and flashy dress. I didn't mind the cut, but the pattern was a deal-breaker and the material felt a little on the cheap side. Verdict? Return!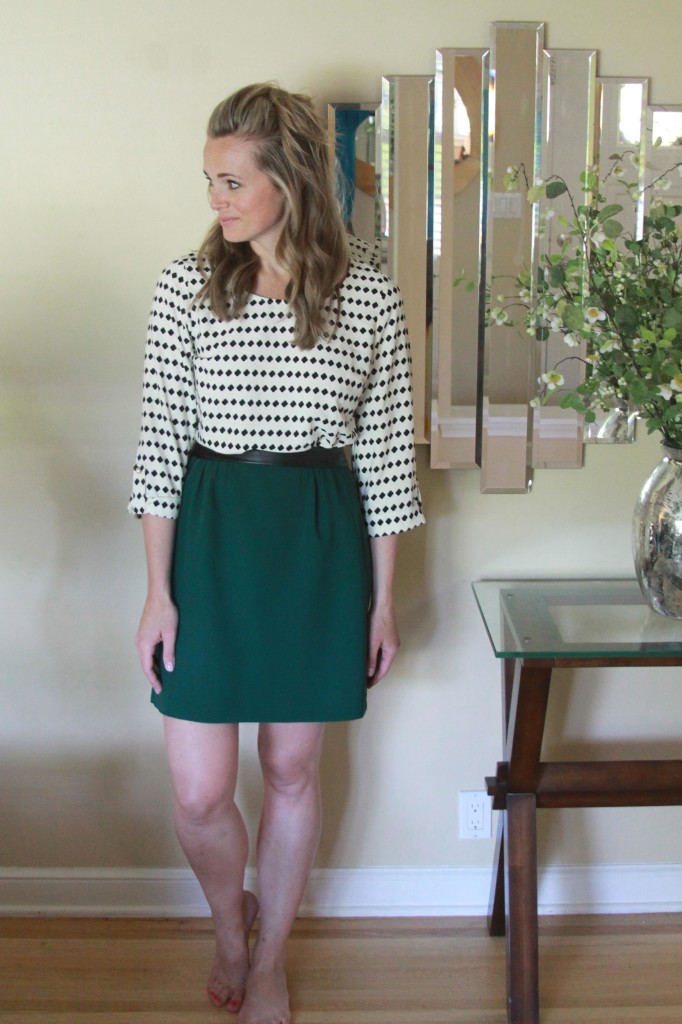 5. Brixon Ivy Bixby Clover Print Blouse $64
I loved this top from the minute I took it out of the box! It was neutral with a classic dot pattern and the material was thick and substantial in a good and flattering way. I could see wearing it with a skirt, like in the photo above, or with jeans for a more casual feel. Verdict? Keep!
And that's it! I kept two items and returned the rest. This wasn't my favorite fix that I've received lately, but I did really like the two items I kept. It's probably better for the budget that I didn't love everything in my box, anyway! If you're interested in signing up for Stitch Fix, you can do so HERE.*
*Affiliate links used