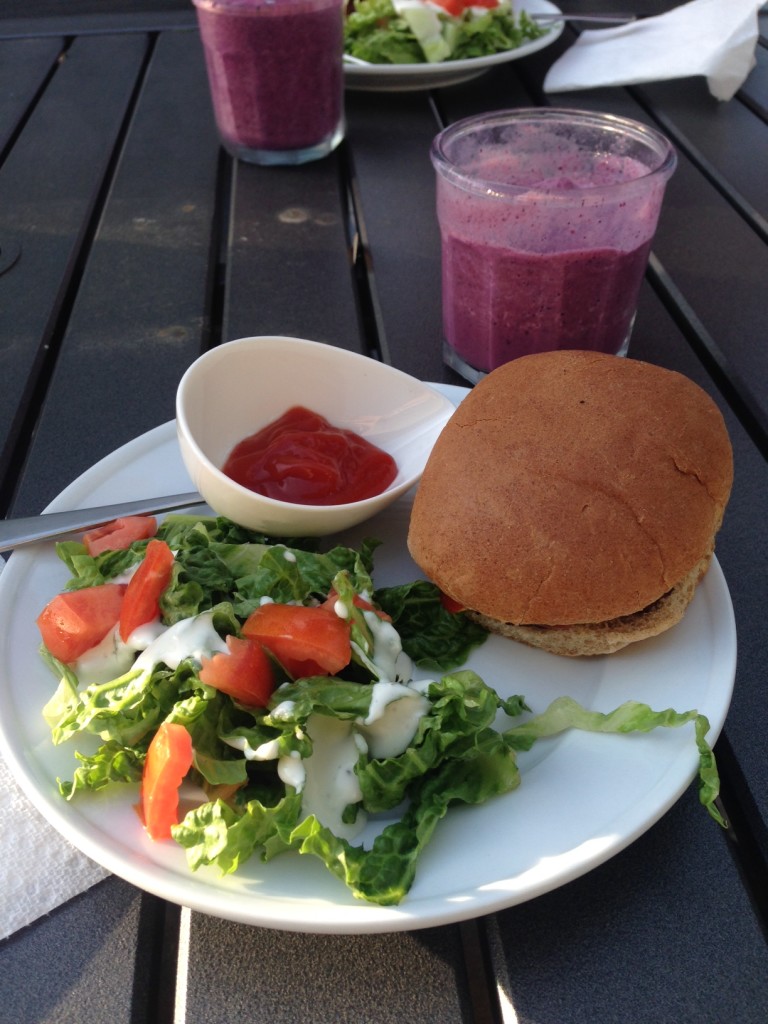 I suppose it shouldn't come as a surprise that one area of our spending that was a little out of control was our grocery and food budget. Grocery shopping is somewhat of a hobby for me when I have the free time and I love testing and trying out new products, so although we had a budget, I rarely stuck with it each month.
We've waffled between various different grocery stores over the years: Target, Whole Foods, Trader Joe's, Cub Foods, etc. My husband had been trying to convince me to check out Aldi ever since he shopped there in college, but I was always more than a little hesitant.
When we re-examined our budget, we decided that spending around $300/month on groceries was a reasonable amount to spend, cutting back from the $400/month we were budgeting previously. To some that may seem high and others that may seem low, but for us it was a pretty comfortable number. We take all our lunches from home and rarely do take-out during the week, so that's a lot of meals for $300. Side note: Dining out and entertainment are a separate item in our budget.
When my grocery budget got cut, I knew I needed to get creative. I'm not a good coupon-clipper, especially now that time is precious with a little one around the house. So a few weeks ago I finally bit the bullet and made the trek to Aldi with my hubby and baby in tow.
First Impressions 
I was really shocked by the prices. Like, seriously in awe of how cheap some of the food was. I had a few experiences with Aldi while in college, but I was blown away by how much less everything costs. One of my prior assumptions about Aldi was that everything was really poor quality, but the way they keep their prices down (like bringing food in on pallets, not hiring people to stock the shelves, making you return your own cart and bag your own groceries) is passed along in cost-savings to the consumer. It's not a "fun" grocery shopping experience, but it certainly does make for a cheaper bill!
After browsing the store, I was also surprised by the number of healthy, high-quality products they had available. There were plenty of items branded under their "Simply Nature" line that were organic, gluten-free, non GMO, etc. Not really what I expected from a store like Aldi. Additionally, the produce was, for the most part, really great.
Things We Love at Aldi
-Veggies/Produce
-Dark chocolate
-Cereal
-Tortilla chips and crackers (especially the black bean and corn variety)
-Plan and flavored Greek yogurt (their house brand tastes just like some major national brands)
-Milk and shredded cheese
-Grains and Bread (quinoa/rice blends, bread, sandwich thins and wraps, oats)
-Baking staples like brown sugar, flour, cinnamon, etc.
-Nuts and trail mix (their walnuts and almonds are great!)
-Sparkling water (they frequently have LaCroix, my favorite)
-Canned items like beans, crushed tomatoes and diced tomatoes
Things We Buy Elsewhere
-Chocolate chips (I was not impressed with the quality of their chocolate chips at all)
-Fresh berries (their fresh berries have never looked great when we've been there)
-Meat (we don't buy much meat because we get beef free from Joe's parents, but we buy our chicken, deli turkey and the like at other stores)
-Peanut butter (I prefer brands that are made with just peanuts and salt, nothing else)
-Salad dressing (Aldi only has a limited selection of basics, like ranch and honey mustard)
Things We Buy in Bulk (Costco)
-Diapers and formula
-Toilet paper
-Olive oil
-Baby wipes
-Keurig pods
-Frozen salmon and chicken breasts
Thus far, it's been entirely possible to shop at Aldi for a majority of our grocery needs and save a bunch of money in the process. Our weekly grocery trip runs between $60 and $75 dollars each week, and any money that we don't spend for the month can go toward fun things (like coffee!) or saving for something else.
Other Tips for Saving
-When I do go to other stores like Target for groceries, I make sure to check out my Ibotta app to see if there are any items I can get cash back on. It's a quick and easy way to get a little more cash in your pocket.
-I also check sites like Coupons.com for any printable coupons and Target's online coupons as well. I don't clip a ton of coupons, but I check a couple sites that are easy to navigate.
-Meal planning is an absolute necessity in order to eat well on a budget. I find that if I don't plan ahead I end up spending so much more at the grocery store because I just toss things in the cart without a plan.
-Make some of your snacks! My husband snacks a lot, so to save money I have been making snacks and treats for the week on Sunday afternoons. I'll make a batch of whole wheat banana muffins, protein bites (with oats, PB, honey and protein powder), and chop up some veggies for dipping in hummus.
-Every now and again, make it a practice to eat down your freezer. If you're anything like us, you probably have a ton of food sitting around in your freezer just waiting to be used at mealtime. Although some of our freezer meals are less than glamorous, I feel good knowing I'm not letting food go to waste and I'm saving money in the process.
Madison