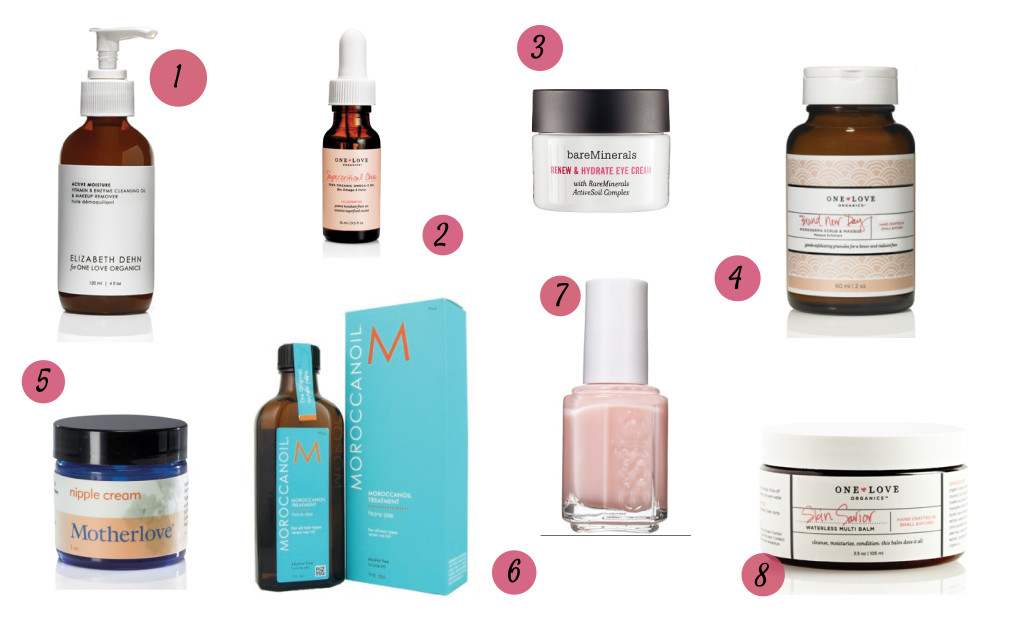 I may not be an expert on all things beauty, but I love doing beauty posts and reading about blogger beauty routines. Anyone else with me? Since we're in baby countdown mode, I've been thinking a lot about how my beauty routine fits into my new momma routine. I am fully aware of the fact that I'll have less time to devote to getting ready once baby arrives, so my strategy has been to invest in really great beauty products that make my skin, hair and nails look great without a lot of primping.
Some of the products listed above are a bit of an investment cost-wise, but I promise that they work great. And if I face wash can make you feel beautiful when you're using it, I'm not sure you can put a price on that! Let's take a look at what's in my beauty bag:
1. One Love Organics Vitamin B Active Moisture Cleansing Oil and Makeup Remover
This cleansing oil is my favorite item listed. It makes my skin feel amazing and makes me feel beautiful every time I wash my face. Crazy, right? It moisturizes and cleanses and does a great job at removing makeup without drying out your skin.
2. One Love Organics Supercritical Chia Oil
A few tiny drops of this magic serum goes a long way, meaning this tiny bottle lasts forever. I'm not sure exactly what is behind the magic in this bottle of oil, but it makes my skin glow and leaves my skin feeling moisturized, especially during the cooler months.
3. Bare Minerals Renew and Hydrate Eye Cream
This has been a favorite eye cream my entire pregnancy, and I intend to keep using it post-baby as well. It's light enough that it doesn't feel heavy on the skin, but it's still potent enough to moisturize that delicate skin under the eye.
4. One Love Organics Brand New Day Scrub and Masque
This product is pure fun and function all in one! It's a powder scrub that can be added to your favorite face wash or you can make a paste with water to scrub onto your face and remove dead skin cells. I use it a few times a week and it leaves my skin feeling great.
5. Motherlove Nipple Cream
I bought this a while back for after baby arrives, but after looking at the ingredients, it made a lot of sense to me to start using it as a lip balm. Sounds a little crazy I suppose, but my lips have been so chapped this winter that I was willing to try anything. And this works! I'm sure after baby arrives I'll be using it for the more traditional uses as well.
6. Moroccan Oil Hair Treatment
Moroccan Oil has been a staple in my beauty routine for years. I don't use a lot of products on my hair, but I can't go for long without this Moroccan Oil to keep my hair shiny and healthy.
7. Essie Mademoiselle Nail Polish
I can never keep a manicure for more than a day or two, so a light, neutral polish is perfect for someone like me. A single coat of this polish is hardly noticeable, but it does make your nails look much more polished and put together.
8. One Love Organics Skin Savior Beauty Balm
This stuff is pure magic. It works well as a facial moisturizer (which is what I most commonly use it for) as well as a facial cleanser, stray hair tamer, etc. A little goes a long way, meaning this jar lasts forever. I also like to take a little and mix it with my favorite foundation for a tinted moisturizer.
Madison