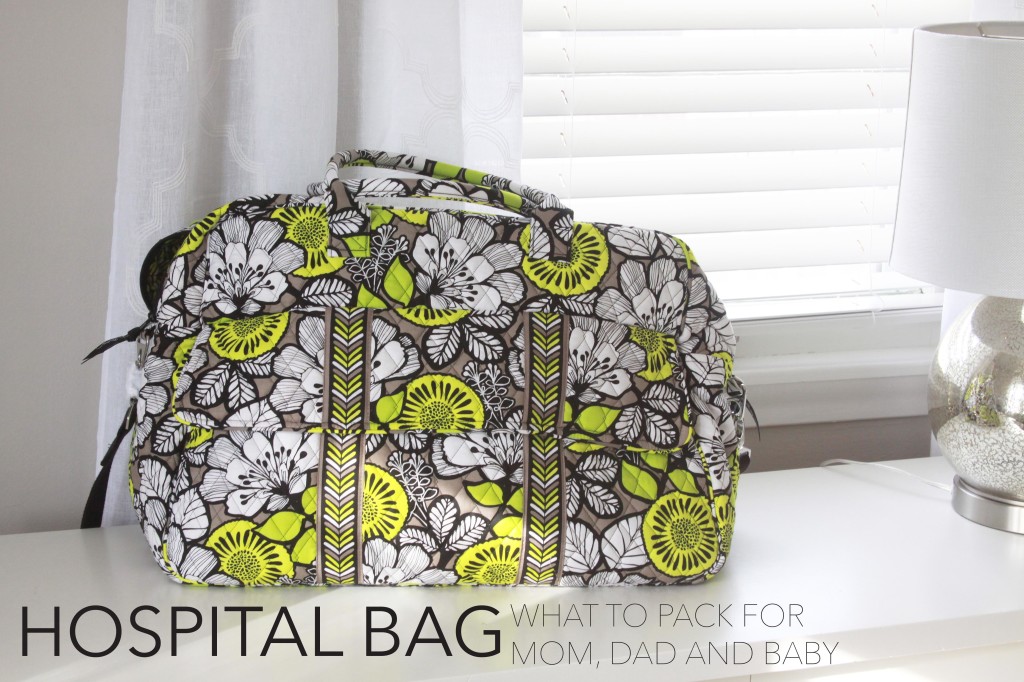 Joe and I have been in full-time baby preparations lately, getting everything ready for our little peanut's arrival. At 36 weeks pregnant, the car seat bases and car seat have now been installed, the baby clothes are washed and we have plenty of wipes, diapers and all the practical things that a baby needs.
My most recent project has been packing my hospital bag so I'm ready at a moment's notice. I'm not all the way there yet, but I'm getting closer, aside from a few items that I'm still using day-to-day. I'll admit, I'm hardly an expert, but I think that I've put together a minimal yet comprehensive bag filled with the things I'm really going to need. I'm also pretty thankful that we live close to our hospital so Joe can run home and get things that we forget!
Here's a look at what is in my bag:
1. Nursing Gown and Robe
I recently bought this combination nursing gown and robe for our stay in the hospital and in the hazy days once our newborn comes home. I wanted something that made me feel put together yet was super comfortable and practical. I also purchased this robe from Target that is super comfortable and looks pretty, so I think I'm taking it along as well.
2. Cell Phone and Charger
My phone and charger aren't packed just yet, but this is on my mental list of things to add at the last minute so that Joe and I have plenty of juice in our phones to snag photos and Instagram, of course!
3. Toiletries and Make-Up 
This week I'm putting together a little travel kit of my favorite toiletries, many of which I already own from all our travels. (my favorite make-up, hair spray, shampoo/conditioner, face wipes to keep me feeling fresh, face lotion, eye cream, etc.)
4. Clothing Essentials
I've heard that comfort is key, so I'm planning on packing some of my favorite black Gap maternity leggings, a swing dress that isn't maternity but has lasted me throughout my pregnancy, one of Joe's sweatshirts, nursing bras and camis, granny panties that I recently purchased at Target, etc.
5. Belly Bandit
I posted a question on Facebook the other day about the Belly Bandit or other stomach support to wear post-pregnancy. Lots of you had rave reviews and I'm excited to give it a try myself! The idea behind wearing a Belly Bandit is that it helps accelerate healing, support your stomach post delivery and speed recovery. I'm certainly willing to give it a try! I'm planning on doing a full review post-baby on what I thought and how it worked.
6. Hair Dryer (??)
Can anyone tell me if this is necessary? I never thought to ask on our birth center tour, but I take it most hospitals don't have hair dryers in every room like hotels do.
7. Slippers or Slipper Socks
I picked up a few new pairs of slipper socks with grippies on the bottom for walking the halls during labor and for keeping my feet warm afterwards. They were cheap enough that I'll probably just toss them before I head home.
8. A Bag of Hard Candies
I'm not sure this is necessary, but I've heard some people recommend it. I figure it's better safe than sorry. 
9. Paperwork and Insurance Card/ID
10. Camera
Since this is a big occasion, I think I should probably pack my nice (big) camera instead of relying on my cell phone camera. I don't love the idea of lugging my camera with, but I think it will be worth it in the long run. Also, don't forget extra batteries or to at least make sure your camera batteries are fully charged.
Items for Hubby and Baby 
1. Going Home Outfit (for baby)
2. Blankets and swaddle
Our hospital provides a swaddle but I'm taking one of our own as well.
3. Baby Mittens 
We washed and packed a few packs of those little baby mittens so our baby doesn't scratch his/her face.
4. Snacks
We went to Costco last weekend and stocked up on a bunch of snacks for Joe, since we have no idea how long labor is going to be or how it will all go. Joe has Cliff bars, trail mix, fruit snacks and gum packed in his bag.
5. Cash/Change for the vending machine 
6. Car Seat
Make sure your car seat is fully installed and ready to go. We heard a story in our labor and delivery class last weekend about a dad who simply put the car seat, still in the box, in the car thinking that was sufficient. Ha!
7. Change of Clothes for Dad
Joe is taking a change of clothes as well as something comfortable to sleep in, like gym shorts and a long-sleeved casual shirt.
8. Toiletries for Dad
9. Air Mattress
We've been debating this one back and forth. Maybe it seems silly, but the hospital we're going to doesn't have the best sleeping accommodations for dads, so we're taking a twin air mattress along and leaving it in the car just in case Joe is incredibly uncomfortable and wants to use it.
Mommas out there, are there things I'm missing from this list? What would you add from your personal experience?
Madison