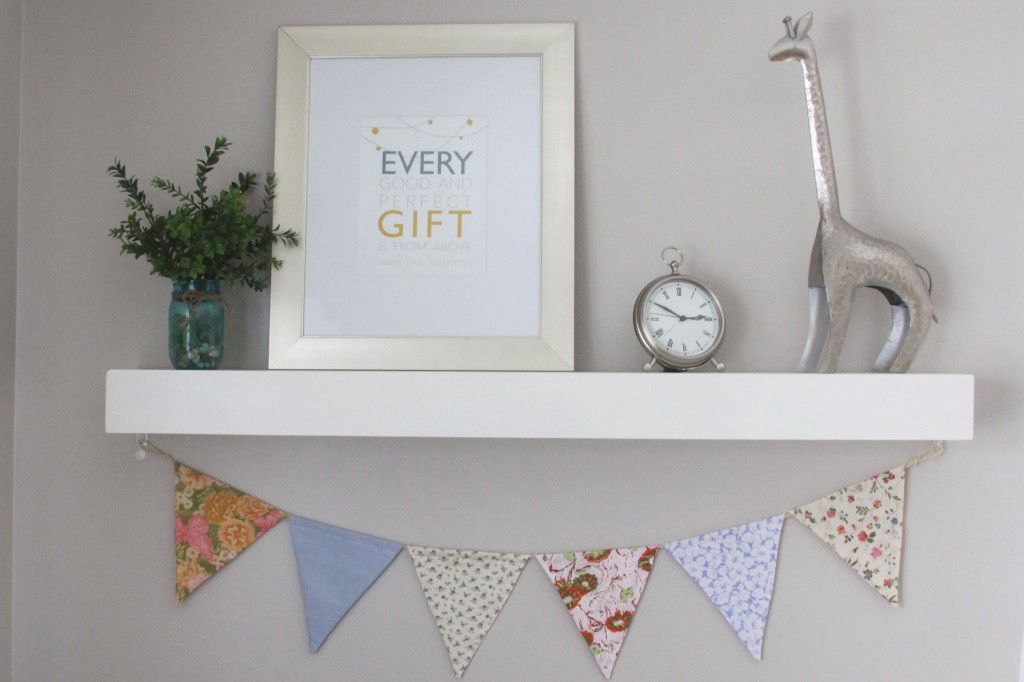 Happy New Year, friends! I'm kicking off 2015 with a tour of my new favorite room in our house, Baby Hofmeyer's nursery! It's been so fun to put together this nursery piece by piece, and seeing it finally come together just 8 weeks shy of baby's arrival makes the whole thing even more real. I'm finding it hard to believe that we're really going to be a family of 3 pretty soon.
I've never been great at taking photos of rooms in our house. It's a skill I have yet to really acquire, but I'm working on it. So please forgive the fact that some of these photos are less than stellar. Let's take a tour, shall we?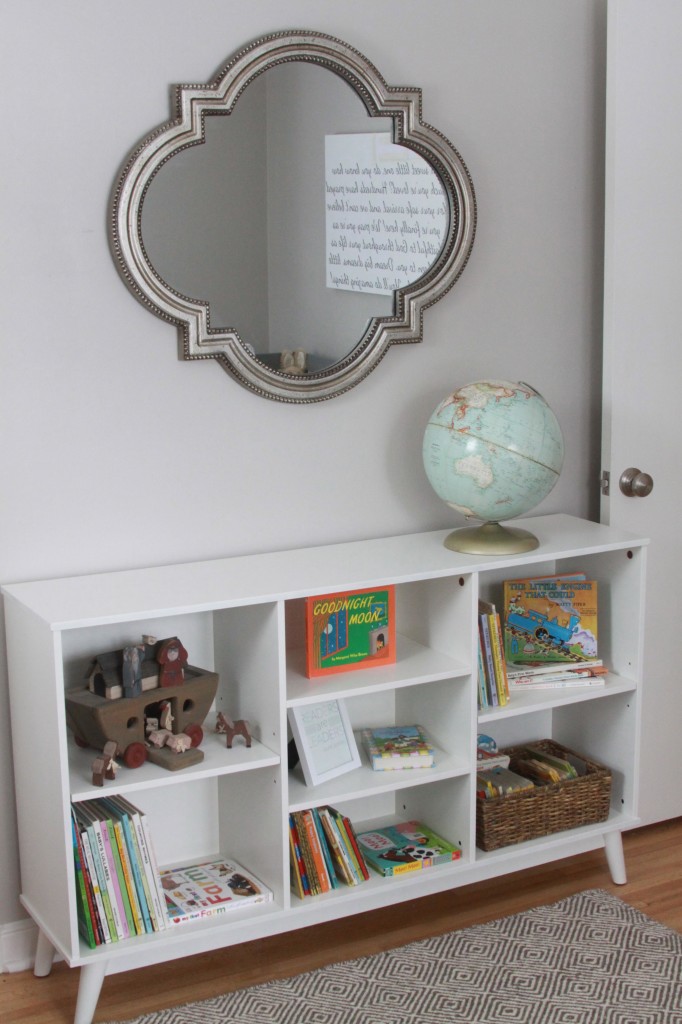 We decided on the paint color as the first order of business when deciding on decor. The paint color is Sherman Williams Worldly Gray. I love how the color changes throughout the day; sometimes it looks like it has a lot of brown tones and other times it looks totally gray. The color comes off warm and happy, which is hard to come by in gray paint colors. 
Pictured in the first photo is the floating ledge that a family friend made for us years ago. It was black until a few months ago when we painted it white to match the nursery decor. The fabric pennant banner is from our wedding and made from my grandmother's childhood dresses. We decided on a mix of blue and pink/purple fabric patterns to work with a boy or girl. On top of the ledge is a print that I made myself in InDesign (you can buy something similar from Naptime Diaries Shop) along with a giraffe I found at Homegoods and a little old-fashioned clock from Pottery Barn.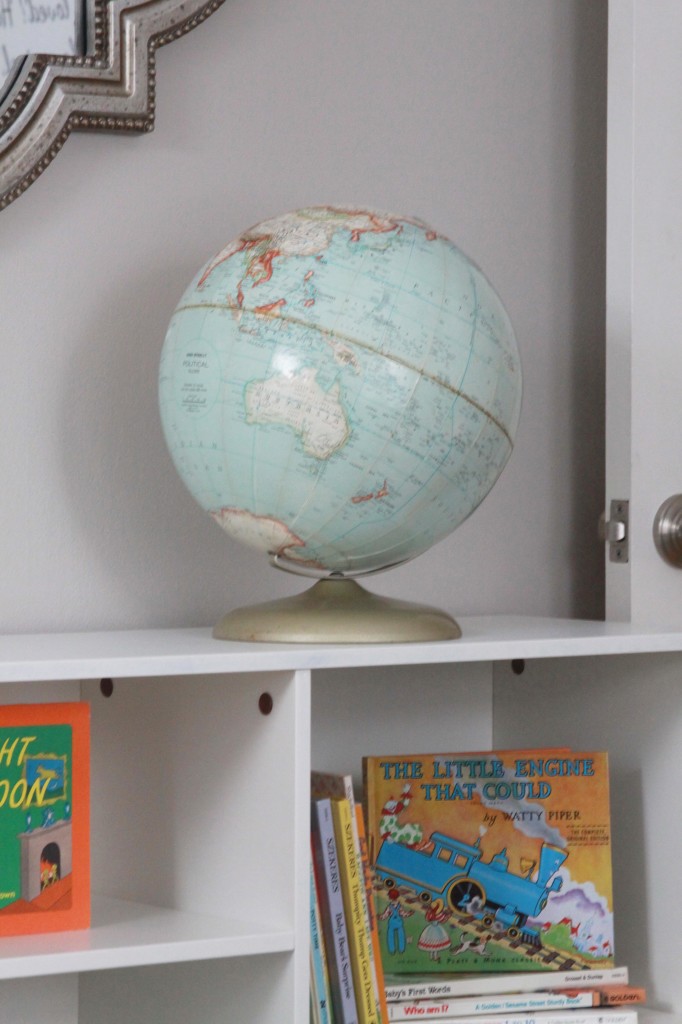 The bookshelf pictured above is the Midcentury Modern Horizontal Bookcase from Target.  We loved that the bookshelf fit with the time period our house was built and had adjustable shelves. Since they didn't have this bookcase in white we decided to buy it and paint it white to match the room's decor. The books are a mix of old a new, including some books I loved as a little kid. The globe is a vintage Rand McNally globe my mom found for $3 at a thrift store. Joe really wanted a map of some sort in the room so this how we incorporated one.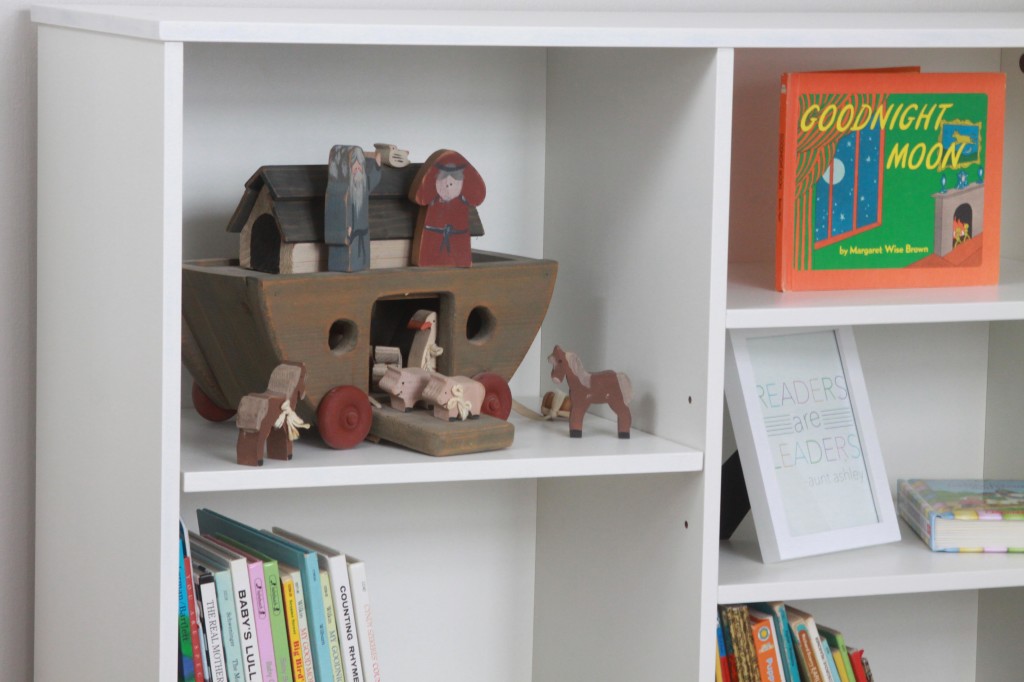 The crib was a gift from my parents. It's the Babyletto Hudson Crib in grey that also converts to a toddler bed when our little one gets bigger. I debated going with white, but since we already had a lot of white in the room I wanted to ground the room a little with a piece of furniture that was a different, darker color.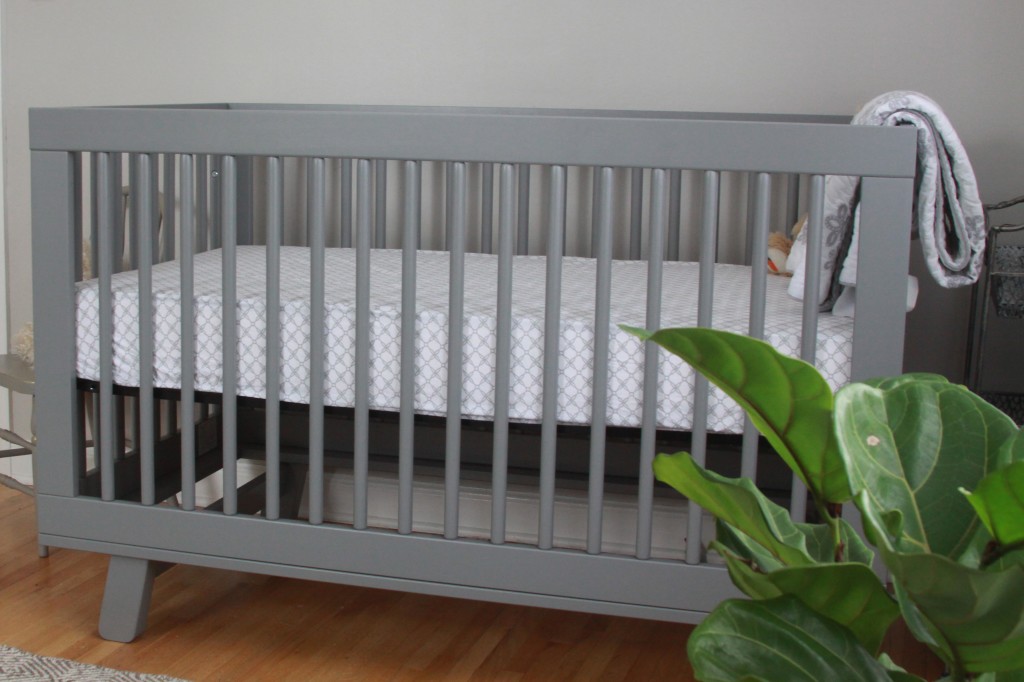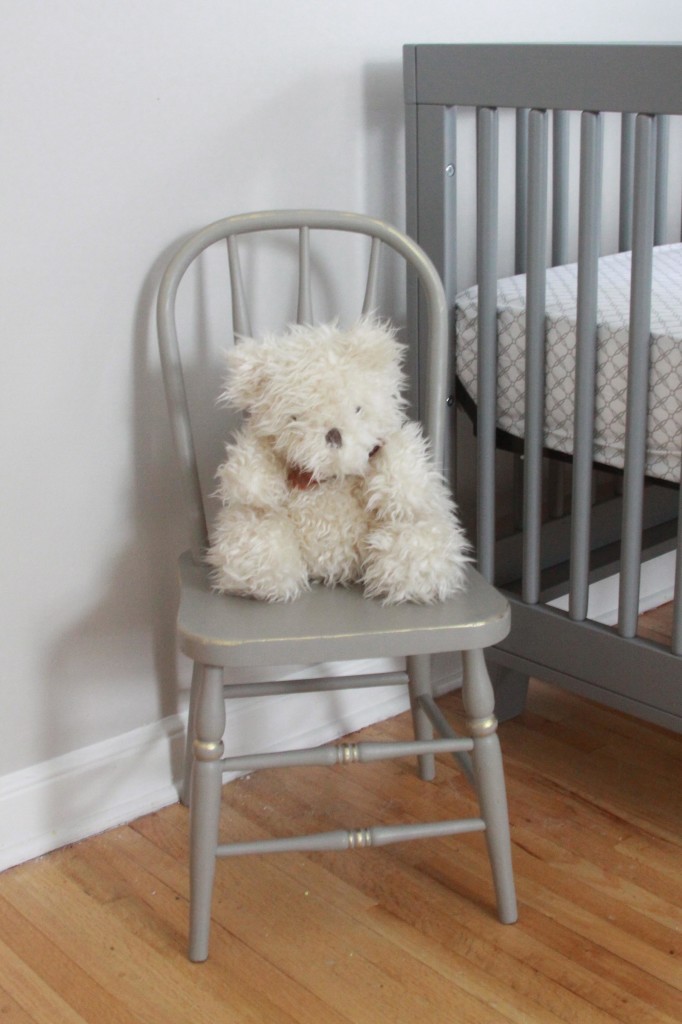 My mom found this adorable little chair (pictured above) at a second hand store and painted it grey and gold to match the room's decor. And the little teddy bear on the chair? It was mine as a little girl. Pippa insists on pulling the teddy bear off the chair a few times a day and dragging it around the house.
I think my favorite element of the room is the dresser below! My mom found it for $35 at a second hand store and I think it might be the deal of the year. We ended up re-finishing it and painting it white. It's a midcentury modern style dresser that we'll eventually put our changing pad on top of, and the lamp is from Homegoods as well. Before baby arrives we plan on filling the organizer to the right with diapers, wipes, diaper cream, pacifiers, etc. And we found it, as you might guess, at Homegoods!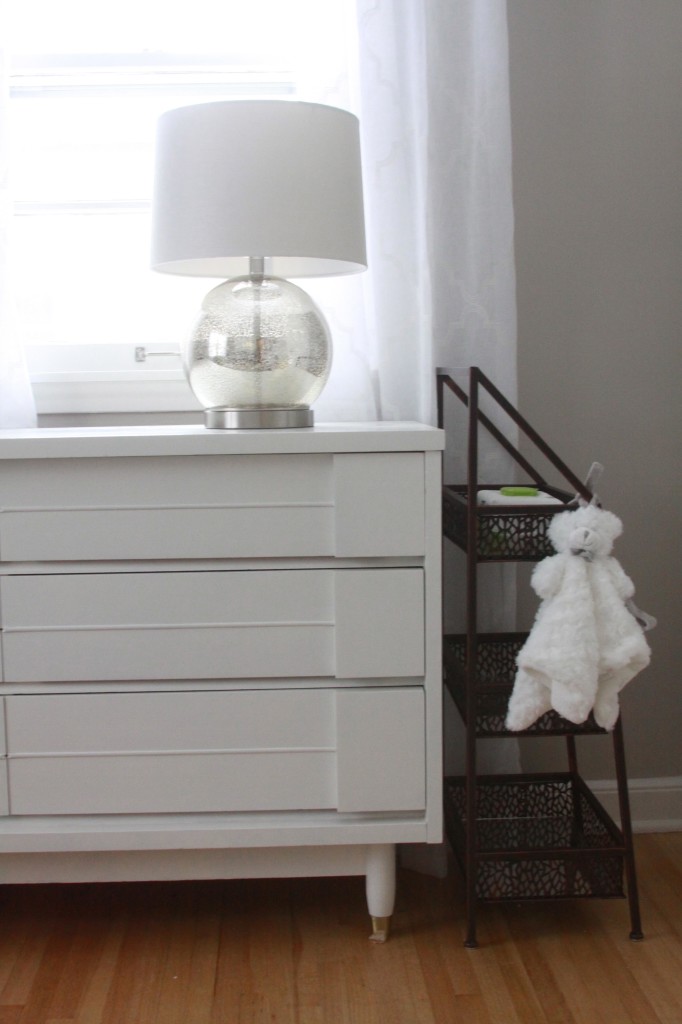 I think that's it! We still have a few odds and ends to purchase before baby arrives, but I'm totally thrilled with how the room turned out. We were going for something that was gender-neutral and would work for a boy or girl (since we decorated before finding out if we were having a boy or girl) and I think the room fits the bill!
Madison