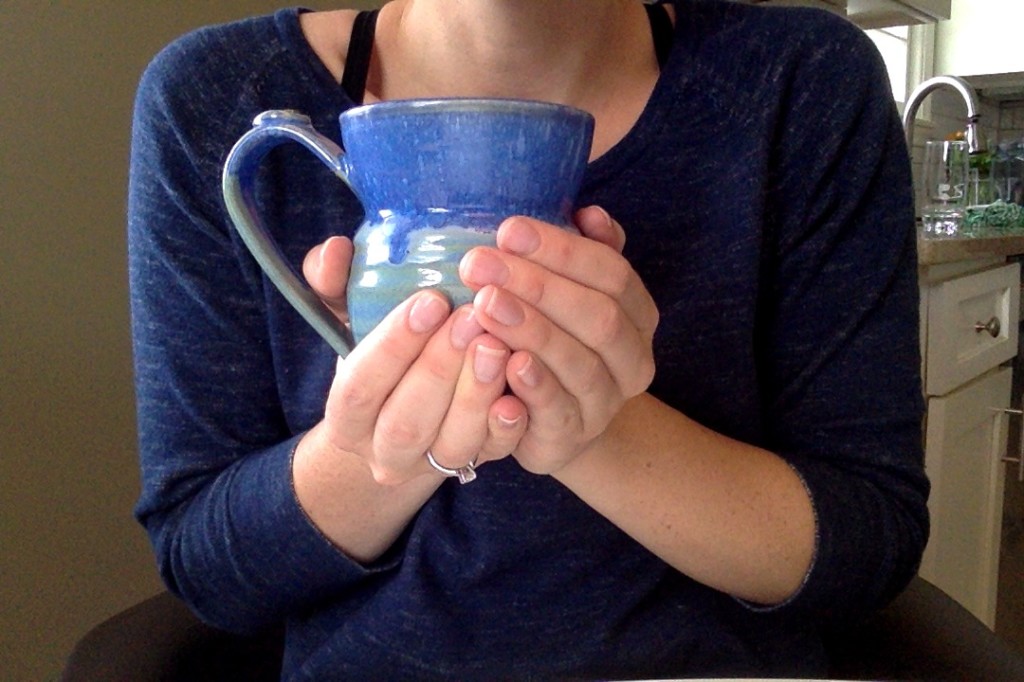 I probably could have alternately titled this post, "Thank heavens 2014 is in the books! I'm glad to see it go." But I've decided that it's best to look forward to the year ahead rather than focus on the year that is now (almost) behind us. I've mentioned this before but last January I felt God saying to me that 2014 was going to be the year of waiting. I had no idea what he meant by that but I'll be the first to admit that the idea was a little unsettling to me. I, like many others, do not like to wait.
When we found out we were pregnant with our second baby (that I would later miscarry) in February, I thought that perhaps what God meant by "a year of waiting" was that I would spend most of the year pregnant and would be waiting for a child to be born. "What a joyful way to wait! This isn't going to be so bad after all!" I thought to myself. but when we found out we miscarried at our 12 week appointment at the end of April, I realized that the year of waiting I had hoped God had planned for me wasn't really the type of waiting He had in mind.
I picked the words DISCIPLINE and PATIENCE to guide my year. Oh, how I'm thankful that I did because without those two words in the back of my mind, I'm not sure I would have had the fortitude or strength to see what else God had planned for the remainder of 2014.
I asked myself in the weeks after our second miscarriage if I had the strength to move forward and continue to try to have a biological child of our very own. The physical and emotional pain felt like too much on my worst days and the idea of doing it all over again, risking experiencing another miscarriage, seemed like more than I could handle. I debated throwing in the towel and giving up on that dream, pursuing other methods of starting a family. I asked questions like, "If I never have a child of my own, is God still enough for me?" I wrestled and grew and heard the voice of God telling me that it was too soon to give up on that dream.
We moved along in the year to find out in June that we were expecting another baby. I've documented our miraculous journey on this blog and been blessed by your prayers in so many ways. I listened to doctors tell me my baby wasn't actually a baby at all and that I should schedule a surgery to remove it. Against all medical odds, I prayed (and you prayed!) for a miracle and God showed up in the most amazing way, blessing us with a healthy baby that defied all medical explanation.
For the first 20 weeks I lived in constant fear and anxiety that our little one would be taken away from us, like our other two babies had. I prayed and avoided Google and trusted that God knew what he was doing. At 19 weeks we were told our little one had an umbilical cord issue that perhaps and issue with his/her heart. Fear gripped me again as we waited to see a specialist and find out if our little one was healthy. We praised God yet again after we found out that our precious baby was as healthy as could be and that their heart was functioning normally. Once again, God showed up even when I doubted.
In September we found out that my company, under pressure from a lagging economy, was going to lay off 800 people in our corporate headquarters. My goodness, the number and magnitude took us all by surprise. We waited for weeks upon weeks to find out about our individual job statuses, and at the beginning of December, just after Thanksgiving, I found out that my job, along with almost all of my co-worker's jobs, was eliminated. At 30 weeks pregnant I struggled to think of worse timing to get such news, but I am once again putting my trust in God's timing and plan for my life.
So I sit here on December 31st, thankful that 2014 is coming to a close but amazed at the ways that I can see and sense I've grown throughout this year. I can safely say that 2014 was, indeed, a year of waiting, and I have more questions at the end of 2014 than I did at the beginning. I'm bringing my questions, my uncertainty, my fears to the feet of our sweet Jesus, asking him to reveal himself to me in the year to come. Already I've felt God saying to me that 2015 would be the year I see the Lord. As with the year of waiting, I don't entirely know what that means but I'm so ready to move into a new season.
Madison