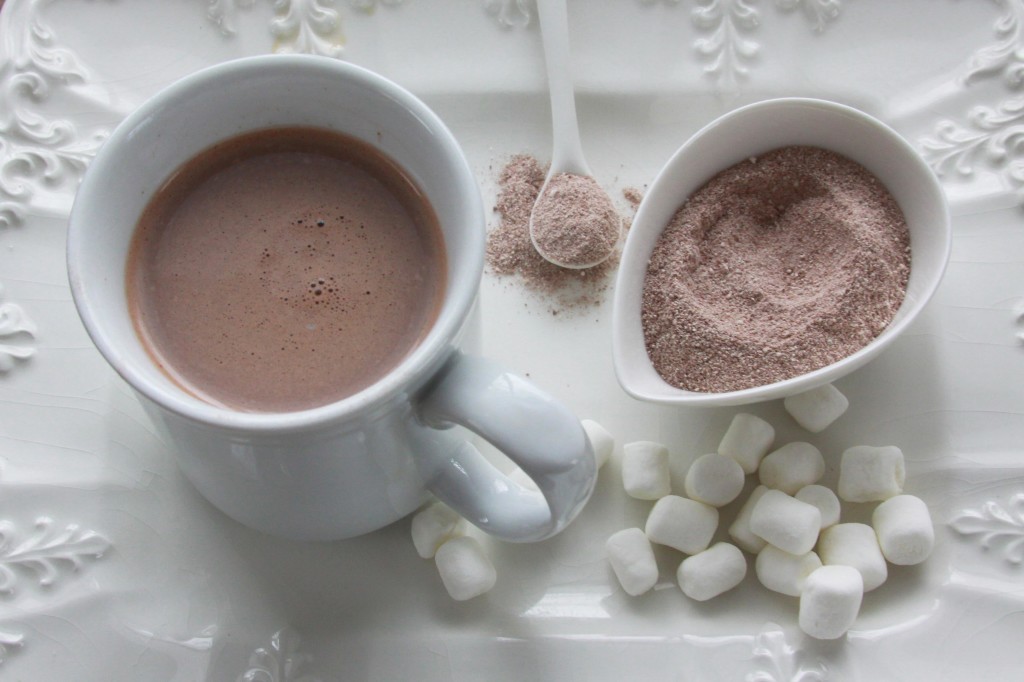 One of the things I love most about the holiday season is the predictable nature of the food and goodies that are served. There is something so comforting about going back home and having that same favorite cookie recipe your mom makes or drinking a cup of hot cocoa that tastes exactly like childhood.
I'll be the first to admit that I've never been a huge fan of hot cocoa, and growing up it was something that I professed I didn't care for. But last year I tried my mother-in-law's hot cocoa for the first time and my opinion on hot chocolate changed entirely. It was the creamiest and most balanced hot chocolate I've ever had without being overly sweet. Plus, the mix dissolves like a dream in a cup of hot water, something I've found doesn't hold true for most hot chocolate mix.
This Christmas season Joe and I made a big batch of this hot chocolate and divided it up into plastic gift bags tied with string and ribbon. It's been fun to bring these little bags of hot cocoa along as hostess gifts throughout the gift-giving and party-hopping season. Plus, I think there is something so sweet about taking a homemade gift to friends and family during the holidays instead of yet another bottle of wine. (Maybe that's the pregnancy talking?!)

The Best Homemade Hot Cocoa Mix
Author:
Espresso and Cream
This hot cocoa recipe makes a bunch! I store mine in a glass canister and keep it next to my Keurig for hot chocolate any time the craving strikes. Combine ¾ cup of the hot cocoa mix with 10 to 12 oz hot water, adjusting the amount you use based on how sweet/rich you like your hot chocolate. I usually find ½ cup is enough, but my hubby prefers the full ¾ cup!
Ingredients
32 oz. Nestle Quick powder
25 oz. powdered milk
6 oz. coffee mate dry creamer
1 cup powdered sugar
Instructions
Mix all the above ingredients together and stir until well-combined. Store in a sealable plastic or glass container or a plastic zip-top bag. To use, combine ½ to ¾ cup hot cocoa mix to 10 to 12 oz hot water. Stir until combined.