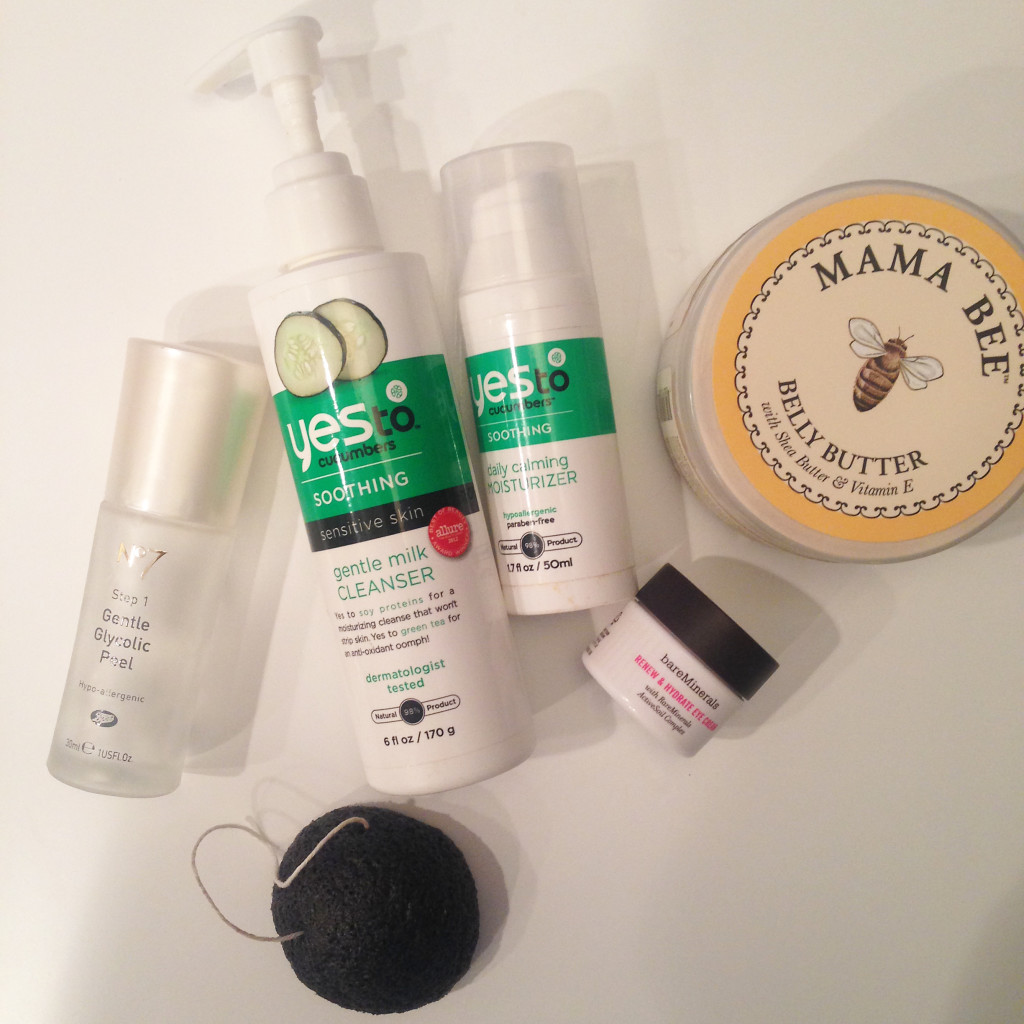 Pregnancy skincare was one of the biggest mysteries to be prior to getting pregnant. I had absolutely no idea what products were off-limits and was blind to the fact that some of my favorite acne-fighting products weren't considered approved or recommended for pregnancy. Unfortunately, when you remove some of those products, paired with the extra pregnancy hormones running through your system, you have a recipe for serious skin disaster and breakouts galore.
Thankfully my breakouts have been on the milder side, in part thanks to a re-vamped skincare routine that's pregnancy-friendly. Here's a list of some of my favorite products for keeping my skin looking its best:
1. No7 Advanced Renewal Glycolic Acid Peel
Almost all anti-aging skincare products are considered off-the-table while pregnant, meaning my beloved retinols are no longer safe for me to use. Glycolic acid is one of the few products that is considered safe to use while pregnant and helps keep you glowing by getting rid of that top layer of dead skin cells that can build up over time. I use this peel once a week and find that it has been super gentle on my skin while helping to keep my skin glowing.
2. Yes To Cucumbers Gentle Milk Cleanser and Yes To Cucumbers Daily Calming Moisturizer 
I love the entire Yes To line of products, especially their cucumber line. I used this cleanser and moisturizer before I got pregnant and felt good about using them while pregnant considering their products are paraben and petroleum-free and gentle on the skin.
3. Burt's Bees Mama Bee Belly Butter
I haven't quite gotten to the point where there are any visible stretch marks but I've been moisturizing like crazy in hopes of keeping them at bay. This belly butter has a nice, neutral scent and is free if any icky ingredients.
4. Bare Minerals Renew & Hydrate Eye Cream
I went without any eye cream for the first portion of my pregnancy because my old eye cream wasn't pregnancy-safe and most of the creams I looked at were filled with anti-aging ingredients that weren't suitable for pregnancy. A few weeks ago I was getting more of my Bare Minerals foundation when I saw their line of skincare. I decided to try their eye cream because I loved the ingredient profile and felt safe putting it on my skin. It's been wonderful so far and I highly recommend it to everyone!
5. Konjac Cleansing Sponge 
If you read beauty blogs, chances are you've heard about konjac sponges in the past handful of months. I actually stumbled on one of these sponges for $3 in the beauty section of Homegoods and stocked up while they had them in stock. The sponge feels rough and hard when it's dry, but once you get it wet it softens up and takes the place of a traditional washcloth. You just put a little of your facial cleanser on the sponge and scrub away. It exfoliates while you cleanse your skin and pulls out impurities, keeping you acne-free the natural way.
Madison