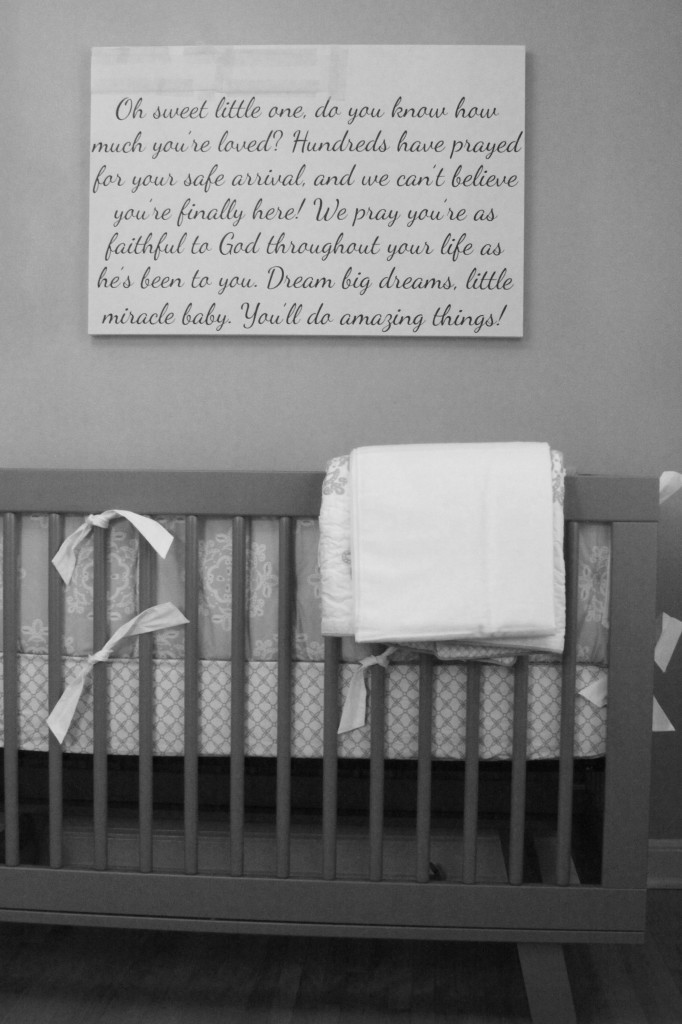 A few months ago my mom sent me a handful of inspiration photos for our little one's nursery. I immediately fell in love with the idea of writing our baby a letter and placing it above the crib in our nursery. The original inspiration photo I saw featured a canvas that was handwritten/painted by the parents, but since I wasn't super confident in my handwriting skills I decided to make the canvas digitally and have it printed on a canvas.
After posting the photo on Instagram, I got a lot of questions about how/where I made it the canvas, so I thought I would share in case you're interested in doing something similar for a nursery or another room in your house.
1. I downloaded a few different free fonts to play around with and see which font you like best. I use Dancing Script, Black Jack and Satisfy on a fairly regular basis, but there are so many great options to choose from!
2. Decide what size you want your canvas to be before you begin. I went with a print that was 24×36 inches because it was going to be on a large wall and the centerpiece above the crib. If you're undecided, use masking tape to mock up the outline of the print on your wall to give you a better idea if you like the size.
3. Create a new project in InDesign (PS: If you don't have InDesign you can get a free trial online) that is the size of your desired canvas. This will make sure that your canvas is large enough and has a high enough resolution. Once you've created a new project, simply create a text box and write out your letter with the text you downloaded. I ended up trying a few different fonts before I found the right one. Also, give yourself a little room in the margins of the print so none of your text gets cut off.
4. Upload your print to a canvas-printing site. I got a gallery-wrap from CG Pro Prints. They do a great job and their prices are super reasonable.
That's it! It's super simple and I loved the results. I knew that if I wrote the note by hand I wouldn't be able to get it to look the way I wanted and it would drive me crazy. So although it's not quite as personal to have it printed, it's nice to have a professional, polished print in the end.
Madison
PS: The first line of the print says our baby's name, so we've covered it up for now to keep the gender secret for now!