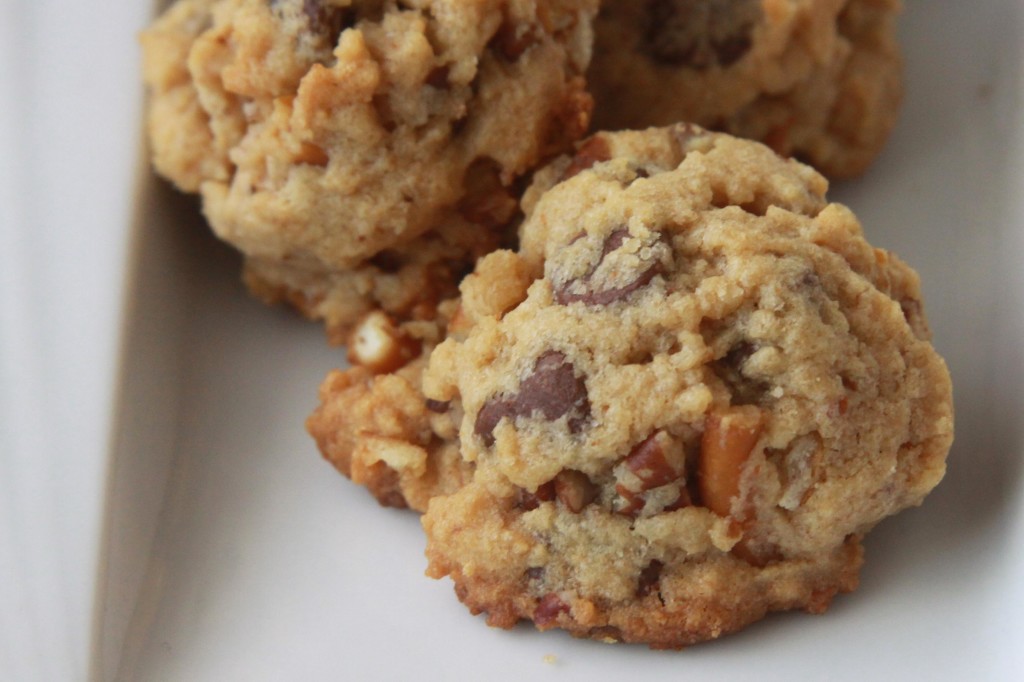 How was your weekend, friends? Joe and I had the best weekend with absolutely no plans on the schedule. After traveling or being crazy busy for the last month, this was the first weekend that we had a chance to hang around the house with no actual plans. It was glorious. We did a big deep "fall clean" of the house on Saturday morning, tossing and throwing things away and sorting. Please tell me I'm not the only person who gets a huge sense of relief throwing/giving away things we don't need? I think a little bit of nesting has been kicking in because I suddenly have the desire to organize and sort every drawer and closet in our house!
I also made a little time for baking cookies and am super excited to have a new recipe to share today. Most of the time I'm a from-scratch baker, not because I feel like that's what I should do but because I find it incredibly relaxing to bake, especially when I don't have anything on the agenda. But sometimes I like to bring in a little help.
Since I work for Betty Crocker, I ended up with a bunch of pouch cookie mix in my pantry after a photo shoot last week. I pack Joe's lunch each weekday morning and like to put a little something sweet into his lunch each day and we had absolutely nothing sweet around the house that would suffice, so a quick cookie baking session was calling my name. But instead of devoting a bunch of time baking, I made these cookies during halftime of the Vikings game and was back on the couch in time to watch the second half. Win-win!
Be aware that these cookies don't spread out like regular cookies, which is by design. The edges get delightfully crispy and crunchy while the centers stay soft and chewy. It's a fantastic combination, and these little cookies fit well inside almost any lunch box, for husbands or for kiddos!

Loaded Chocolate Chip Cookie Bites
Author:
Espresso and Cream
Recipe type:
Dessert, Snack
Prep time:
Cook time:
Total time:
These cookies do not spread out like regular cookies but, rather, they hold their shape in more of a "ball" form by design. If you want your cookies to be flatter, flatten each dough ball with the back of your hand before baking.
Ingredients
1 pouch Betty Crocker chocolate chip cookie mix
1 stick butter, softened
1 egg
¼ cup creamy natural peanut butter (I didn't test with regular peanut butter, but I think it would work!)
¾ cup miniature pretzels, finely chopped/crushed
½ cup chopped pecans
Instructions
Heat oven to 350F.
In the bowl of an electric mixer, beat together the cookie mix, butter, egg and peanut butter until a soft dough forms and all ingredients are well combined. Beat in the pretzels and pecans until evenly combined.
Scoop dough by rounded tablespoons onto an ungreased cookie sheet (or use a cookie scoop like I did.) Bake 8 to 10 minutes or until edges are lightly golden brown and set. Cool on baking sheet 2 minutes; cool completely on wire cooling rack.
Madison