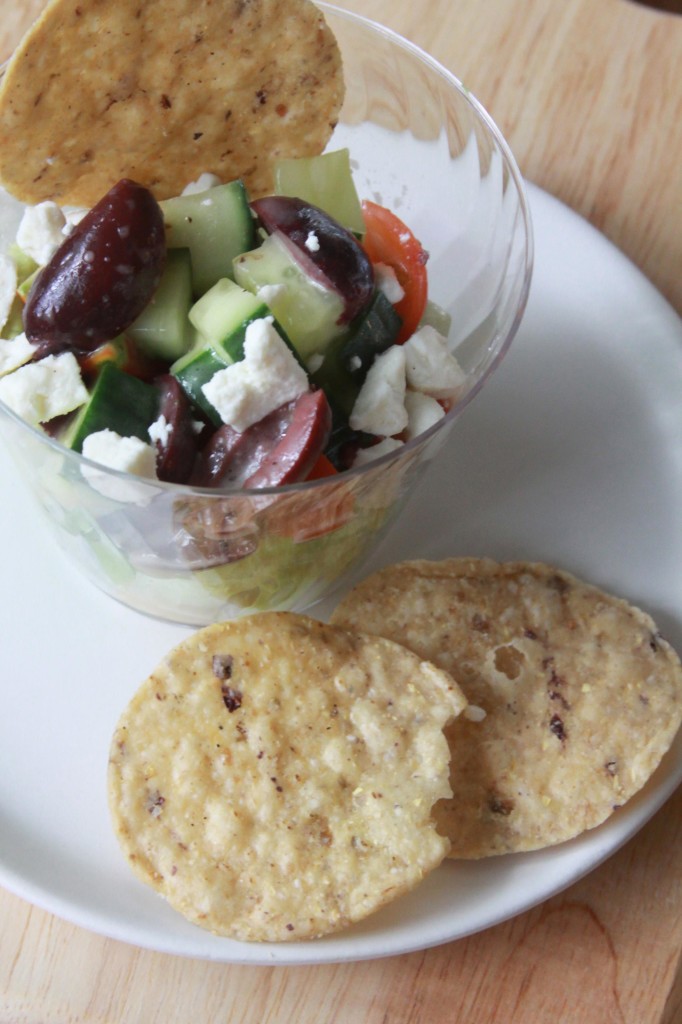 Today I'm hosting one amazing giveaway on E&C that includes a $100 Visa Gift card and a bunch of other amazing goodies! Keep reading to find out how to enter below!
With football season right around the corner (!) I'm gearing up football entertaining season. Joe and I are both huge football fans, and I feel as if our house is always open to people who want to watch the games. Of course there's no way I would have people over and not serve food to eat. Sometimes we go all-out with burgers and dips and some type of dessert, but more often than not we keep things simple with chips and dip. I find I'm much more likely to entertain if it doesn't become a stressful affair.
So when Food Should Taste Good asked me if I would be interested in working with them to promote their products, I jumped at the chance. Joe and I eat a lot of Food Should Taste Good chips year round because you can feel good about what goes into making their chips. Plus, their tortilla chips are all gluten-free; and while Joe and I don't eat gluten-free, it's nice knowing we are providing friends and family with a g-free option when we entertain.
In my sampling box, I received the olive, guacamole and blue corn tortilla chips. I guess it goes without saying that we loved them all, considering I didn't even have a chance to snap a photo of the bags before Joe insisted on opening them all and sampling each variety. Thankfully, I had a chance to steal a few of the olive chips for the recipe below!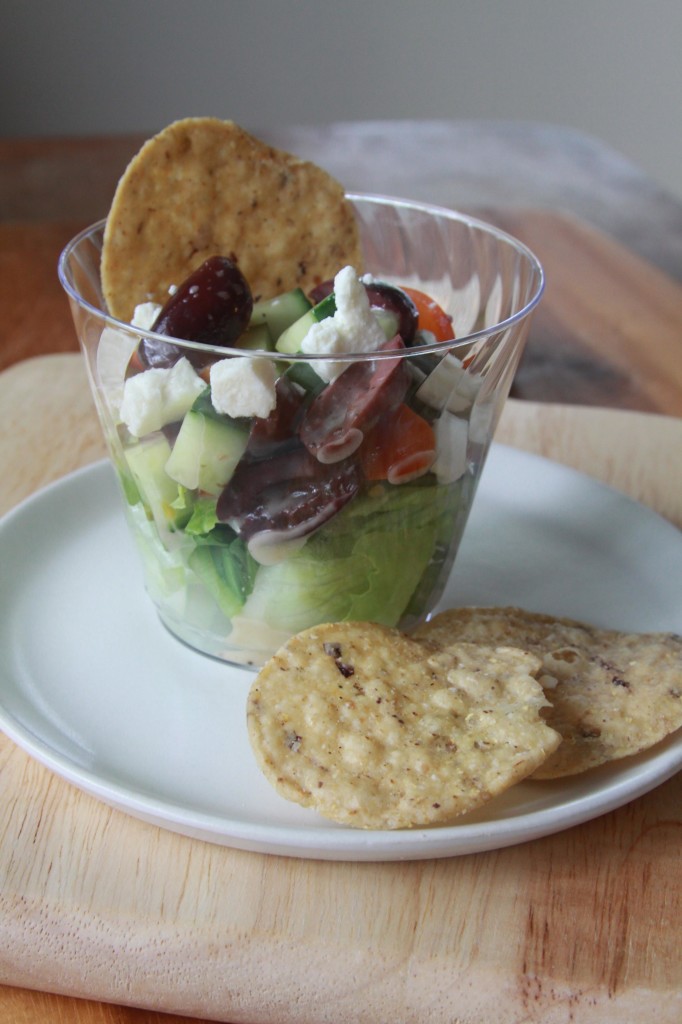 This fall I'll be sharing a handful of recipes with you that incorporate Food Should Taste Good products that are perfect for game day or casual entertaining. I'm super excited about today's recipe because it's cute, portable and a bit on the lighter side. I don't know about you, but I always appreciate when there is a veggie option to break up all the heavier dips and spreads.
I don't know why I didn't think of this sooner, but salad cups are a great way to get veggies into the mix. Serving the salad in individual cups makes it easier to eat and looks a lot cuter than a big bowl of salad. I served these little cups to friends last week and they were so easy to make that you better believe they will be making another appearance sometime soon!
Now, if you're still with me, there's an amazing giveaway below! Trust me, you don't want to miss out. There are a handful of ways to enter, so make sure to get your name in the hat for this prize package that includes a $100 Visa Gift card and a selection of Food Should Taste Good chips, among other things:
Giveaway Package Includes:
(1) $100 Visa Gift card
(1) 9-Piece Square Dipping Set
(1) Nostalgia Electric Fondue Pot, including 6 forks
(1) Stainless Steel Snack Bowl
A variety of Food Should Taste Good products
Greek Salad Cups
Author:
Espresso and Cream
Recipe type:
Appetizer, Snack
Ingredients
½ medium English (seedless) cucumber, cut into small cubes
¾ cup quartered grape tomatoes
2 oz pitted kalamata olives, halved
¼ cup Greek-style salad dressing
1 heart of Romaine lettuce, chopped
½ cup crumbled feta cheese
Food Should Taste Good olive tortilla chips for serving
Instructions
In a medium mixing bowl, combine the cucumber, grape tomatoes and olives. Add dressing and toss until evenly coated.
Place some of the lettuce into 8 small plastic drinking cups. Top with some of the cucumber mixture. Sprinkle 1 tablespoon crumbled feta on top of the cucumber mixture. Serve cups with Food Should Taste Good olive tortilla chips.
This post is brought to you in partnership with Food Should Taste Good. All thoughts and opinions are my own