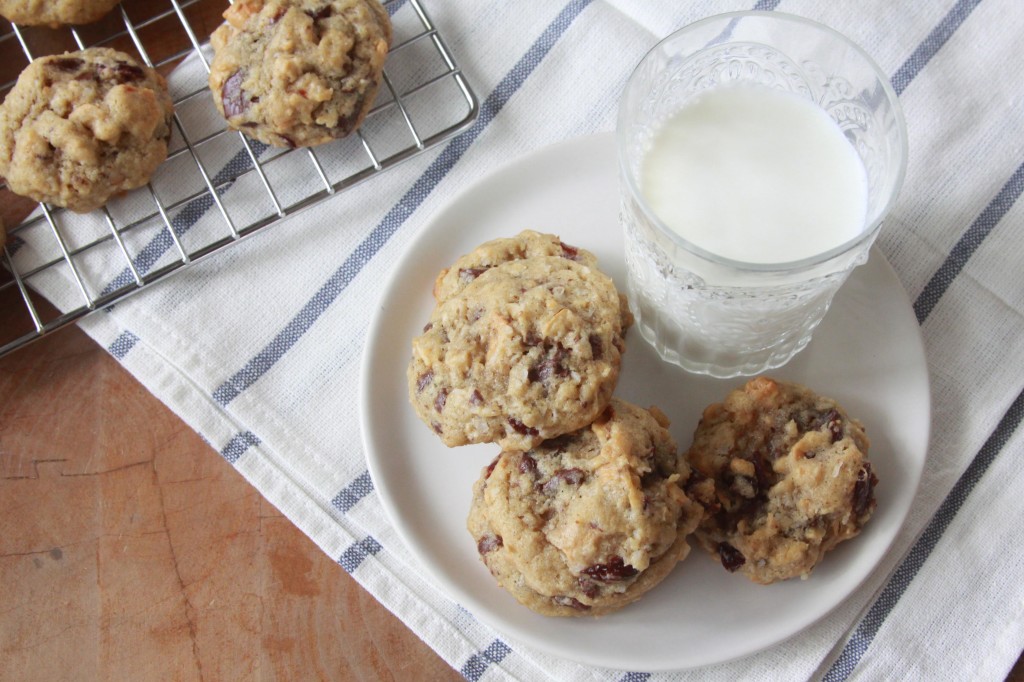 Hello, strangers! It feels like forever when in reality it's only been about a week since I last checked in with you. If you've been following along on Instagram, you've seen more than enough photos of our vacation, but I'll be sharing a full update of our time in Boston and Maine very soon. It was such a wonderful trip and even the rainy weather couldn't get us down. A huge highlight? We happened to be in Kennebunkport at the same time as Natalie and Dan, so we grabbed ice cream together and chatted. So fun!
Now that we're back home, I'm really looking forward to eating a little more normally. Don't get me wrong, we ate really well on our trip, but probably a little too well! Today it's been really nice to have a plain bowl of oatmeal with almond butter for breakfast and a sandwich with fruit for lunch. I think there's a good reason vacation doesn't last forever.
Surprisingly, we didn't eat many sweets on our trip at all. We loaded up on savory items like lobster rolls, fried fish, and the most indulgent egg dishes for breakfast. When I got home the craving for a little something sweet hit right away, so I raided the bulk bins at Whole Foods on my grocery trip this morning and got to work.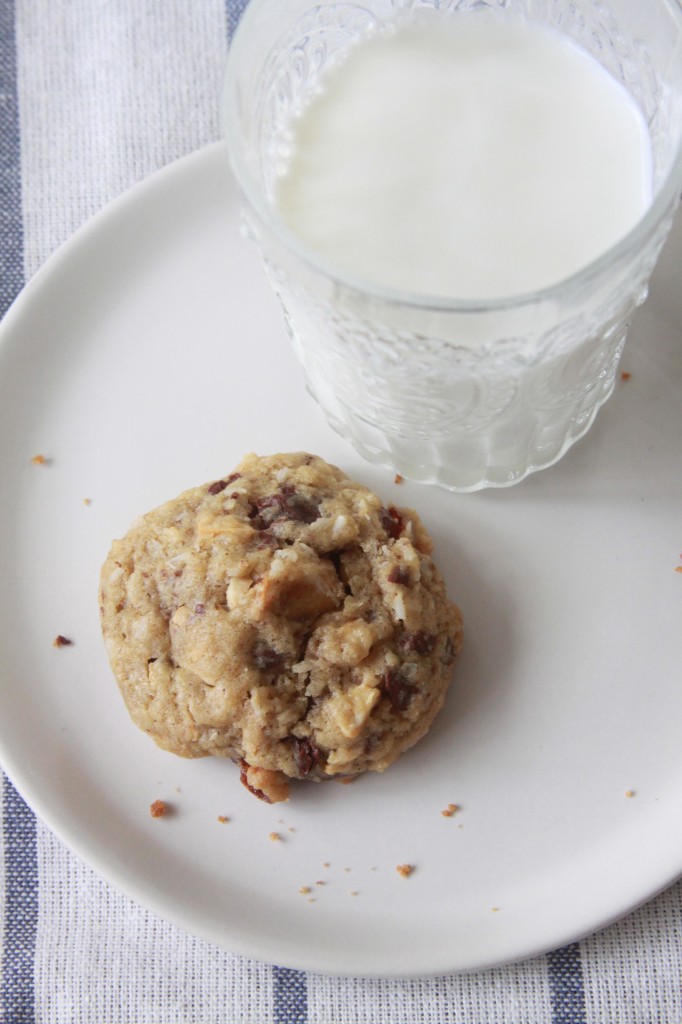 These cookies really do have it all. They're packed with coconut, cashews, dried tart cherries and dark chocolate. And somehow, these cookies manage to feel a little bit healthy, which I'm sure is just an illusion since they also have plenty of brown sugar and butter, too. I made them on the smaller size, which means I can totally justify eating more than one.

Dark Chocolate, Cherry and Cashew Cookies
Author:
Espresso and Cream
Ingredients
1 stick (8 tablespoons) butter, softened
½ cup granulated sugar
½ cup brown sugar
1 large egg
2 tablespoons milk
1½ cups all-purpose flour
½ teaspoon baking soda
½ teaspoon kosher salt
¼ teaspoon ground cinnamon
1 cup roasted unsalted cashews, chopped
½ cup dried tart cherries, chopped
3 oz dark chocolate, chopped
½ cup unsweetened coconut
Instructions
Heat oven to 350°F. Line a baking sheet with parchment or a nonstick baking mat (such as a Silpat). Set aside.
In the bowl of an electric mixer, beat butter 2 minutes until smooth and creamy. Add in the sugar and brown sugar and beat 2 minutes more or until sugars are combined and mixture is fluffy, scraping down the sides of the bowl as necessary. Add the egg and beat until just combined.
In a medium mixing bowl, combine the flour, baking soda, salt and cinnamon. Add the flour mixture to the butter mixture and beat on low speed until just combined Add in the cashews, cherries, chocolate and coconut and beat until combined.
Refrigerate dough at least 1 hour. Use a small metal cookie scoop to scoop dough onto baking sheet, leaving about 2 inches between cookies. Bake 12 minutes or until edges are just golden brown. Cool 5 minutes on baking sheet. Transfer to wire cooling rack to cool completely.