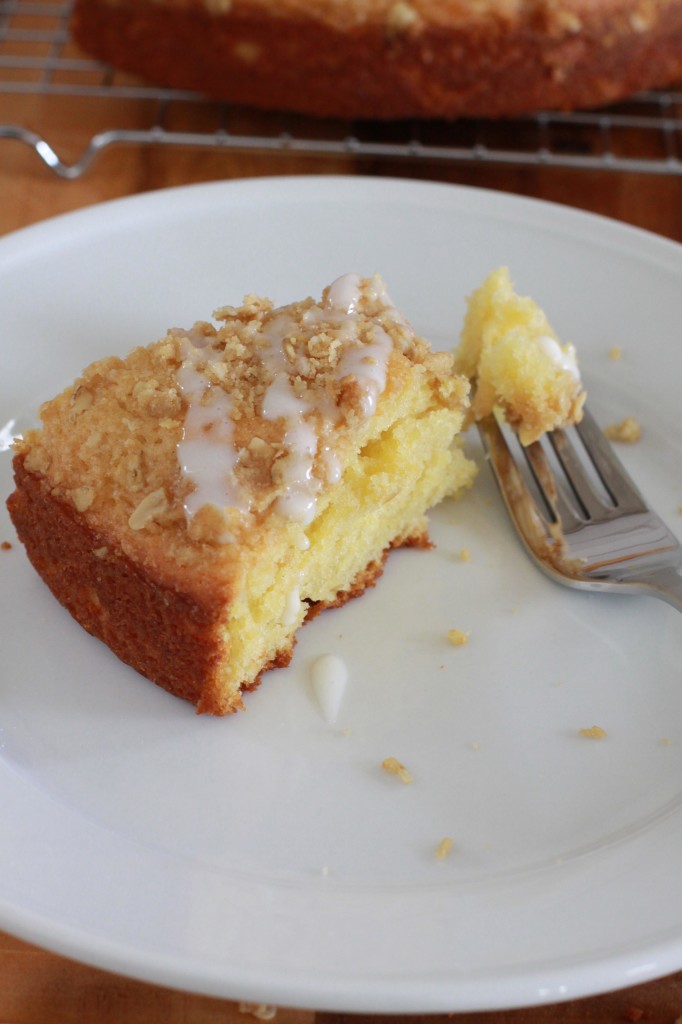 The weekend is almost upon us! For some reason, Friday's arrival just sort of ambushed me and I am having a hard time believing that it's Friday. I guess that's a good problem to have, much better than the week dragging by. We don't have a whole lot on the calendar this weekend, which I'm totally excited about. A few dinners with friends and family, a couple of lazy mornings, and enjoying the warmer weather with the pups. Sounds pretty perfect to me!
At work I've been creating some really fun yogurt cake recipes. And while I can't share the amazing recipes just yet, I did play around in my own kitchen with a completely different yogurt cake that's delicious in its own right. My dedicated taste tester, Joe, was a big fan of this cake. Serve it as a coffee cake in the morning or as a dessert with a dollop of whipped cream or a scoop of ice cream. It's not overly sweet, which both Joe and I loved. But I think the best part is how easy it is to make.
I hope that wherever you are the weather is getting warmer (and yes, 30 degrees totally counts as warm!) and you take some time to relax with loved ones. See you Monday!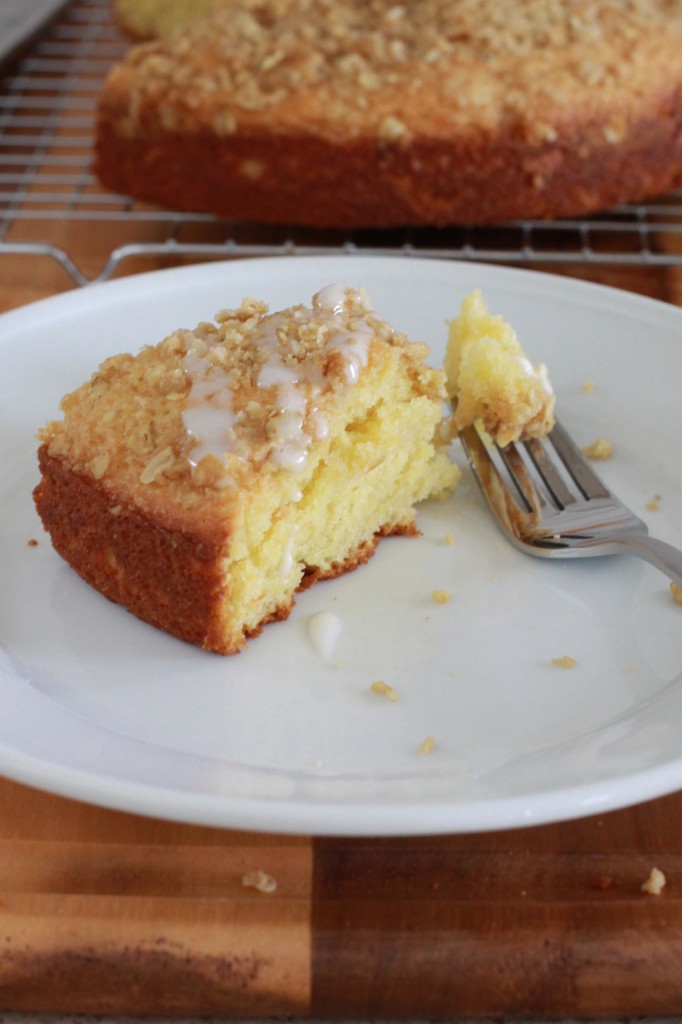 Yogurt Streusel Coffee Cake
Recipe type:
Brunch/Dessert
Serves:
16 slices (2 cakes)
I love how easy this recipe is! You use the actual yogurt container to measure out all the sugar, oil and flour, meaning you don't need to dirty measuring cups and you can throw the yogurt container away when you're done. This coffee cake is easily my new go-to for easy, effortless entertaining. Perfect for breakfast, brunch of dessert.
Ingredients
2 containers (5.3 to 6 oz) Greek yogurt (I used a flavored raspberry Greek yogurt)
2 containers sugar
1 container oil
3 eggs
1 teaspoon vanilla
3 containers all-purpose flour
1 tablespoon baking powder
½ teaspoon cinnamon
Streusel
¼ cup brown sugar
¼ cup old fashioned oats
¼ cup all-purpose flour
2 tablespoons butter, cut into small pieces
Icing
1 container powdered sugar
2 to 3 tablespoons milk
Instructions
Heat oven to 350°F. Lightly spray two 8- or 9-inch round cake pans with cooking spray. Set aside.
In large mixing bowl, combine yogurt, sugar and oil. Stir until well combined. Add eggs, one at a time, beating until just combined. Beat in the vanilla.
In medium mixing bowl, stir together the flour, baking powder and cinnamon. Add flour mixture to wet mixture, beating with a whisk or electric mixer until smooth, about 30 seconds.
Pour batter into cake pans.
In small bowl, stir together the brown sugar, oats and flour. Work the butter in with your fingers until mixture resembles a coarse meal. Sprinkle streusel mixture on top of cakes.
Bake 30 to 35 minutes or until a toothpick inserted in the center comes out almost completely clean (a couple crumbs may remain because it's a slightly moister cake.)
Cool cake in pan 10 minutes. Run a knife around edges of cake. Turn cake out of pans and cool on wire cooling racks.
Whisk together the powdered sugar and milk until smooth. Drizzle over warm cakes. Serve cakes warm or cool.