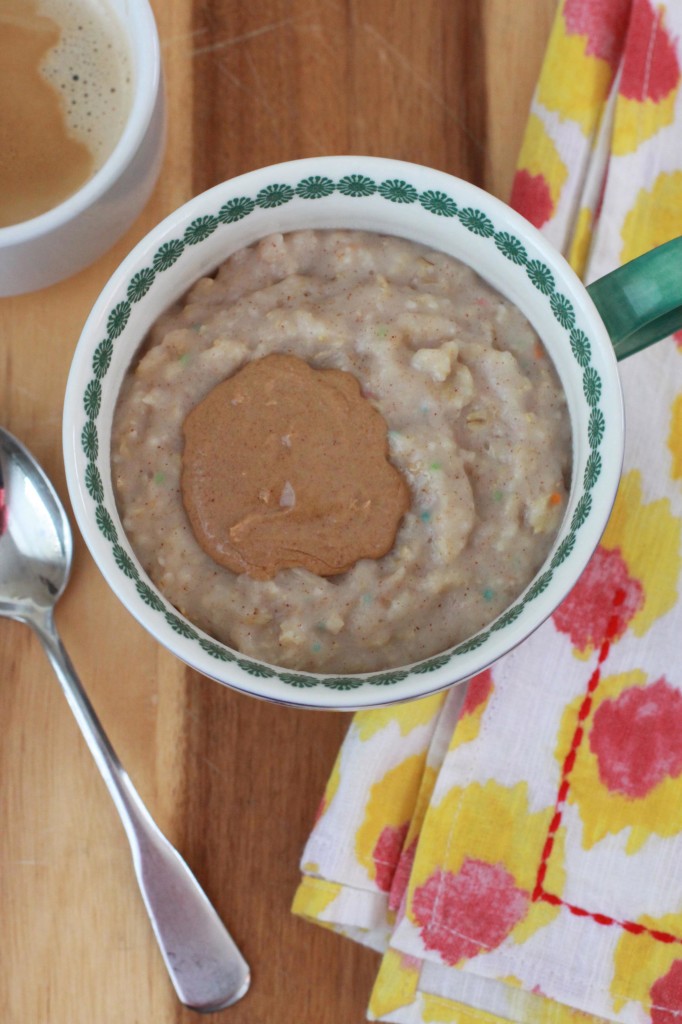 As much as I love variety and change in some aspects of my life, like my work and my workouts, I really crave routine in some aspects of life. Take, for example, breakfast. I eat oatmeal or oat bran for breakfast every single morning. To me, it's the perfect morning meal. But at the same time, I get bored with the same old oatmeal every morning. It's good to mix things up every now and again.
I mentioned a month ago that I bought a box of Betty Crocker Rainbow Chip cake mix. I realize it's totally not very "foodie" to admit this, but I've been finding a lot of ways to put that box of cake mix to use in everyday life. Probably not the healthiest or most important skill, but considering that the box has lasted over a month, I don't think I'm doing too much damage in the health department.
One of my new favorite treats is to stir a little bit of dry cake mix into my morning bow of oatmeal. Something about doing so feels completely indulgent, without being overly sweet or putting me into a sugar coma. If you're looking for a way to make your morning a little more fun, I would highly suggest giving this a try!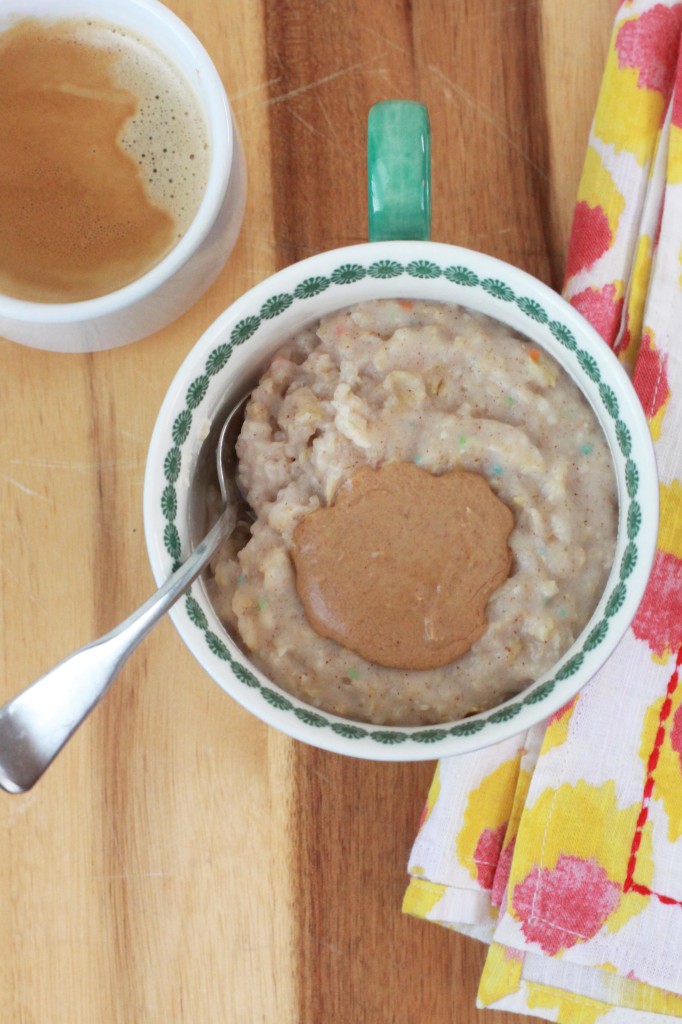 Birthday Cake Oatmeal
I make this oatmeal when I'm craving something a little more like dessert without totally indulging in a breakfast pastry or something similar. I keep a box of Betty Crocker Rainbow Chip cake mix around in case the craving strikes.
Ingredients
½ cup old fashioned oats
1 cup water
¼ cup milk (I like 2% but you can use whatever milk you prefer)
¼ teaspoon vanilla extract
2 packets stevia or 1 tablespoon brown sugar
Pinch of salt
1 tablespoon Betty Crocker Rainbow Chip cake mix
Peanut butter, if desired
Instructions
In small saucepan over medium heat, combine the oats and water. Bring mixture to a simmer and cook 2 to 3 minutes or until much of the liquid is absorbed.
Add milk, vanilla, stevia and salt to oats and stir until well combined; stir in the cake mix and cook 1 to 2 minutes more or until oats are your desired thickness. Top with peanut butter, if desired.