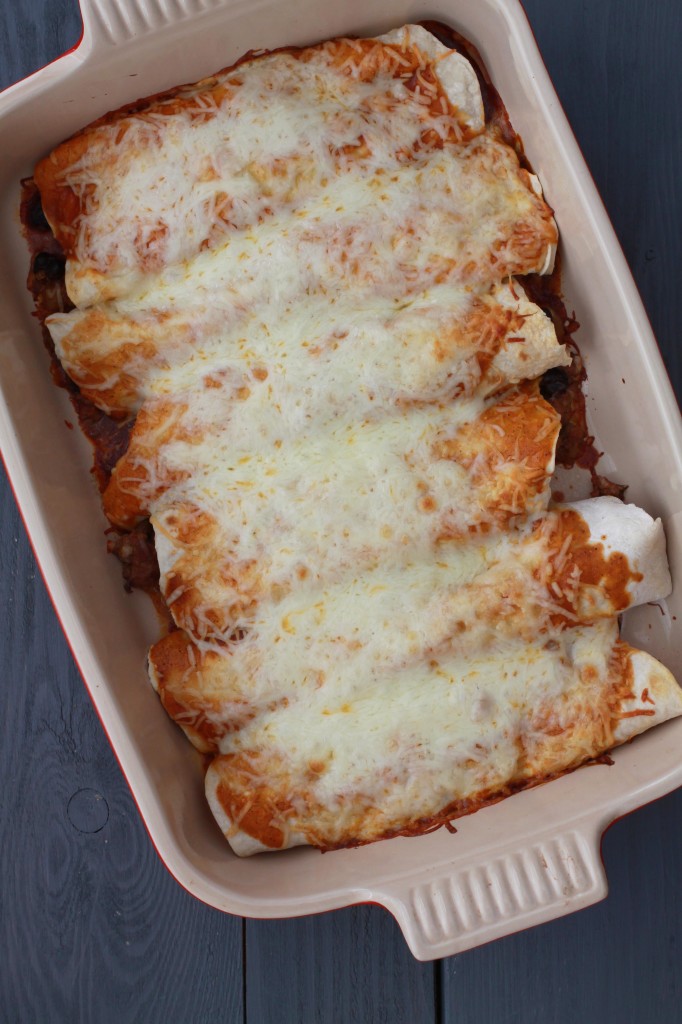 I mentioned earlier this week that I made enchiladas for dinner. It's a regular occurrence in our house, since a big pan of enchiladas makes a great dinner and plenty of yummy leftovers for weekday lunches. We take our lunches to work almost every single day. It is, in my opinion, one of the best ways to save money. 
Lately, making homemade flour tortillas is one of my favorite new kitchen skills. I had no idea it was SO easy to make homemade tortillas, did you? Maybe I'm late to the game, but when I saw a recipe for homemade tortillas on Pinterest, I just had to give them a try. If you're looking for a great recipe, I highly suggest Table for Two Blog's recipe.
You could, of course, be an overachiever and make homemade enchilada sauce, too, but for weeknight dinners I usually just stick to enchilada sauce from a can. I kept things super simple in the filling, using ground beef, spices, diced green chiles, black beans and cheese. However, I wouldn't hesitate to toss in whatever veggies you have on hand, like green peppers or diced cooked sweet potatoes. Get as crazy as you want!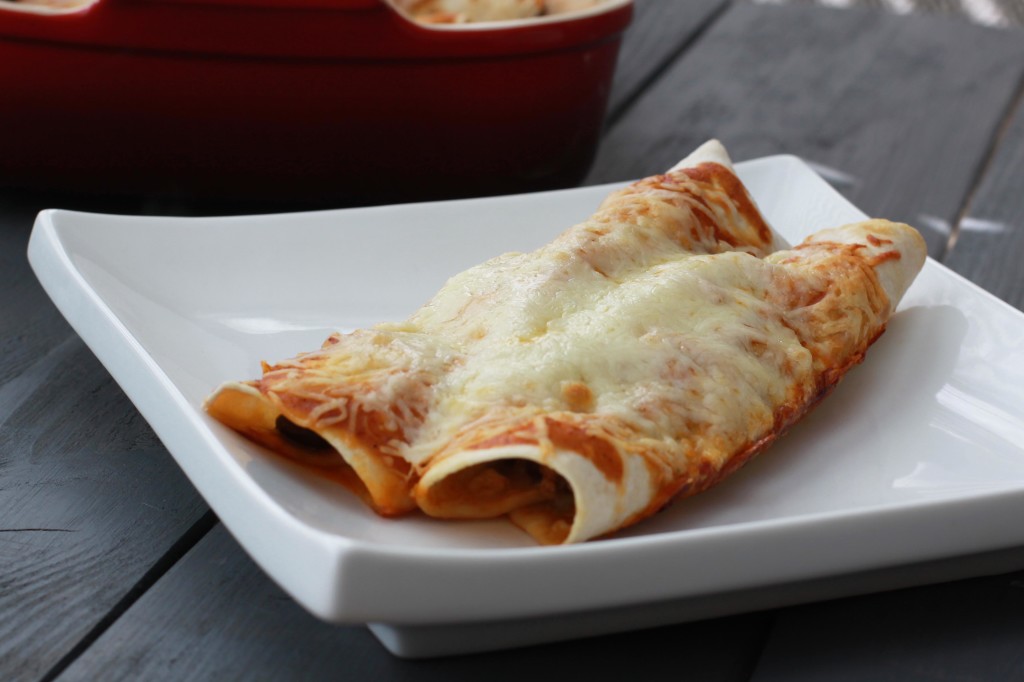 Quick Black Bean and Beef Enchiladas
Prep time:
Cook time:
Total time:
I love making a pan of enchiladas one night, then having lots of leftovers on hand for lunches throughout the week. When making enchiladas for a family like ours where there is one vegetarian and one meat eater, I like to separate out a small portion of black beans, green chiles and enchilada sauce to use as filling for a couple vegetarian enchiladas, then stuff the remaining with the beef, bean and green chile mixture.
Ingredients
6 large flour tortillas (I strongly recommend you try making them at home. I'll never buy them again!)
½ lb ground beef
½ teaspoon cumin
¼ teaspoon coriander
¼ teaspoon salt
⅛ teaspoon cayenne pepper (optional)
1 can (4 oz) diced green chiles
1 cup black beans
1 can (14- to 15-ounces) enchilada sauce
1½ cups shredded cheese
Instructions
Heat oven to 375°F. Spray 13x9-inch baking dish with nonstick cooking spray. Set aside.
In medium skillet, brown ground beef. Drain. Add in the cumin, coriander, salt and cayenne, along with the green chiles, black beans and ¾ of the enchilada sauce and stir until well combined.
Spoon heaping ⅓ cupfuls of the meat mixture into the center of each tortilla. Roll tortillas up and place in the prepared pan. Drizzle remaining enchilada sauce on top of rolled enchiladas and sprinkle with cheese. Bake 15 to 20 minutes or until cheese is melted and bubbly and filling is hot. Serve immediately.