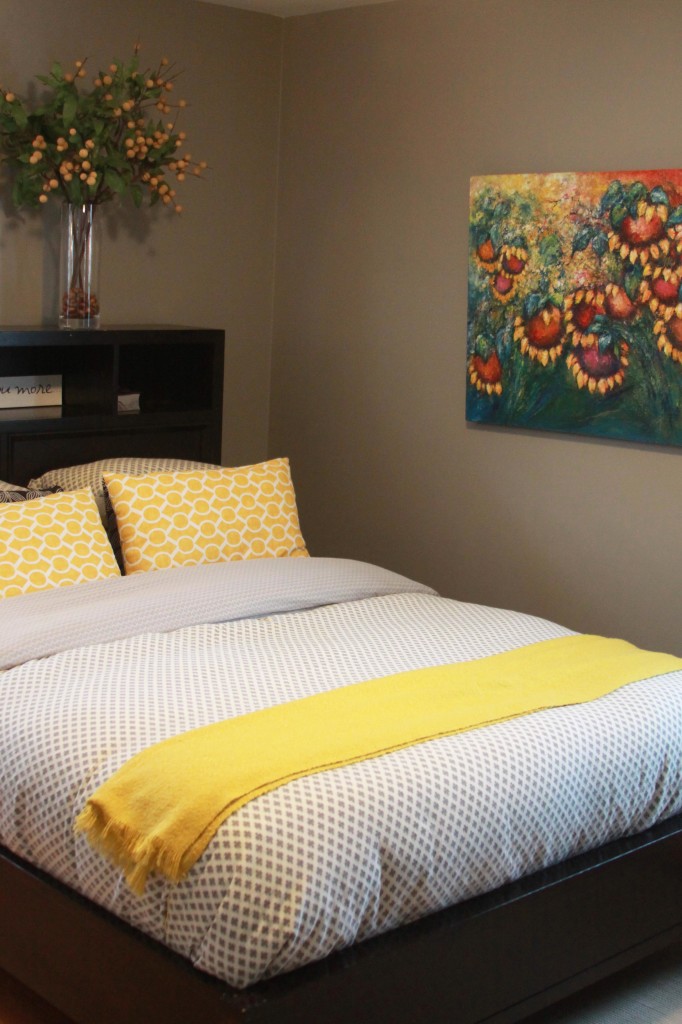 Continuing on with the most drawn-out home tour in the history of all blogs. Today, I've got some photos of our master bedroom to share! Honestly, I've been avoiding sharing photos of our master bedroom because I have had the hardest time taking photos of this room. Something about the way the room is shaped and the way the light filters in has made it hard to really give you a feel for the room. Work with me, okay?
When we were choosing paint colors for the room I wanted to paint all the walls Dark Pewter by Benjamin Moore. My mom and Joe both thought that would be too dark, so we compromised and painted one wall Dark Pewter (the wall opposite the bed) and the remaining walls a shade of grey from Benjamin Moore. I love the Dark Pewter and couldn't be happier with the pop of dark on the walls. It's a chameleon color that changes as the light changes and it's beautiful.
Our bedding is a mixture of greys and yellows, a common theme in our house. The duvet is from West Elm and the sheets are Calvin Klein that we've had for a couple years. The amazing sunflower painting was a belated wedding gift from our friend and talented painter, Marcia Lain Herring. She does wonderful work and I love the jewel tones she used. They're perfect for the room.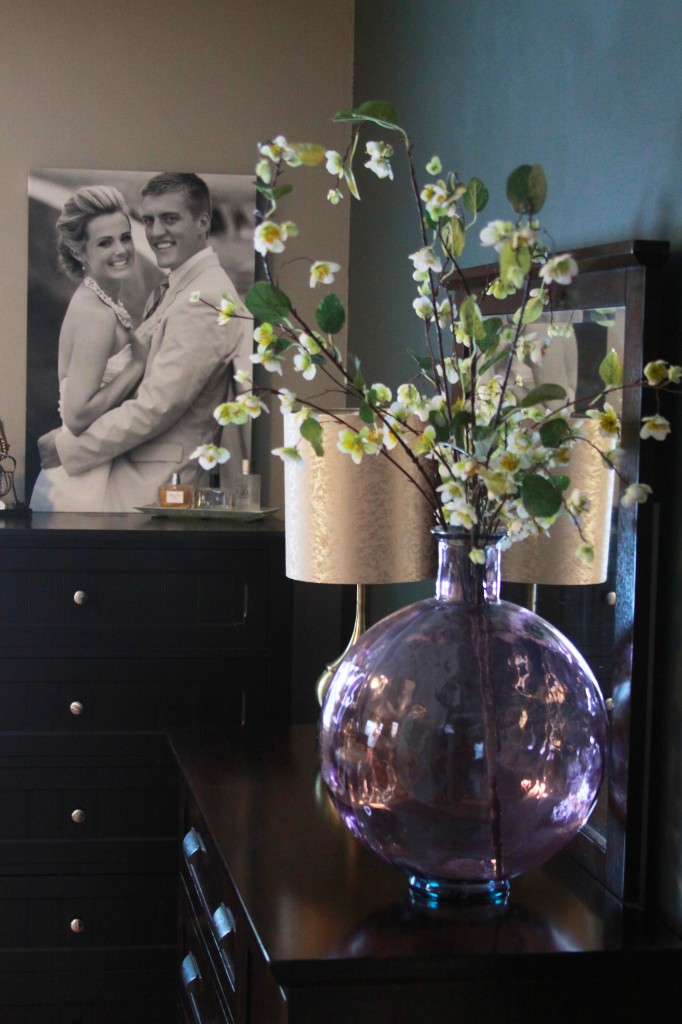 Although the room isn't huge, we do have space for two dressers. Mine is the dresser with the flowers and Joe's dresser is on the far wall. Eventually we have plans to make a large closet for Joe in the unfinished part of the basement (hopefully this summer!) since Joe showers in the bathroom downstairs and he's currently using the second bedroom closet as his own. Houses built in the 1950's were a little short on closet space!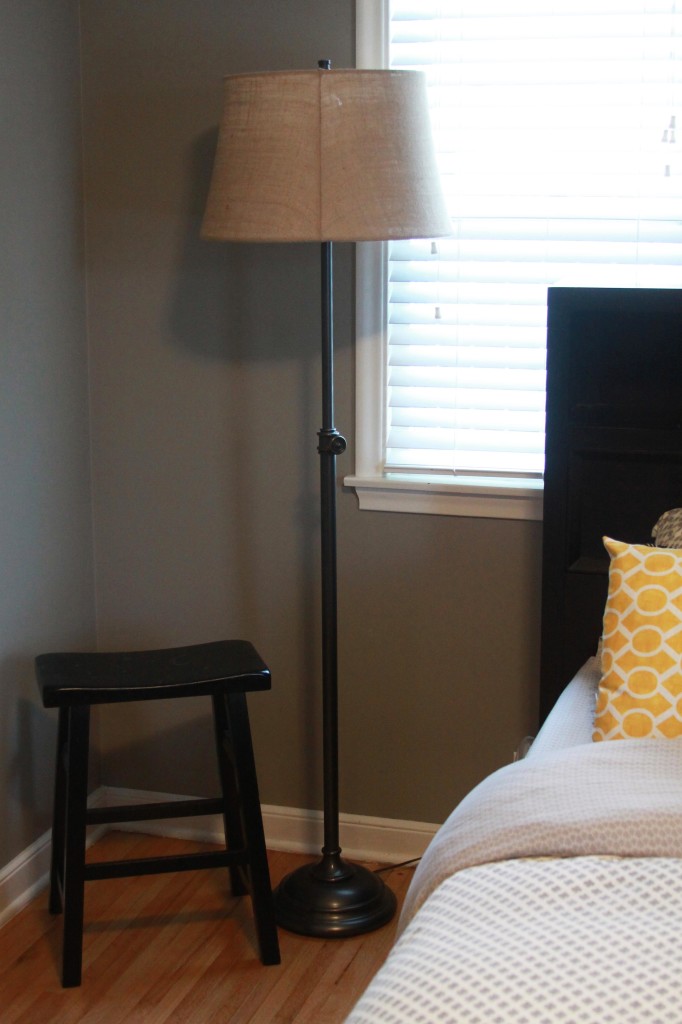 We played around with a few arrangements when it came to bed placement. Eventually we settled on putting the bed up against a window. I was initially opposed to putting the bed up against a window, but then I remembered my friend Laura placed a bed against a window in her guest room, and it gave me the confidence to do just that. I'm happy with how it turned out, and it really is the best place for the bed.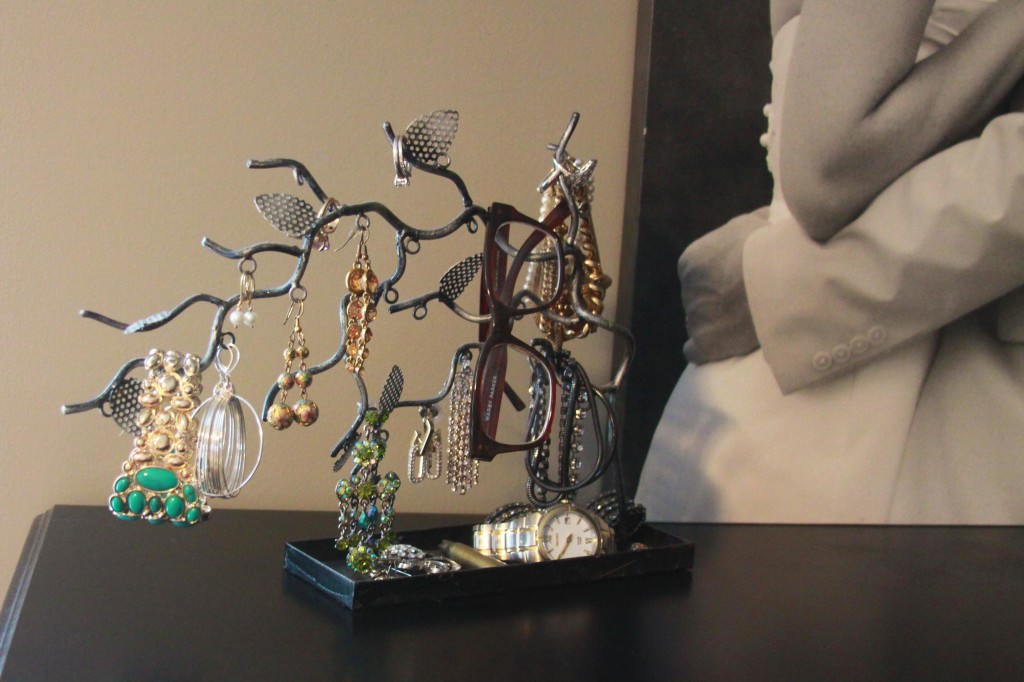 My mom found this amazing solution for all my jewelry. I have my necklaces hanging from a coat hook behind the door, but earrings, bracelets and rings all go on this little tree-looking jewelry stand. Full disclosure: It doesn't always look this put-together. 😉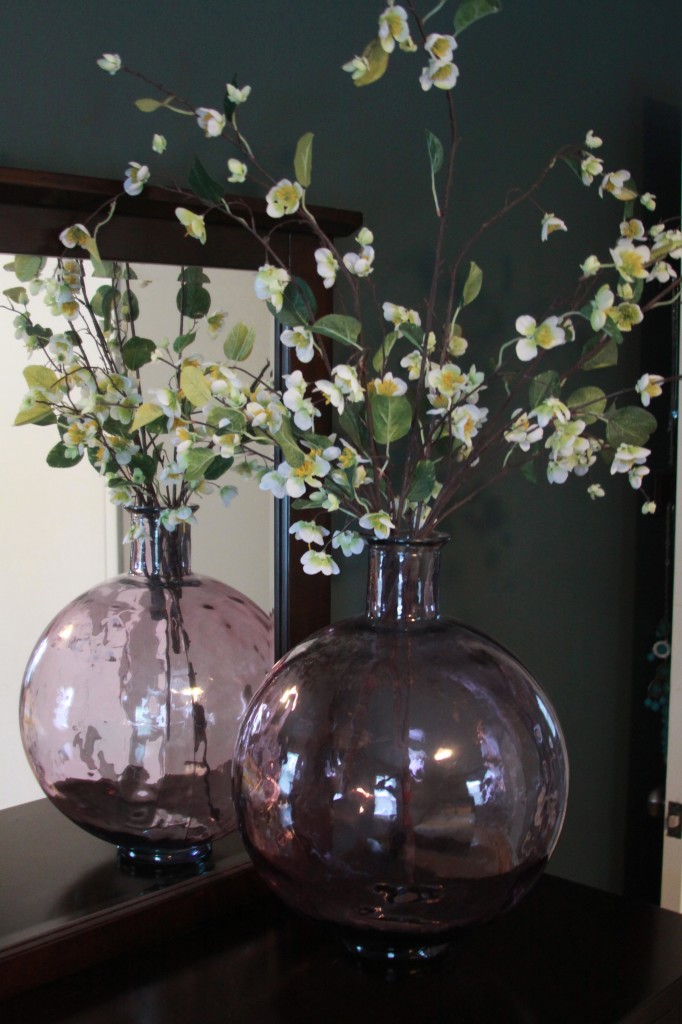 In the name of seasonal decor, we swap out the flowers in this large purple glass vase (from Homegoods) as the seasons change. I just recently swapped out our winter greenery for some spring buds in hopes that it will usher warmer temps soon!
Madison