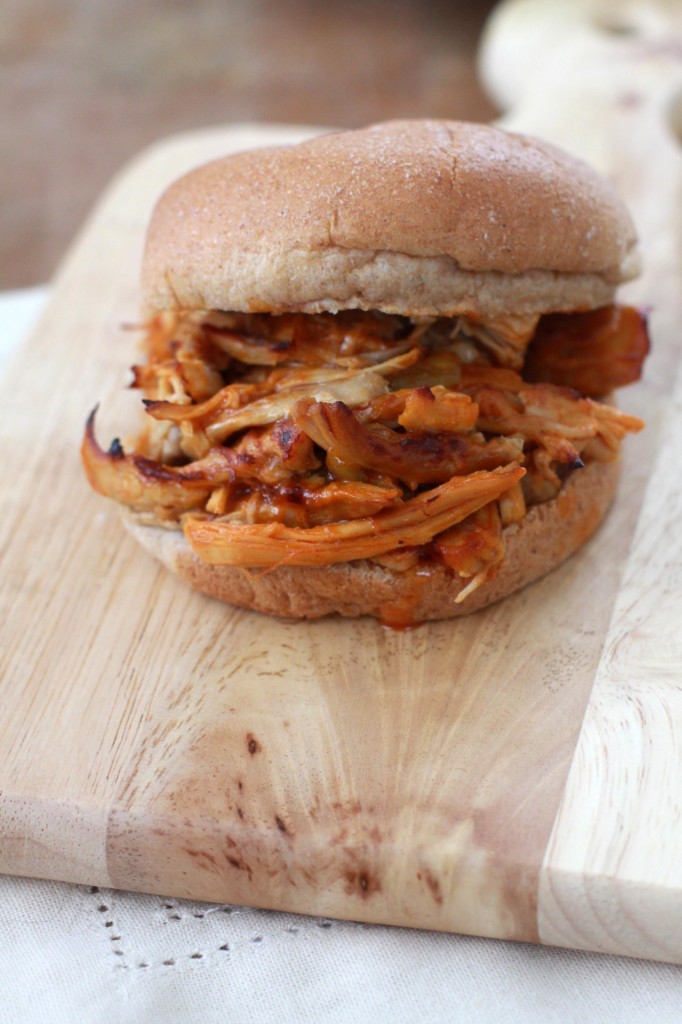 Note: After my post about switching from eating vegetarian to eating meat, I thought an update was in order. After about two months my body really started to reject eating paleo-style. I began to crave the vegetarian fare (and whole grains!) that I was so accustomed to. I have since decided that while it was interesting to give paleo-style eating a go, it isn't for me and my body. I plan to write a full recap soon, but I wanted to get that out there for honesty's sake.
Although I'm no longer eating meat, I will continue to be cooking a lot of meat, as I always have. Since I'm not ethically against eating meat, I do try everything that I prepare and share on this blog to make sure that it's worth posting. My husband, of course, is also a fantastic resource and is always willing to provide his opinion on what he likes and doesn't like. In this case, Joe was a huge fan of these Slow Cooker Buffalo Chicken Sandwiches.
These sandwiches are incredibly easy to make and require very little hands-on time, meaning you can go do other things, like play with your puppy or paint your nails, while your dinner cooks. I've said it before, and I'll say it again, but the key to good slow cooker chicken is to use a cut with a little bit more fat, like these boneless, skinless chicken thighs. They become incredibly tender and moist in the slow cooker and shred easily for sandwiches.
Since we love spicy food at our house, I added in a can of diced green chiles to the mix. And a little bit of brown sugar, which I think really rounds out the flavor of the sandwiches and balances the heat of the buffalo sauce.
Oh, and one more thing! A few weeks ago I stumbled upon a recipe over at Pinch of Yum which suggested that you shred your meat and broil it after slow cooking to give the meat pleasant crispiness resembling barbecue. For the longest time my biggest complaint with slow cooker food was that it tasted mushy and, well, slow cooked. This step of broiling the meat was a total game changer. Give it a try and be impressed!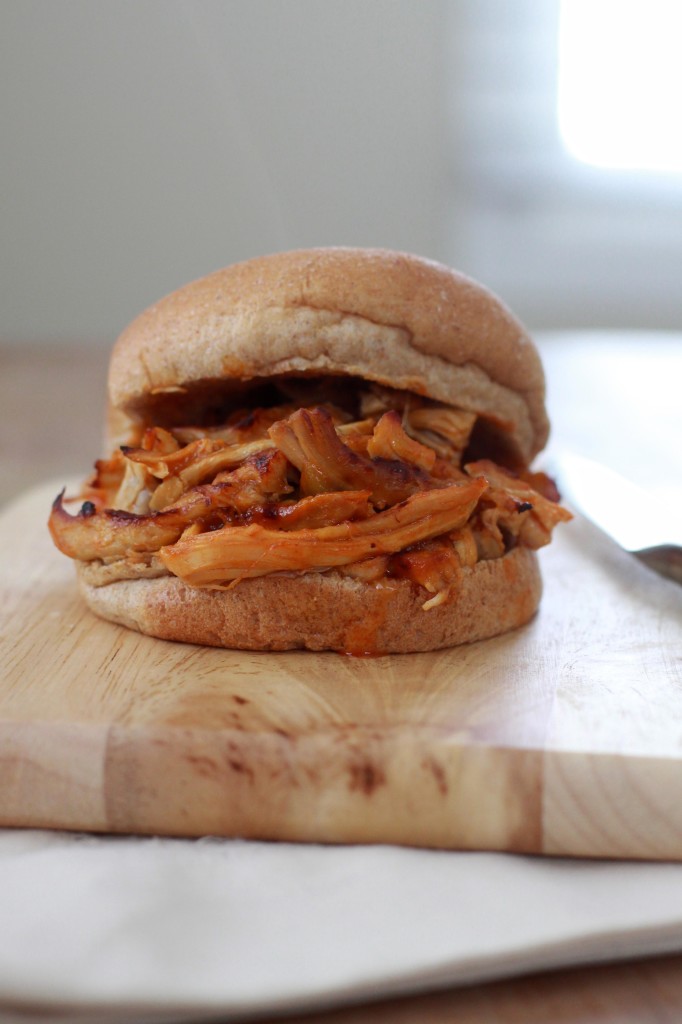 Slow Cooker Buffalo Chicken Sandwiches
Recipe type:
Slow Cooker Entree
This recipe is incredibly easy and makes a great weeknight dinner. I love shredding the meat and broiling it once it has cooked for a little extra texture and smoky flavor. It prevents the meat from tasting like, well, a slow-cooker recipe.
Ingredients
1 package (20 oz) boneless, skinless chicken thighs
1½ cups buffalo wing sauce (such as Frank's Red Hot brand)
1 can (4 oz) diced green chiles
1 tablespoon brown sugar
Whole wheat bakery buns or rolls
Instructions
Place chicken and buffalo wing sauce in a 4- to 5-quart slow cooker. Cook on High 2 hours or Low 4 hours.
Use two forks to shred the chicken in the slow cooker. Stir in the green chiles and brown sugar and cook, uncovered, 30 minutes more.
Turn oven to broil. Line a baking sheet with aluminum foil or parchment paper. Place shredded chicken on baking sheet and broil 10 minutes or until the ends of the chicken become slightly charred and crispy. Serve on sandwich buns.
 Madison