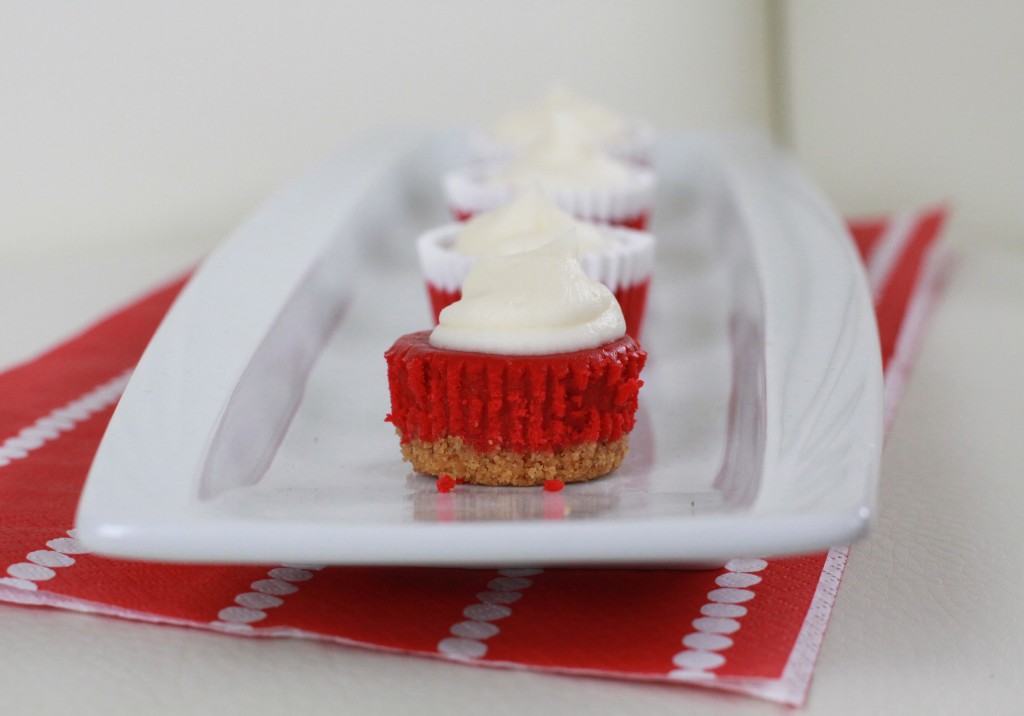 Merry (almost) Christmas, friends! I hope you're enjoying at least a couple days away from work with your family and friends. I'm doing a lot of lounging in pajamas and celebrating 5 (!!) Christmases in 6 days, so we've been pretty busy! But there has also been plenty of time to sleep in, spend time lounging around with family and doing lots of cuddling with the pups. My idea of a good time for sure.
And, in case you're looking for a little last minute dessert idea, I've got you covered. We made these red velvet mini cheesecakes for our Christmas open house last weekend and they were a huge hit! They're small enough to eat in two bites, which also makes them incredibly easy to eat a bunch.
So with this, I'm off to go lounge on the couch and spend time with family. I'll check back in after the holiday!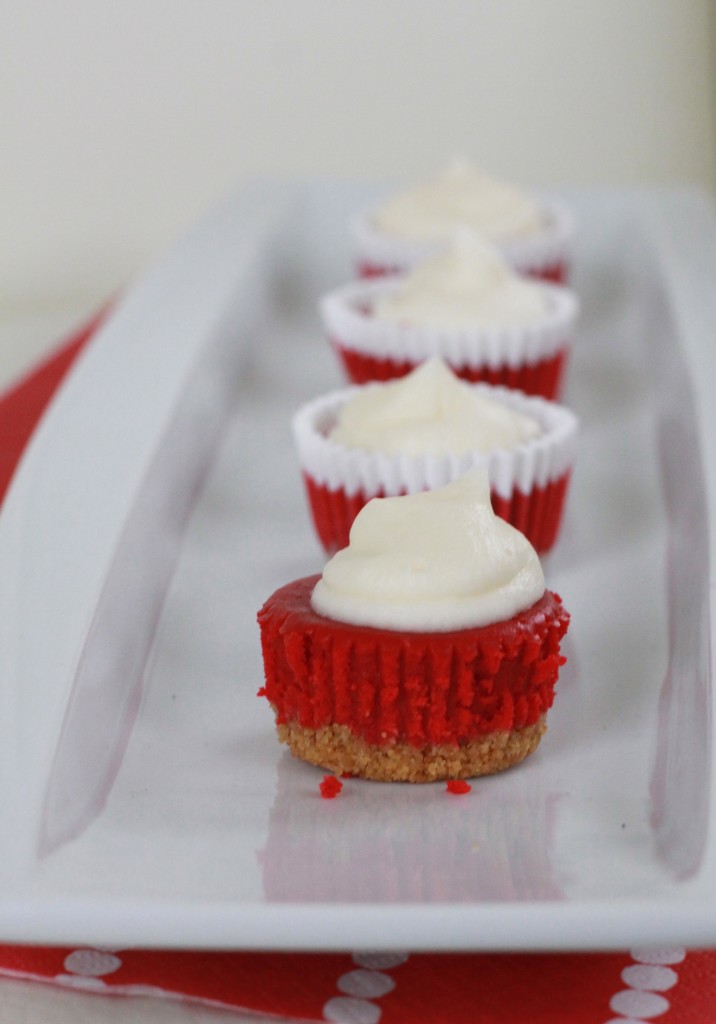 Red Velvet Mini Cheesecakes 
Makes 30 bite-sized cheesecakes
Ingredients
Crust
1 1/4 cups graham cracker crumbs
1/3 cup sugar
5 tablespoons butter, melted
Cheesecake
20 oz cream cheese, softened
1 cup sugar
3 tablespoons cocoa powder
1 tablespoon all-purpose flour
2 teaspoons vanilla extract
2 tablespoons red food coloring
3 large eggs
Sweetened whipped cream, if desired
Directions
Heat oven to 350°F. Line a mini muffin pan with 30 mini paper baking liners (you may need to bake in two batches, as I did). In medium mixing bowl, combine graham cracker crumbs, sugar and butter until well combined. Place a rounded teaspoon of the graham cracker crumbs into each of the muffin liners. Press with fingers into muffin liners to form a crust on the bottom.
With electric mixer, beat together the cream cheese and sugar until well combined. Beat in the cocoa powder, flour, vanilla and red food coloring until well combined. Beat in the eggs, one at a time, until well combined. Spoon some of the cheesecake mixture into each of the crust-lined muffin cups. Bake 9 to 13 minutes or until the cheesecakes are set around edges and jiggle slightly in center. If cheesecakes crack slightly, don't worry.
Remove from oven and cool 1 hour at room temperature. Refrigerate 2 hours or until chilled completely. Top with whipped cream just before serving.
Happy Baking and Merry Christmas!
Madison