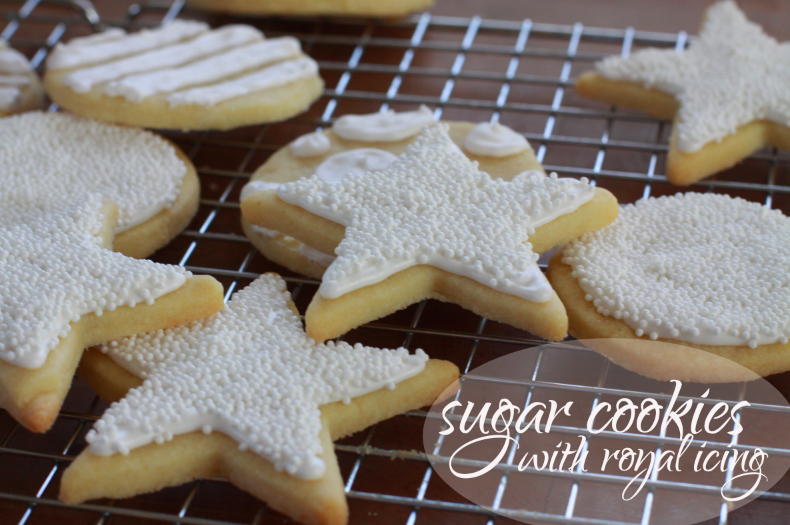 Happy Cookie Day! Once again I took part in the Food Blogger Cookie Swap with a bunch of other amazing bloggers. The funds raised from the cookie swap goes toward kids cancer research. Cookies and a great cause? I'm in! If you want to participate in next year's swap, you can sign up for updates here.
I've actually been really behind on baking cookies and desserts this year. Christmas just came up way too fast this year! We're having a Christmas open house on Sunday night, so I'll be getting my holiday baking on very soon. These sugar cookies were the first bit of holiday baking I did all season. Although I typically hate decorating Christmas sugar cookies, I had so much fun making these fun sugar cookies, inspired by Bon Appetit magazine. They're ultra simple, buttery and delicious – pretty much the prefect classic cookie.
If you're afraid of decorating cookies, don't be! The secret is having the right type of icing. Although royal icing isn't the tastiest type of icing, it produces the most beautiful results. Just place the icing in a pastry bag fitted with a small round tip and get creative! As you can see, below, I made a bunch of different looking cookies.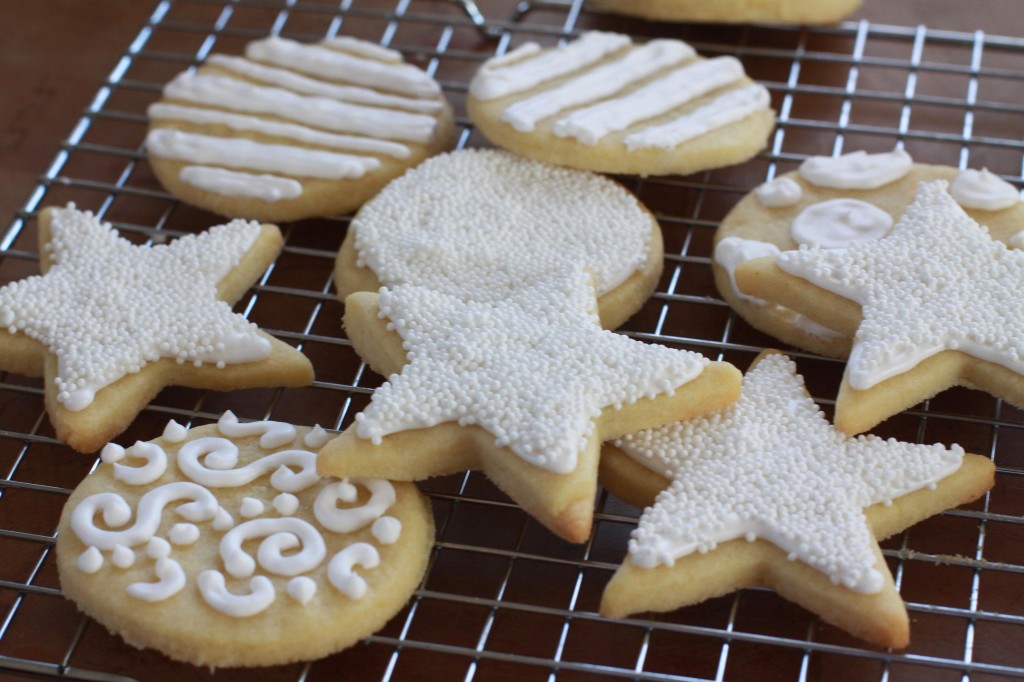 In case you're looking for some great cookie recipes, I also received a bunch of awesome goodies from these ladies:
Joanne from Joanne Eats Well with Others
Devangi from Pistachio Doughnuts
Erika of The Pancake Princess
Thanks so much, ladies, for sending me such great cookies! They were enjoyed by all at my house.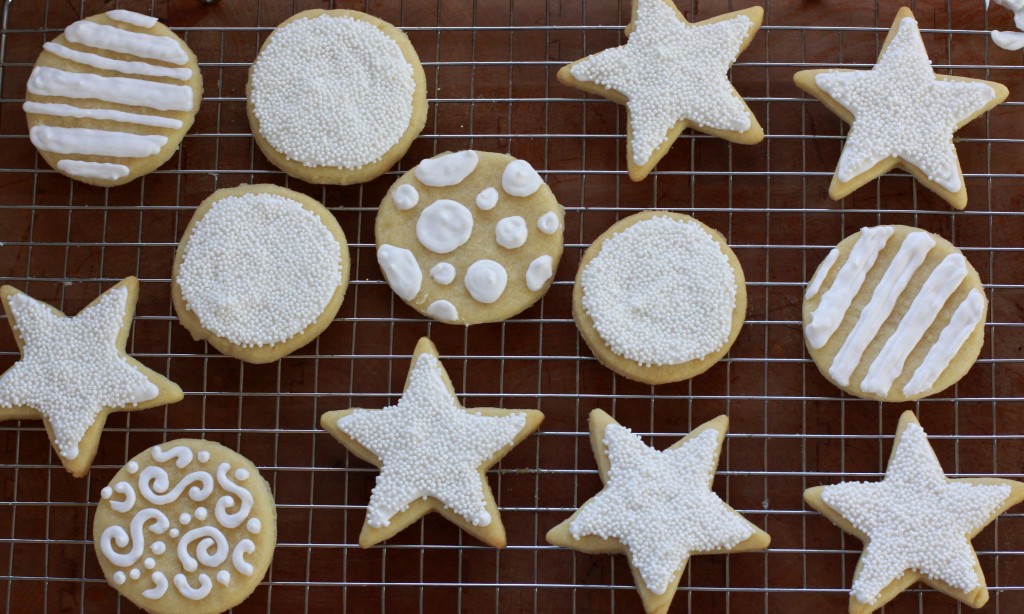 Sugar Cookies with Royal Icing
Recipe adapted from Bon Appetit December 2013
Ingredients
1/4 teaspoon salt
1/2 teaspoon baking powder
3 cups all-purpose flour
1 1/4 cups chilled butter, cut into 1/2-inch pieces
1 cup sugar
1 large egg
1 egg yolk
1 teaspoon hazelnut or almond extract
1 recipe Royal Icing (below)
Directions
Heat oven to 325°F. In large bowl, combine salt, baking powder and flour until well combined.
In a separate bowl, using an electric mixer on high speed, beat butter and sugar until smooth and well combined. The mixture doesn't need to be fluffy. Beat in the egg, egg yolk and hazelnut or almond extract. Add flour mixture to wet mixture and beat until just combined. Form dough into two discs. Cover with plastic wrap and refrigerate at least 2 hours.
Let dough sit at room temperature until softened slightly, about 10 minutes. Place on lightly floured surface and roll to 1/4-inch thickness. Cut into desired shapes (I stuck with circles and stars for simplicity) and place on parchment-lined baking sheets. Bake 10 to 14 minutes or until edges are just lightly golden brown. Cool 5 minutes on cookie sheets. Transfer to wire cooling rack to cool completely.
Royal Icing/Decorating
Recipe from Bon Appetit (method adapted slightly)
Using electric mixer on medium-high speed, beat 3 1/4 cups powdered sugar and 2 large egg whites until white, thickened and tripled in volume, about 5 minutes. Add water by the tablespoonful until icing no longer holds a peak. Place some of the icing in a pastry bag fitted with a very small round tip. Outline the cookies with the icing.
Add an additional 2 to 4 tablespoons water to the remaining icing until it is slightly softer and runs a little more freely. Spoon a small amount of icing into the center of each lined cookie. Tilt the cookies around so icing in center completely fills the outlined cookie. Immediately cover with desired sprinkles. Allow cookies to set, about 30 minutes.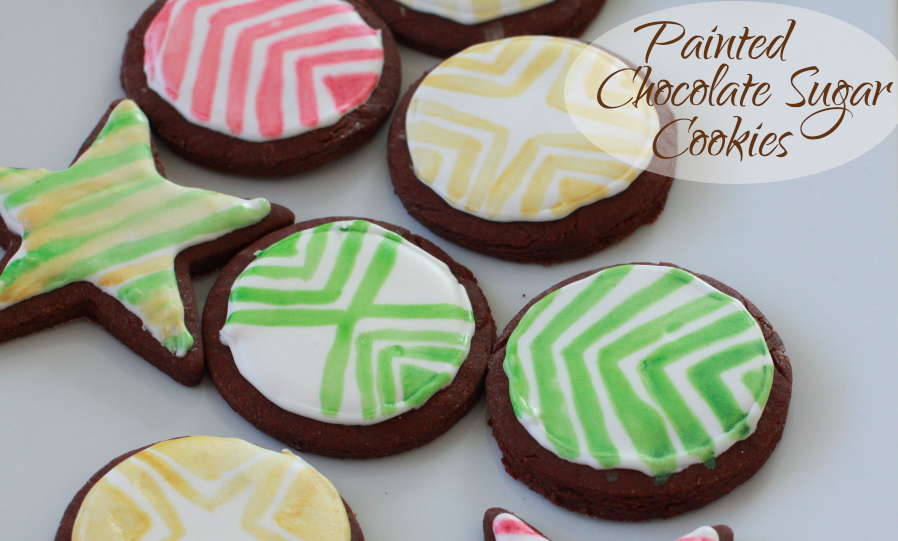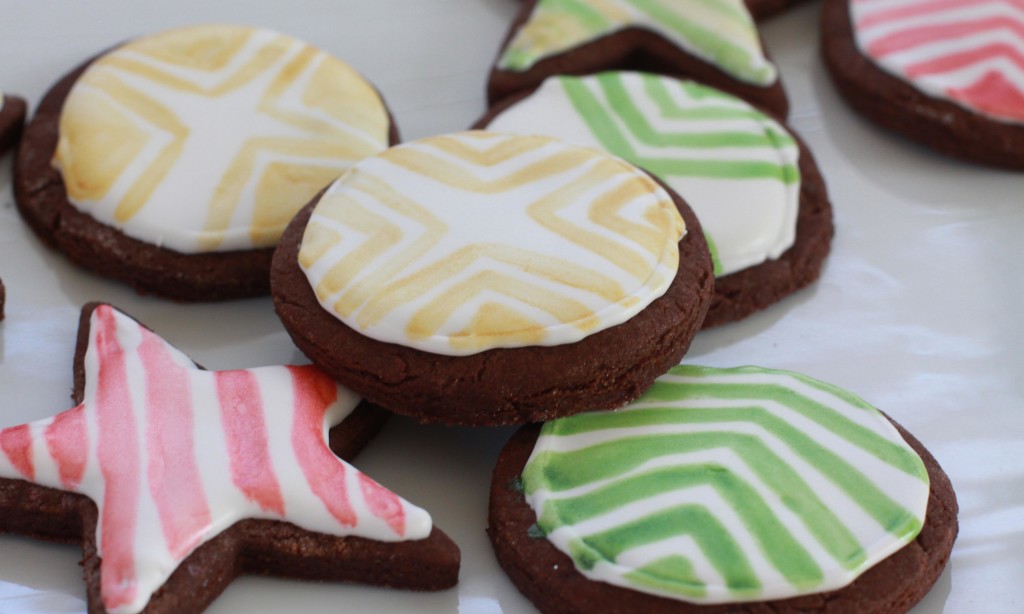 Painted Chocolate Sugar Cookies
To make the chocolate sugar cookies, swap out 1/2 cup of the all-purpose flour for 1/2 cup unsweetened cocoa powder. Make as directed.
Painted Decorating Method
I was in love with the method in Bon Appetit when I first saw it on the cover. However, I made a few tweaks that gave me a little more success the second time I made them. To make the "paint" combine 1 teaspoon luster dust (I purchased mine at Michaels in the cake decorating section) with a couple drops of alcohol, such as vodka or amaretto. The original recipe called for using lemon extract, but I found that the flavor of the lemon extract was overpowering with the cookies. Use a small paint brush to paint desired decorations on cookies decorated with royal icing.
Happy Baking!
Madison